Hot Fudge Filled Chocolate Lava Cookies
These soft and tender chocolate cookies have a surprise of gooey hot fudge waiting on the inside. If you like lava cake, you'll love Hot Fudge Filled Chocolate Lava Cookies. They just might be my new favorite cookies!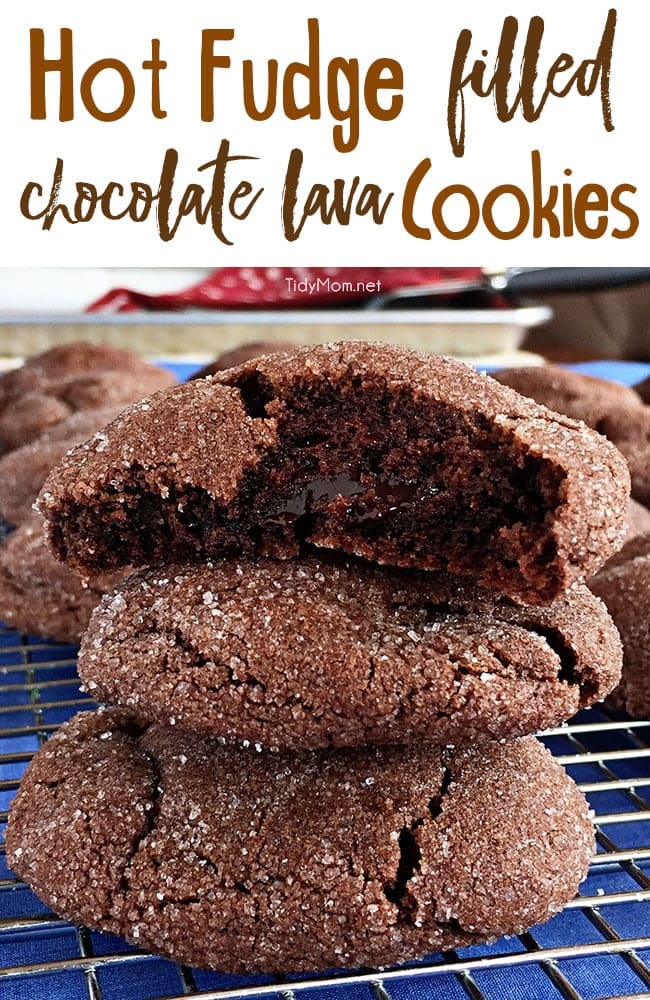 Hot fudge isn't just for ice cream anymore!
I don't know about you, but I could eat the stuff by the spoonful. But, people tend to look at you kind of funny when you do that 😉
So I've found a way around it…….to get my hot fudge fix and no one is the wiser.
Unless they look inside your glorious chocolate lava cookies!……and they ARE glorious! 
Our daughters and their friends get together most Monday nights to watch The Bachelor or The Bachelorette, and Allison usually bakes a treat to bring.
She found this recipe for Chocolate Lava Cookies from Jen's Favorite Cookies, they were a huge hit!! She only left 6 at home and the rest were devoured by her friends.
Remember this Best Chocolate Chip Cookie Recipe and these Gooey Butter Peanut Butter Cookies? I'll rank these Hot Fudge Filled Chocolate Lava Cookies right up there with both of my favorites.
FOR THIS HOT FUDGE FILLED CHOCOLATE LAVA COOKIES RECIPE, I RECOMMEND:

TIP FOR DIVIDING DOUGH EVENLY:
I have a little tip to show you how to divide your cookie dough evenly into 24 cookies.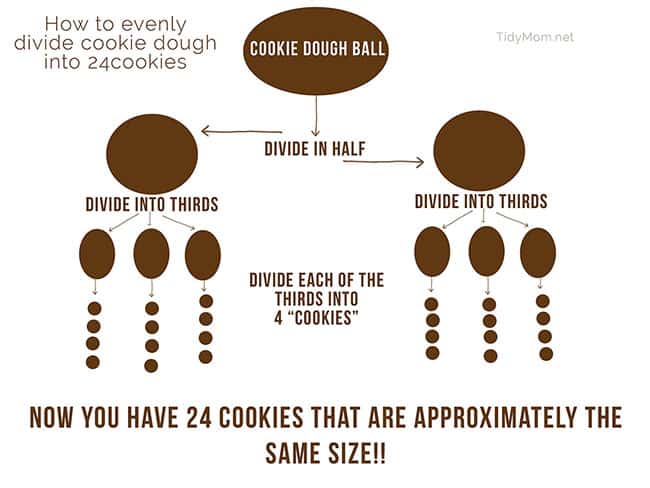 Divide the dough into halves, then thirds, then dividing each third into four equal sized pieces (they don't have to be exact, but try to make them as close as possible).
You now have dough for 24 cookies that are approximately the same size!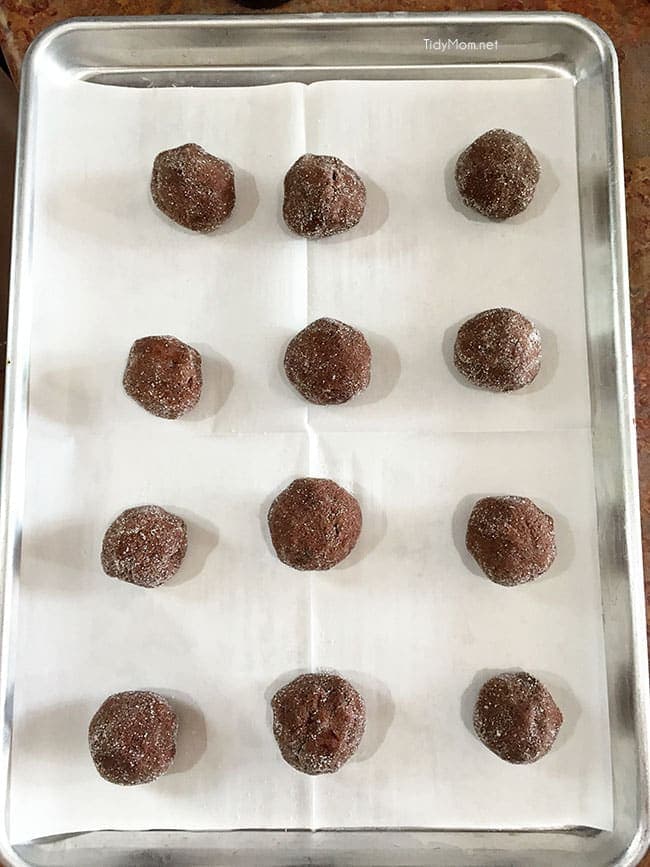 These Hot Fudge Filled Chocolate Lava Cookies are pretty incredible all on their own, but be sure to try them warm (place one cookie in microwave for 10 seconds) and a bowl with vanilla ice cream on top!!!
OH WOW!! It's like a mini chocolate lava cake but has a little crunch around the edges.
Chocolate nirvana!
CHECK OUT HOW EASY THIS HOT FUDGE FILLED CHOCOLATE LAVA COOKIES RECIPE IS TO MAKE! WATCH THE VIDEO!
click to see more of my recipe videos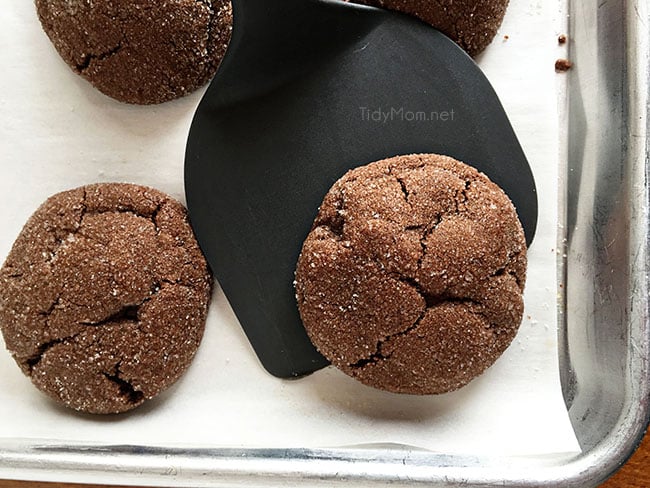 Are you already a fan of filled cookies? Check out these Caramel Filled Red Velvet Cookies, Oreo Stuffed Chocolate Chip Cookies, this Cheesecake Filled Snickerdoodles, and Chocolate Caramel Rolo Cookies for a cookie treat you won't be able to resist.
Want more great recipes like this? Follow my TidyMom Easy Recipes Pinterest Board
Follow Cheryl Sousan | Tidymom.net's board TidyMom.net easy recipes on Pinterest.
Lets' get baking…….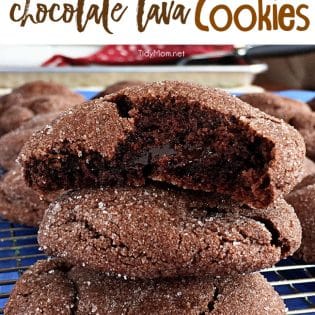 Hot Fudge Filled Chocolate Lava Cookies
Ingredients:
1 cup shortening (I use Crisco)
1 cup sugar + 1/4 cup for rolling
½ cup brown sugar, packed
2 eggs
1 teaspoon vanilla extract
1 tablespoon water
1 teaspoon salt
1 teaspoon baking soda
⅔ cup unsweetened cocoa powder
2 cups flour
jarred hot fudge sauce (about 6 oz.)
Directions:
Preheat oven to 400 degrees F.  Line cookie pan with parchment paper or silicone liners  and set aside.
Using the bowl of an electric mixer, cream shortening and sugars. Add eggs, vanilla, and water and beat until smooth.
Add salt, baking soda, and cocoa powder and mix well. Add flour and mix on medium low just until combined.
Divide the dough into 24 pieces that are roughly equal in size.
Place a piece of cookie dough in the palm of your hand and flatten it out like a thick disc . Place a little hot fudge (about 1/2 teaspoon) in the middle of the dough and wrap the dough around it, rolling it into a ball to seal it.
Place 1/4 cup of sugar in a small bowl. Roll the cookie ball in sugar and place on parchment lined baking sheet. Repeat with remaining dough, spacing it out on the cookie sheets. we used a half sheet pan and were able to get 12 cookies on one pan.
Bake 6-8 minutes or until the cookies are set and start to slightly crack on top slightly. Let cool on the baking sheet for 1-2 minutes before transferring to a cooling rack. Enjoy!
Making this recipe? Share it with us on Instagram using the hashtag #TidyMom so we can see what you're creating in the kitchen!
Want more great recipes like this? Follow my TidyMom Easy Recipes Pinterest Board