Peanut Butter Pie | I'm Lovin' It
Today's I'm Lovin' It  is to remind us all to celebrate those we love.
Squeeze them tight and tell them that you love them.
Make them peanut butter pie……
A few days ago, blogger Jennifer Perillo lost her husband Mikey to a sudden heart attack.  She wrote  a beautiful post, telling us one way we can help:
"For those asking what they can do to help my healing process, make a peanut butter pie this Friday and share it with someone you love."
Read Jennie's recipe here, and see why she wants us to make Peanut Butter Pie.
Find more Peanut Butter Pie recipes on the Facebook page  "Peanut Butter Pie for Mikey Friday" that was started.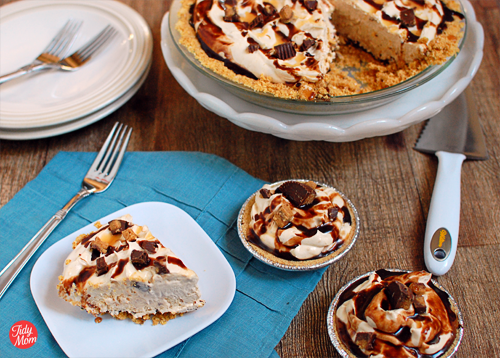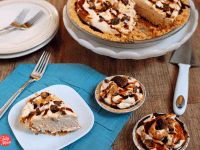 Ingredients
1 graham cracker or chocolate cookie crust
1/2 cup Peanut Butter (chunky is best, but smooth will work too)
8 oz cream cheese, softened
1 cup powdered sugar
1/2 cup milk
8 oz Cool Whip
Instructions
In a medium bowl, whip cream cheese until soft and fluffy.
Beat in peanut butter and sugar.
Slowly add milk, and blend thoroughly.
Fold in Cool Whip.
Spoon into pie crust.
Freeze for several hours before serving.
Notes
If pie is frozen solid, you will need to let it sit out about 1/2 hour before serving. I also like to serve this pie cold, not frozen, both are good! garnish with chocolate syrup and/or chopped peanut butter cups.
Variations: If you don't have Cool Whip, home made whipped cream would work just as well. When I use a graham cracker crust, I melt 1/2 cup chocolate chips and spread in the bottom of the crust, then layer peanut butter filling on top of chocolate layer. Replace peanut butter with Nutella for a great alternative!
https://tidymom.net/2011/peanut-butter-pie/
Copyright© 2009-2013 TidyMom.Net
Jennie and her family have been in my thoughts and prayers all week, I just can't imagine what they're going thru.
I don't know Jennie personally, but it's odd how blogging connects so many of us in ways we never imagined.  This post hits the nail on the head with how I think many of us are feeling

I'm Lovin…. My family and friends and Peanut Butter Pie

Now it's your turn! Please remember to link back to http://Tidymom.net
Let us know what you're lovin' this week!
Share your recipes, crafts, diy's, photography, printables, products..anything you are loving!
If you have something to share with us on your blog, add your link below.
*Don't forget to come back over the weekend for the I'm Lovin' It Wrap Up post……where I feature a few of the great links!!
What is I'm Lovin' It Fridays? get all the info, how to's trouble shoot and button here