Eggnog Cookies Iced with Eggnog Buttercream
Eggnog cookies are a great choice for any holiday cookie exchange. A cookie tray favorite that will stand out because it's a deliciously soft spice cookie infused with eggnog and spiked with rum!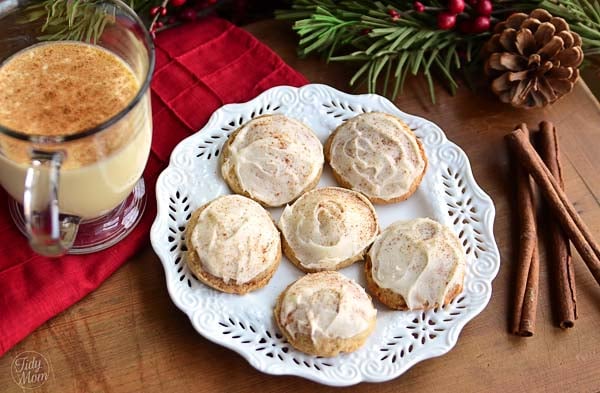 Do you participate in a cookie exchange this time of year? You know how it goes……you go to someone's house, you bring a batch of cookies (say three dozen), then you bring home a mix of three dozen cookies.
While the cookie exchange party can be fun, hanging with friends or family and drinking mulled wine or red velvet hot chocolate, the cookies can be everything from delicious to yuck.
We have certain Christmas holiday cookies we enjoy every year and the idea behind a cookie exchange is a great way to find new cookies. I've brought home some cookies that I just can't eat, no matter how much I dunk them in my coffee.
WHY EGGNOG COOKIES NEED TO BE ON YOUR COOKIE TRAY!
This holiday iced eggnog cookie recipe is sure to be a hit at your next cookie exchange! A soft cookie with buttercream icing, a sprinkle of nutmeg, a little rum (totally optional) all infused with the creamy, rich flavor of eggnog!
Trust me, you'll be thanking me for years to come. I'm always asked to bring my eggnog cookies to a cookie exchange, so I know everyone loves them as much as we do!
While I enjoy eggnog with a little rum, you could certainly leave it out of these eggnog cookies if you want.
Even if you're not a fan of eggnog, I think you'll enjoy these eggnog cookies.  They reminded us of snickerdoodles!
My favorite assortment of cookies includes Cutout Butter Cookies, a classic Chocolate Chip Cookie, Hot Fudge Filled Chocolate Lava Cookies, Russian Tea Cakes, Easy Peanut Butter Gooey Butter Cookies and so much more! I may even make a batch of Christmas Truffles or Peanut Butter and Chocolate Fudge to add to the cookie plates!
Want more great recipes like this? Follow my TidyMom Easy Recipes Pinterest Board
Are you a fan of eggnog? I bet you'll love Eggnog Truffles, Eggnog Bread, Eggnog Fudge, or even Eggnog Pie!!
I'd love to hear about your favorite eggnog recipes!
LIKE THIS ICED EGGNOG COOKIES RECIPE? PIN IT!