Cinnamon and Sugar Doughnut Muffins
These Cinnamon and Sugar Doughnut Muffins are like a sweet hug from Grandma.  They have the flavor of a cake doughnut, with the ease of simply making muffins! Make mini muffins, and they're just like doughnut holes!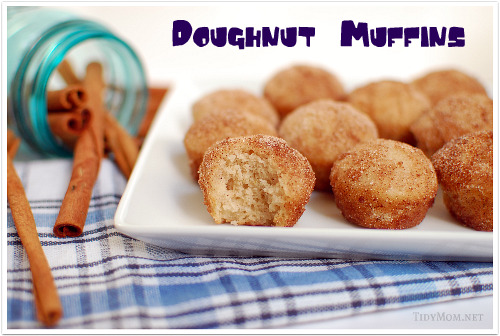 When I was little my dad had his own remodeling business, mainly finishing basements.  He would visit people's homes, usually in the evenings, to discuss their plans and to give them a bid.
If he would get the job…..he would come home with treats!! YUMMY baked goods or ice cream.   My dad is where I got my sweet tooth from,  along with my short stocky legs…..thanks Dad.
Many nights he would bring home doughnuts…….I called them "doan doans", and I LOVED "doan doans!"……I would eat several.
One night dad told me he was going to bring me home just one  "doan doan", and  said, "I bet you can't even eat the whole thing".   Later that evening he walked in with my one doughnut…..it was HUGE!  Does anyone remember when Target had bakeries?…….They made these HUGE, 10-inch  glazed doughnuts……THAT is what dad brought home to me.  My eye's grew HUGE at the site of that beautiful sweet disc of glazed goodness!! I climbed in my chair with a big glass of milk, because doughnuts are BEST when they're dunked in milk you know…..and I TRIED to eat that doughnuts………but Dad won!!……I could NOT eat ONE whole doughnut…..but I sure tried my best.
So you see………I've always had a deep LOVE for doughnuts!
Making Doughnut Muffins
That's why when I heard the buzz all over the internet recently about "Muffins that taste like donuts" I just KNEW I had to try them!
I don't remember who or where I first heard about them, but the same source kept popping up for the recipe…….. Tasty Kitchen was the keeper of this coveted recipe by lemanda
I didn't change a thing………it was simple and perfect!!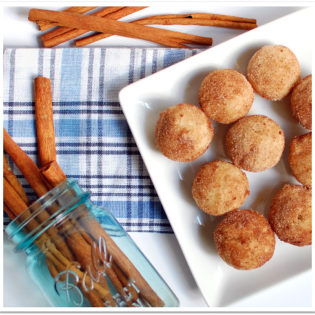 Cinnamon and Sugar Doughnut Muffins
Ingredients:
1 3/4 cup Flour
1 1/2 teaspoon Baking Powder
1/2 teaspoon Salt
1/2 teaspoon Nutmeg
1/2 teaspoon Cinnamon
1/3 cup Oil
3/4 cup White Sugar
1 whole Egg
3/4 cup Milk
Topping
1/4 cup Butter (4 Tablespoons)
1/3 cup White Sugar
1 Tablespoon Cinnamon
Directions:
Preheat oven to 350 degrees F.
Combine, flour, baking powder, salt, cinnamon and nutmeg, and set aside. Mix oil, sugar, egg and milk, then added dry ingredients, mix just until blended.
For mini muffins (this is what I made) – spray mini muffin pans with no-stick cooking spray and fill each cup 1/2 full. Bake for 10-12 min. Yields 18 mini muffins. For regular size muffins: spray muffin pans with no-stick cooking spray and fill each cup 1/2 full. Bake for 15-20 min. Yields 8-12 muffins.
While muffins are baking melt butter in one bowl. Mix1/3 cup White Sugar and 1 Tablespoon Cinnamon in another bowl. *(I needed 50% more for the mini muffins so I used 6 Tablespoons butter and 1-1/2 Tablespoons of Cinnamon)
Remove muffins from oven, let cool for just a minute or two, remove from pan and place them on a platter. Dip each muffin in the melted butter then roll in cinnamon and sugar.
Let cool or serve warm.
Making this recipe? Share it with us on Instagram using the hashtag #TidyMom so we can see what you're creating in the kitchen!
Want more great recipes like this? Follow my TidyMom Easy Recipes Pinterest Board
Wouldn't these be wonderful with a little jelly or vanilla custard?  I may try that next time!
My Dad would have LOVED these!!
**WARNING – if you make the minis, I am NOT responsible for how many you eat!!

Like this recipe for Doughnut Muffins?  PIN IT!