Brownie Cupcakes with Peanut Butter Frosting
There are many food flavors that just go so well together…….but nothing beats chocolate and peanut butter. I first posted a to die for Chocolate Fudge Peanut Butter Cake back in September and then I posted about our Krispie Peanut Butter balls I made at Christmas.
Well today I have another Chocolate Peanut Butter combo for you that I think you're REALLY going to like!! It's super duper easy like the Chocolate Chip Brownie cookies that I posted in December.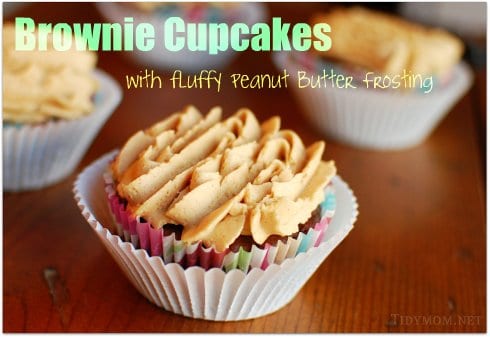 We've been wanting to try brownies in a cupcake form and when I made the chocolate cake with peanut butter filling we thought it would be good on brownies too. I recently saw a similar idea out there in blogville some where, but I didn't bookmark it and now I can't find it…..so if anyone knows where I may have seen this, can you let me know so I can link to it.
May I introduce to you………Brownie Cupcakes with Fluffy Peanut Butter Frosting!