Chocolate Chip Cookie Brownies
Rich, decadent brownies topped with chocolate chip cookie dough and chocolate ganache!
I
s it a cookie? or is it a Brownie?
Warning………..
I take no responsibility to what this post may do to your waistline!
Truly the best description of these bars is, they are absolutely phenomenal! Imagine this: rich, decadent brownies topped with chocolate chip cookie dough! Topped again with Chocolate ganache! you just can't get much better than these bars! Part Brownie, part cookie! It's everything you know and love, baked up into one amazing dessert.
Make these and all of your family and friends will love you forever. ~ I made them for Heather's 22nd birthday!! They were a huge hit!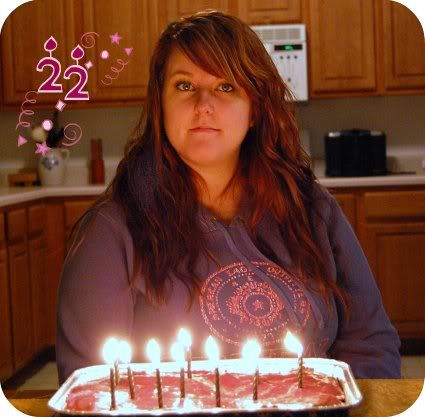 The best part, besides how amazingly yummy they are…..they are AMAZINGLY EASY!
Chocolate Chip Cookie Brownies
All you need is your favorite brownie mix and a pouch of Chocolate Chip Cookie Mix
Ingredients
1 pouch of Betty Crocker Chocolate Chip Cookie Mix

Chocolate Ganache

12 oz. semi-sweet chocolate morsels
3/4 cup heavy whipping cream
6 Tbsp butter
Instructions
Follow the directions on the box for making the brownies and pour into a greased 9 X13 pan.
Next, mix the cookie dough as directed on the pouch and drop by rounded tablespoons into the brownie batter. I pressed the dough down lightly into the brownie batter.
Bake at 350 for 35-40 minutes or until toothpick inserted 2 inches from side of pan comes out almost clean. When they're done, take them out and let them cool completely.

Chocolate Ganache

In a small saucepan, heat cream and butter until just before the boiling stage.
Pour over the chocolate morsels.
Stir until smooth.
Pour ganache on top and spread it out evenly. You will want to let the ganache set up before cutting.
Once the ganache has set, then cut the brownies and enjoy.
Notes
The Betty Crocker website suggests you frost with a can of Betty Crocker Rich & Creamy Chocolate Frosting, but I made Chocolate ganache!
https://tidymom.net/chocolate-chip-cookie-brownies/
Copyright© 2009-2013 TidyMom.Net
They sure look YUMMY!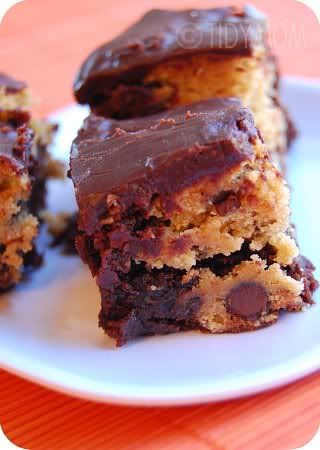 They taste even better!
Source: Betty Crocker Chocolate Chip Cookie Dough Brownies
*Tip from the Betty Crocker Kitchens*
This is one of those little secrets we know you'll love! Cutting brownies or any bar with a chewy and dense texture is much easier when you use a plastic knife.