Red Velvet Crepes with Raspberry & Sweet Cream Cheese Filling
With raspberry preserves, a kicked up sweet cream cheese filling with Nutella drizzled over top make these crepes a real treat any day!
These Red Velvet Crepes will satisfy a multitude of cravings with raspberry preserves and a kicked up sweet cream cheese filling to the Nutella drizzled over top! A perfect treat for Valentines Day.

I'm a big fan of chocolate, so there's no questioning my love for red velvet………it's a given.  So, a week ago when I was making  red velvet pancakes, it occurred to me how delicious red velvet crepes might be!
I was first turned on to making crepes when Jeffrey Saad made Nutella Crepes for us in Napa with Bush's Beans a while back.
So I decided to use the same recipe and turn it into red velvet!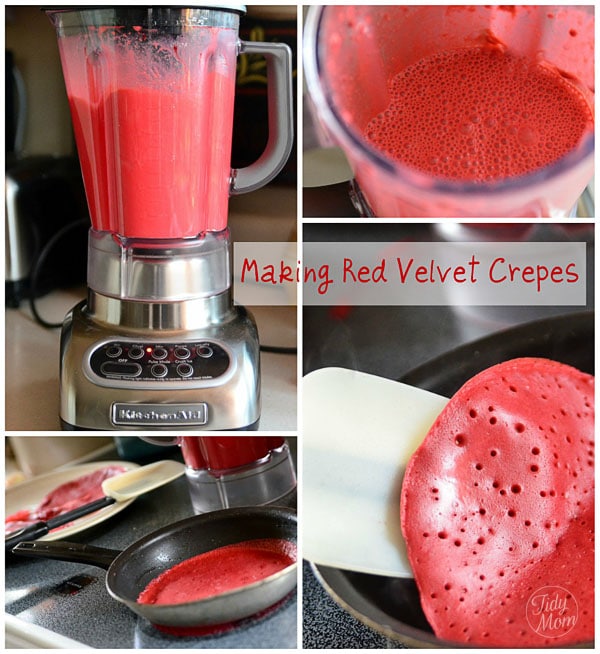 I used my KitchenAid blender (which I LOOVE!) to mix up all of the ingredients until they are nice and foamy, then Jeffrey says the key to great crepes is to let the batter sit, refrigerated, for about an hour before cooking.
I had some cream cheese topping left over from the pancakes, so I tossed some in a decorator bag and used a jumbo french decorating tip to pipe over a little Smucker's Raspberry Preserves. – oh my word was that a good combo!
*you don't have to be fancy though, you could just spoon the filling, or place some in a plastic baggy, snip the tip off and pipe filling over preserves (no decorator tip needed)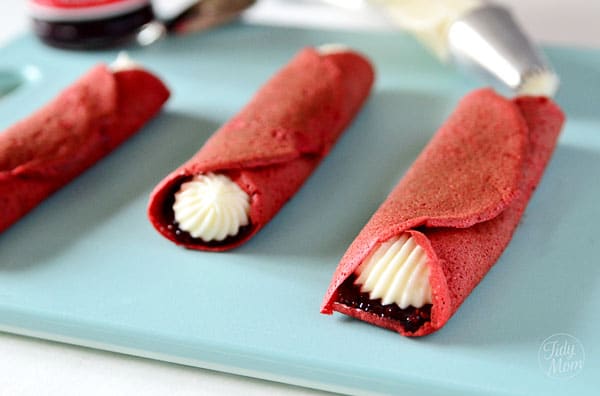 I then just folded both sides over, put them on a plate, melted a little Nutella in the microwave and drizzled over the top.  You could do the same with chocolate or even chocolate syrup if you want.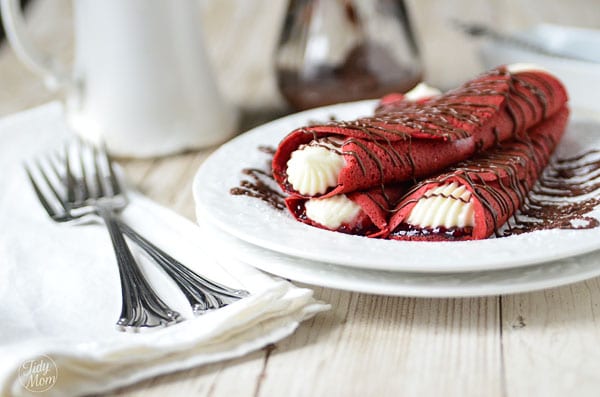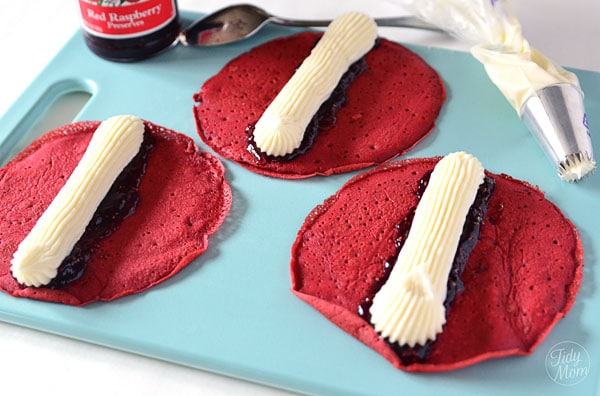 These were AMAZING!  You could taste the red velvet perfectly, the sweet cream cheese filling was not overly sweet, the raspberry preserves gave each bite an unexpected surprise and the Nutella just pushed it over the top.
As rich as they may look and sound, I have to say, they weren't that overly disgusting rich at all.  They would make a beautiful Valentines Day breakfast severed with some fruit or served as a dessert.
Red Velvet Crepes with Raspberry & Sweet Cream Cheese Filling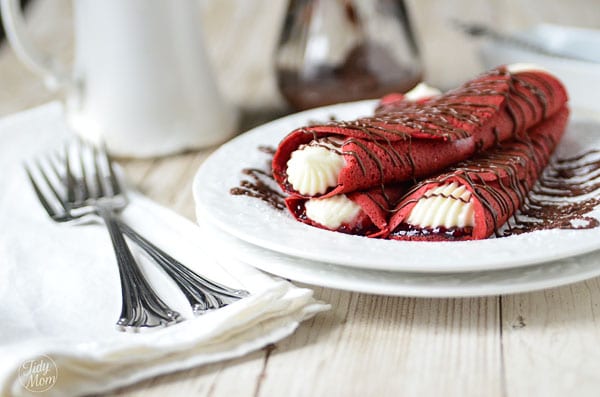 These Red Velvet crepes will satisfy a multitude of cravings with raspberry preserves and a kicked up sweet cream cheese filling to the Nutella drizzled over top.
Ingredients
2 eggs
1 egg yolk
1 cup milk
1/2 cup water
pinch salt
3 Tablespoons butter, melted
1 teaspoon sugar
dash of vanilla
1 cup all-purpose flour
1½ Tablespoon Cocoa Powder
red food color
extra butter to cook with
Raspberry Preserves
Sweet Cream Cheese Filling
Nutella (or chocolate)

Sweet Cream Cheese Filling

16 ounces cream cheese, softened
½ tsp lemon juice
2 cups powdered sugar
1/ 2 cup ricotta
1 tsp vanilla extract
2 Tbsp strong coffee
1 tsp rum (optional)
Instructions
Combine 2 eggs + 1 egg yolk, milk, water, salt, sugar, vanilla food color, and melted butter in a blender and pulse until foamy.
Add flour and cocoa powder and pulse until smooth. Let the batter sit for an hour.
Prepare Cream Cheese Filling by mixing all filling ingredients with mixer until well combined and smooth, set aside.
After batter sits for one hour, heat a small non-stick pan. Add butter to coat. Pour 1 ounce of batter into the center of the pan and swirl to spread evenly. Cook until the top loses its gloss, which should only take a minute, then flip. The bottom should be golden. Cook the other side for about 15 seconds and then slide out onto a plate.
Repeat with remaining batter.
Prepare crepes by spreading a one inch wide strip of raspberry preserves down center of crepe, then top with cream cheese filling.
Fold each side of crepe over filling and plate.
Melt Nutella in microwave for about 30 seconds and drizzle over crepes.
http://tidymom.net/2012/red-velvet-crepes/
Copyright© 2009-2013 TidyMom.Net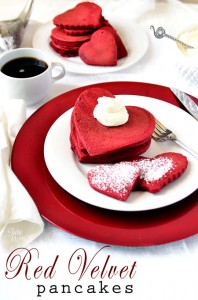 Want more Red Velvet for breakfast? I'm so honored to be over at Recipe Girl today sharing my Red Velvet Pancakes.
Lori, Recipe Girl and I were roommates for our Girl Hunter Weekend back in December.  It was our first time meeting in person, and I was thrilled to get to know Lori better.  She's such a sweet person and I think we clicked like we had known each other for years.
Lori will be sharing some of her kitchen organization secrets here on TidyMom tomorrow!
So pop over and check out my pancakes and RecipeGirl.com which houses a collection of more than 2,500 original and adapted recipes! – It's no surprise that she's working on The Recipe Girl Cookbook, which will be published by Wiley in Spring 2013.
Both  Red Velvet Crepes and Red Velvet Pancakes would be the perfect way to indulge your sweetheart on Valentines Day!  Do you make anything special for Valentines Day?

Want more great recipes like this? Follow my TidyMom Easy Recipes Pinterest Board
Follow Cheryl Sousan | Tidymom.net's board TidyMom.net easy recipes on Pinterest.
LIKE IT? PIN IT!