Recipes
Homemade Banana Flips {recipe}
A delicious recipe for homemade banana flips. Two moist layers of banana cake with a fluffy banana cream filling.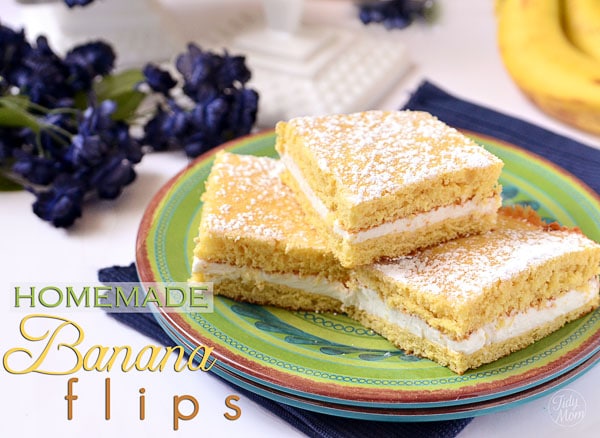 As much as I enjoyed the holidays (and the nice break) I have to say……I'm glad it's all over.
I've pushed all of those holiday flavors aside and I've moved on to banana!
The other day I was lining up some recipes I wanted to make and share, when I realized they were all banana!
This recipe first caught my eye because of it's simplicity then I realized it's a copy cat recipe of an old time snack cake.  I'd never heard of Banana Flips, but my husband sure had!  His eyes lit up with excitement as he recalled the favorite snack cake from his childhood that he hadn't thought about in years.
I'm thinking anything filled with  fluffy white cream around a yellow cake has GOT to be delicious! right? Banana Flips looked like a sponge-cake taco; a banana cake "shell" with creamy white fluffy banana filling. They were  well known for their extreme messiness!
I'm not a big fan of artificial banana flavor, but this moist yellow cake with a  fluffy banana filling was light and sweet and only has a very faint banana flavor…….so faint in fact, that my hubby thought it could use a little more banana flavoring.  So if you really want a punch of banana I would up the flavoring to 2 teaspoons in the recipe.  But if you want just a hint of banana, leave it like it is!
My husband said it was love at first bite……..they were everything he remembered in a banana flip, sans the taco shape.  I thought about making these like whoopie pies, but since I only have one whoopie pie pan, that would have taken several batches, so for now, I opted for the layer cake and cut it into squares.
How to make Banana Flips
(full recipe below)
Using 2 jellyroll pans (any size, but the larger the pan, the more flips you will get.  I used 11 x 17 pan) lightly grease pans, then line with parchment paper and grease parchment paper.  Divide batter evenly between the two pans and use a rubber spatula to spread batter to edges of pans.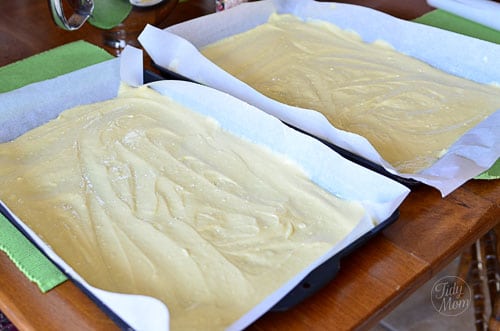 Bake cakes in 350° oven for about 13-15 minutes.  Cool completely.
While cakes are baking, make banana filling.  I also cut a large piece of cardboard and covered in foil to place my cooled cakes on (but you could probably just leave it in one of the pans).
Place filling on one cake layer and spread all the way to the edges.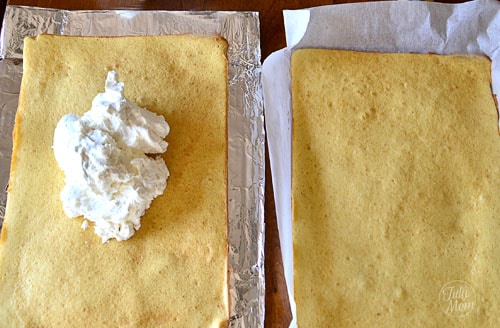 Carefully place second cake layer over frosting.  Garnish with powdered sugar.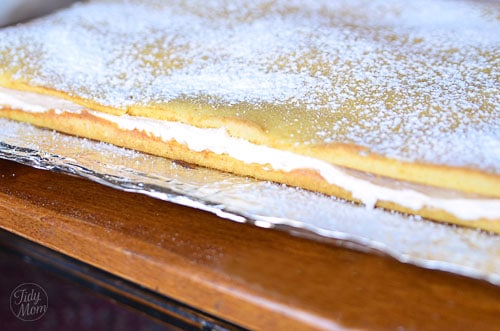 Place cake in refrigerator for at least 1/2 hour before serving. (it's best served cold)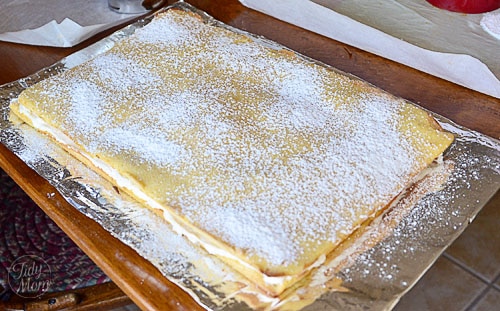 After the cake chilled I cut mine into squares and placed in an air tight container in the refrigerator
Enjoy!!!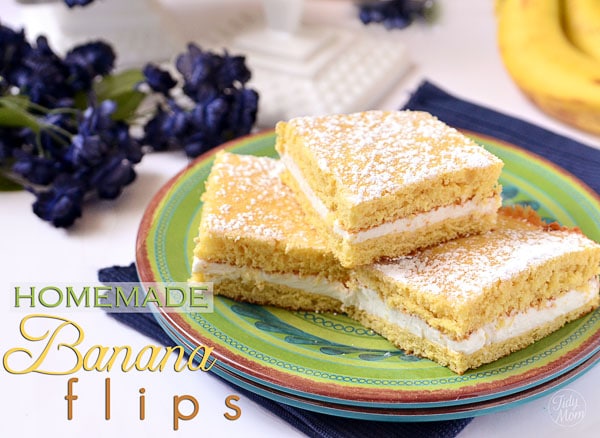 Light fluffy banana cream between two layers of moist yellow cake
Ingredients
1 package yellow cake mix (18.25 ounce size)
1 small box instant banana pudding mix (4.5 cups serving size)
4 eggs
1-1/2 milk
1-1/2 cup granulated sugar
1/4 cup all-purpose flour
3/4 cup butter (softened)
3/4 cup shortening
3/4 cup milk
1-1/2 teaspoon banana extract
powdered sugar for garnish (optional)
Instructions
Preheat oven to 350°
Grease 2 jellyroll pans (11×17 or 10×15), then line with parchment paper and grease parchment paper.
In a large bowl, stir together cake mix and instant pudding mix. Beat in the eggs and 1-1/2 cups of milk.
Divide the batter evenly between the two pans.
Bake 13-15 mins. for 11×17 pan or 15-20 mins for 10×13 pan., or until a wooden toothpick comes out clean.
While cake is baking, make filling
Sift sugar and flour together in medium bowl and set aside.
In a medium bowl cream together the butter and shortening until combined, then add sugar mixture.
Beat in the milk and banana extract until smooth (about 3-5 minutes with stand mixer)
When cake is cooled, invert one layer onto serving tray. Spread filling over the top and cover with remaining cake layer. Garnish with powdered sugar.
Chill until serving.
Notes
Recipe from cdkitchen. For more banana flavor, use 2 teaspoons banana extract.
Variations you could also make these using whoopie pie pans instead of cake layers.
Copyright © 2009-2012 TidyMom.Net.
http://tidymom.net/2012/homemade-banana-flips/
Copyright© 2009-2013 TidyMom.Net
NEW FEATURE: Save recipes to your personal recipe box with the

Once you have your favorite recipes in your Recipe Box create a Meal Plan with them and the ingredients will automatically be added to a Grocery List!


You May Also Like...