Strawberry & Chocolate Nachos
All week I've been talking about Back to School, and today I thought was the perfect time to share a treat we've been enjoying that would make you QUEEN Mom of the neighborhood if you severed this as an after school snack.
Just think of the looks you'll get as your little one bounces off the big yellow bus, and you take their hand and say……
"Let's go home! I made Strawberry & Chocolate Nachos!"
You better believe all the other kids will be following you home like the pied piper.
From the moment Sara of Our Best Bites mentioned this glorious concoction back in June I was all over it! I actually made it that very same day, we devoured it that night.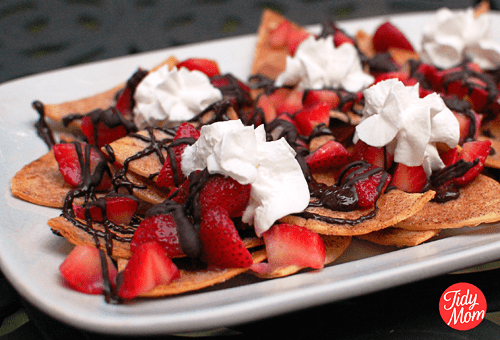 It would also make a great appearance on any party dessert table.
Click over to Our Best Bites to see how to make  Strawberry & Chocolate Nachos for your crew!  Then put your feet up for a job well done!

I'm Lovin'…. Strawberry & Chocolate Nachos

Now it's your turn! Please remember to link back to http://Tidymom.net
Let us know what you're lovin' this week!
Share your recipes, crafts, diy's, photography, printables, products..anything you are loving!
If you have something to share with us on your blog, add your link below.
*Don't forget to come back over the weekend for the I'm Lovin' It Wrap Up post……where I feature a few of the great links!!
What is I'm Lovin' It Fridays? get all the info, how to's trouble shoot and button here