Family
Baked Peanut Butter Oatmeal
Try baked peanut butter oatmeal for a unexpected morning treat. It's a mix between an oatmeal bar and traditional creamy breakfast oatmeal.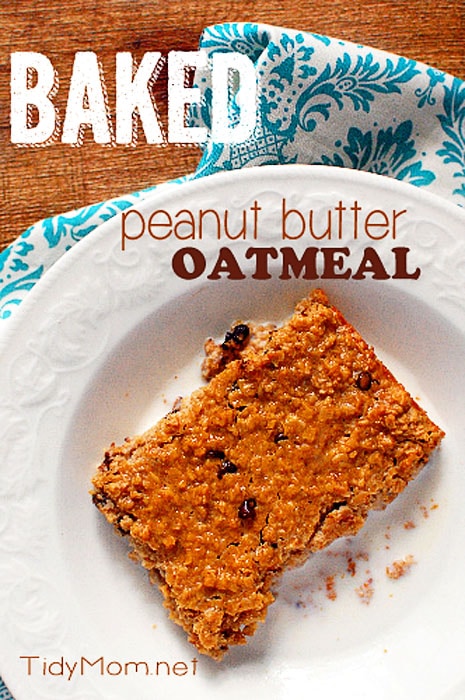 Having family dinner time is important in our house, and most nights we eat dinner as a family. But breakfast is a meal that we rarely eat together.
I'm partially to blame because I'm not a big breakfast eater….but I've found if I actually cook breakfast, they will all get up and eat with me! Like, Baked Peanut Butter Oatmeal
Sometimes if I tell my daughters the night before what I plan on making for breakfast, one of them will get up in time to help me. But it has to be something really yummy to get them up for that! like Baked Peanut Butter Oatmeal
Oatmeal would not be something they would get up for, much less help me with…….but spike it with peanut butter, tell them it's baked and will taste like a giant oatmeal cookie they can cover in milk……..and they're racing to the kitchen to help!

Sneaky me…….oatmeal is both nutritious and deeply satisfying and a much better alternative to cold sugary cereal.
Kids in the Kitchen
Have the kids help with Baked Peanut Butter Oatmeal.  They can grease the pan, and measure out dry ingredients.
Baked Peanut Butter Oatmeal
Delicious twist to a family friendly breakfast! Tell them it will taste like a giant oatmeal cookie they can cover in milk!
Yield: 12
Prep Time: 5 minutes
Cook Time: 20 minutes
Total Time: 25 minutes
Ingredients:
1 1/2 cups quick cooking oats
1/4 cup packed brown sugar
1/4 cup white sugar
3/4 cup milk
1/4 cup melted butter
1 egg
1 tsp baking powder
3/4 tsp salt
1 tsp vanilla
1/2 cup Peanut Butter
Directions:
Preheat oven to 350° and grease a 9×13 pan.
Mix all ingredients together in a large bowl and stir well. Spread in to pan and bake for 20-25 minutes, or until edges are golden brown.
Serve with warm milk poured over top.
Variations
*slice bananas on top then pour warm milk
*sprinkle with a few mini chocolate chips
*add yogurt and a little maple syrup
**Making this recipe?  Take a picture and share it on Instagram! Make sure to tag it #TidyMom so we can see what you're creating in the kitchen!
Want more great recipes like this? Follow my TidyMom Easy Recipes Pinterest Board
Follow Cheryl Sousan | Tidymom.net's board TidyMom.net easy recipes on Pinterest.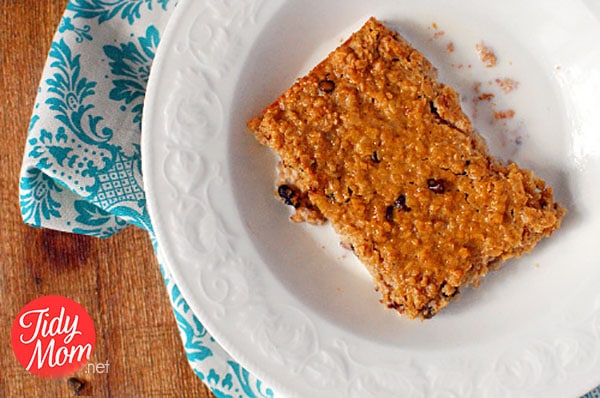 More Baked Oatmeal Recipes you may enjoy: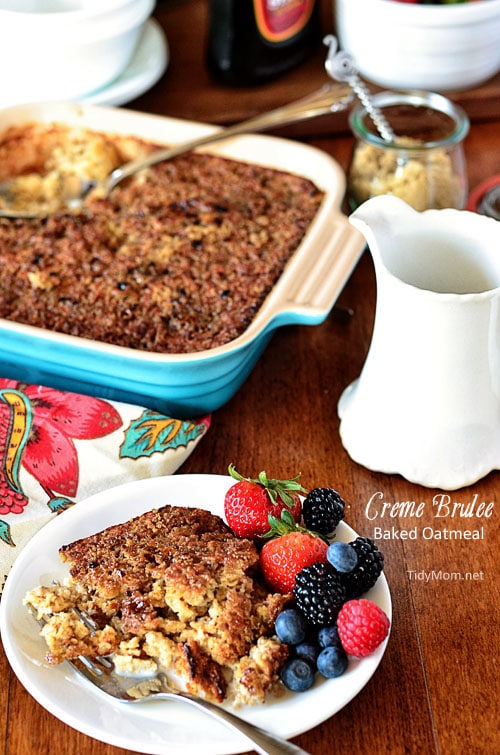 Look who else is making Baked Peanut Butter Oatmeal
What's your favorite way to eat oatmeal?  have you ever had baked oatmeal?


You May Also Like...