Creme Brulee Baked Oatmeal
This Creme Brulee Baked Oatmeal is a creamy, yet firm oatmeal with a finishing sugary crunch that will make you forget that you're eating something nutritious! Warm or cold, it's perfect with a drizzle of milk and a side of fruit.

Your mother was right! Breakfast really is the most important meal of the day.  Not only does it give you the energy to start a new day, but a nutritious breakfast improves your mental focus and prevents you from bottoming out and becoming hungry before lunch.
Did you know that kids who eat a nutritious breakfast, complete with dairy, learn better?!  That's right, not only does dairy provide calcium that helps grow strong bones, but it's packed with protein. Dairy in any form, whether it's low-fat milk with cereal, California cottage cheese cups, smoothies or an egg and cheese sandwich, all pack a lot of protein – which helps keep you full until your next meal.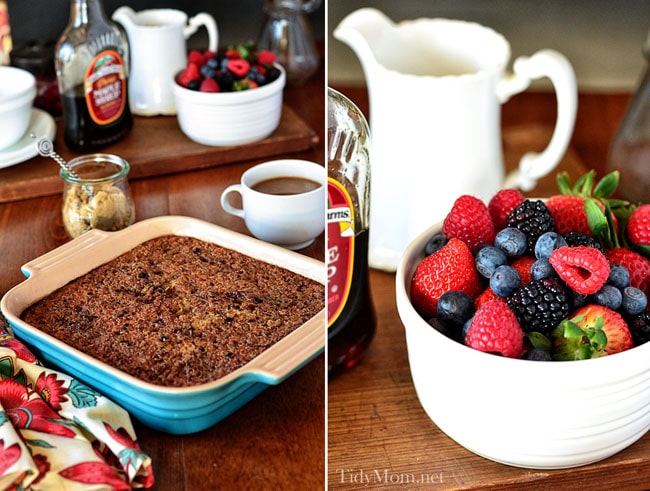 March is National Nutrition Month, which is a good time to start healthy eating habits, such as eating breakfast on a regular basis. Eating breakfast is going to get rid of hunger symptoms, such as being tired, getting headaches or becoming cranky. Set a good example for your kids, by eating a healthy breakfast yourself.
Don't think you have time to eat breakfast? Here are a few grab-and-go breakfast options that will keep you full, focused and on time:
California cottage cheese and yogurt cups with fresh fruit
Southwest Baked Egg Cups (baked ahead of time, simply reheat in the morning)
A veggie omelet with California cheese and a slice of whole-wheat toast
A whole-wheat English muffin with low-fat California cheese, a scrambled egg, and slice of tomato
Smoothie made with fruit and low-fat yogurt
Whole-grain cereal with fresh fruit and low-fat milk
Creme Brulee Baked Oatmeal (recipe below) with low-fat milk,  and 4 ounces of orange juice
Oatmeal can be quite boring, particularly when it is drowned and soupy in a bowl.  I was never a fan of oatmeal as a kid, unless it was in a cookie.  It wasn't until I discovered baked oatmeal a few years ago, when I made Baked Peanut Butter Oatmeal, that it started making a regular appearance on our breakfast table.
I recently wanted to see if I could create a baked oatmeal that would be reminiscent of creme brulee topped off with a sugary crust.   Not only is this Creme Brulee Baked Oatmeal delicious right out of the oven, but we even like it cold, or leftover and heated up in the microwave for a quick nutritious breakfast during the week.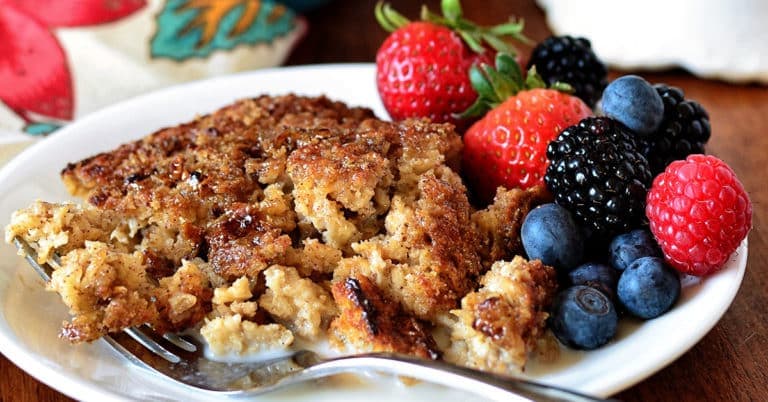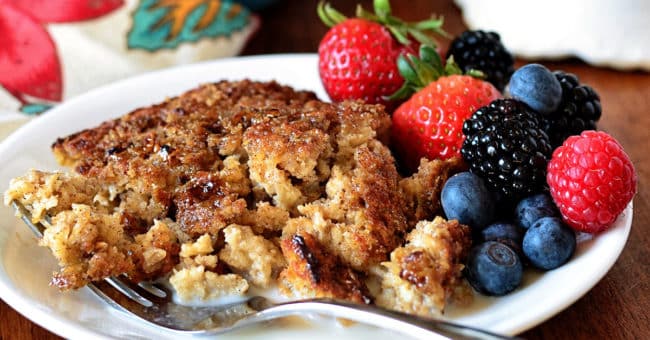 This Creme Brulee Baked Oatmeal is a creamy, yet firm oatmeal with a finishing sugary crunch that will make you forget that you're eating something nutritious! Warm or cold, it's perfect with a drizzle of milk making its way into all of the crevices. Serve with a side fresh fruit and it will leave you full until way past lunch!
With all this in mind, I love finding new breakfast recipes! I thought it would be fun to have you all over for breakfast and throw a virtual BREAKFAST PARTY!!!  Well, a  Dairy Breakfast Club Party 😉
The California Milk Advisory Board and I are inviting you to share your favorite breakfast recipe(s) here on TidyMom.net starting March 18 thru March 25, 2013.

EDITED:  The party is now open click here to share your recipes!
I can't wait to see what you all cook up!
CHECK OUT HOW EASY THIS CREME BRULEE BAKED OATMEAL RECIPE IS TO MAKE! WATCH THE VIDEO!
click to see more of my recipe videos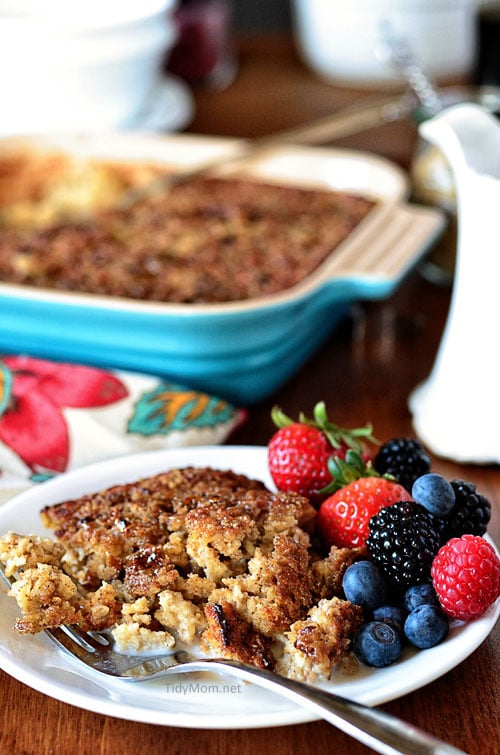 If you're hooked on baked oatmeal like we are, you might want to also try Chocolate Chip Banana Streusel Baked Oatmeal, Apple Cinnamon Baked Oatmeal, and Carrot Cake Baked Oatmeal to keep your family energized and eating healthy!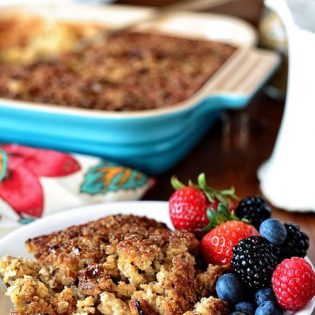 Creme Brulee Baked Oatmeal
Ingredients:
2 cups old-fashioned oats
2 tablespoons butter, melted
1/2 teaspoon baking powder
1/4 teaspoon baking soda
1/4 teaspoon salt
1/2-1 teaspoon cinnamon
1 teaspoon vanilla extract
1½ cups California Milk
1 cup California low-fat vanilla yogurt
2 whole large eggs
2/3 cup brown sugar, divided (1/3 cup for topping)
Directions:
Preheat oven to 350° and grease a 9-inch pan.
Using a large bowl, mix all ingredients, reserving 1/3 cup of brown sugar for topping.
Cover pan with foil, and bake for 20 minutes, remove foil and continue baking for another 25 minutes.
Remove pan from oven and turn oven to broil. Sprinkle top of oatmeal with remaining 1/3 cup of brown sugar and return to oven to broil 3-5 minutes, watching closely so it doesn't burn.
Enjoy served warm with a little milk.
Store leftovers covered in the refrigerator. Reheat in microwave for 30-40 seconds per serving.
Making this recipe? Share it with us on Instagram using the hashtag #TidyMom so we can see what you're creating in the kitchen!
Want more great recipes like this? Follow my TidyMom Easy Recipes Pinterest Board
Like this Creme Brulee Baked Oatmeal Recipe? Pin It!

Disclaimer:  I'm excited to have a working partnership with the California Milk Advisory Board to talk about the importance of eating a nutritious breakfast complete with dairy and how to ease morning routines for moms.  All opinions and views are all my own.