Veggie Sandwich: I'm Lovin' It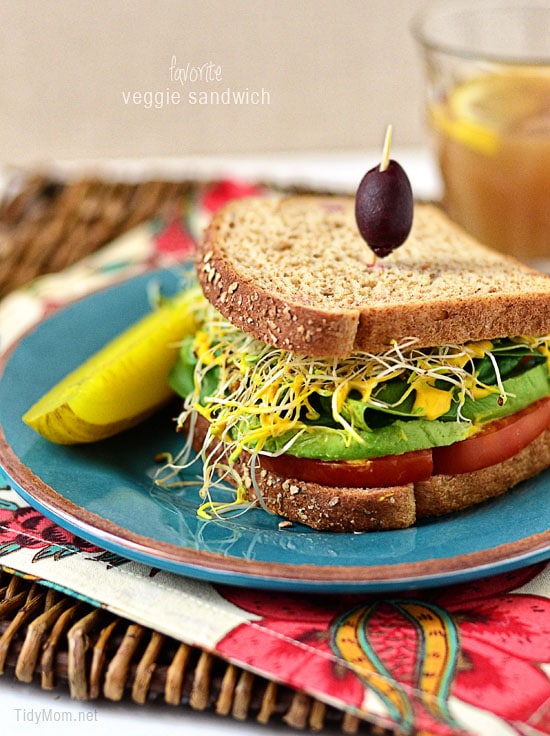 Lunchtime can be stressful –I'll admit, I'm one who will often skip lunch, then find myself starving by 3pm.   Trying to fit in food during a busy workday, whether you work at home, on the road or in an office can often mean fast food or greasy left overs. For me, it's about needing something easy, that's why I often skip lunch, because I just don't want to take the time to make something.  But that can usually lead to snacking + high calories.
My current game plan: keep good, healthy sandwich supplies in the house, it only takes a minute or two to prepare. My latest addiction has been a simple, veggie sandwich (I can even make one to go if I'm going to be out running errands, I just toss it in a container and put it in a small cooler in my car) .
My Favorite Veggie Sandwich:
Stuff two pieces of light multi grain bread with ½ of a medium avocado, sliced, a handful of sprouts, another handful of fresh spinach, 1-2 slices of tomato topped with a little mustard – all for about 250 calories.
By eating this nutrition-packed sandwich I'm saving myself from that late afternoon snack attack!  And, with the record breaking heat we've had this summer, this sandwich has shown up on my dinner plate a few nights with a side of Bush's Grillin' Beans (that I love to eat cold, right out of the can) I get plenty of protein and still have room for dessert!
 Do you have a favorite "go to" lunch?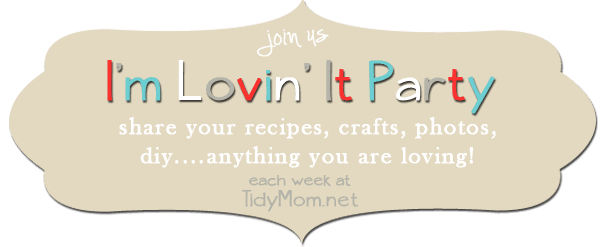 I'm Lovin'…….My Favorite Veggie Sandwich

Now it's your turn! Please remember to link back to http://TidyMom.net
Let us know what you're lovin' this week!
*Don't forget to come back over the weekend for the I'm Lovin' It Wrap Up post……where I feature a few of the great links!!
What is I'm Lovin' It Fridays? get all the info, how to's trouble shoot and button here