Turtle Cheesecake Cupcakes
Today, my friend Kristan is guest posting for me while I'm getting ready to head NYC as a Family Dish Ambassador for Unilever and TheFamilyDish.
Give Kristan a warm welcome………..
Hey Tidy Mom fans!
My name is Kristan, and I am super excited that Cheryl has asked me to guest post in her absence. I am such a fan of her blog, and I love the fact that not only does she bake up awesome goodies, but she has a tidy home, too. For reals–nothing is worse than eating a yummy treat and later finding out that the maker of said treat's house is a hot stinkin' mess.
I started my blog, Confessions of a Cookbook Queen, only about 8 months ago. I've always loved baking, and after being a blog reader for quite some time, I really just wanted one of my own.
My goal is to inspire women to have fun in the kitchen, embrace their imperfections, and just be themselves. It's so important that my readers know that behind those pretty pictures on my blog is a regular mom, who prefers candy to vegetables, has an unhealthy obsession with reality shows, and sometimes tells lies to my child (Only when absolutely necessary. Sort of). I have the best readers in the world, and I love every one of them!
There are so many fabulous blogs out there, and finding your way can be a bit intimidating. I am so appreciative of bloggers like Cheryl, who have reached out to me and really given me a ton of encouragement.
So, thanks for inviting me to come over and hang out, Cheryl!!
Now on to the reason I'm here: Cupcakes!!
I hadn't picked up a box of Jell-O No Bake Cheesecake in years, but when I spotted them at the store the other day, I decided to grab one. I was hoping inspiration would hit eventually, and I'd figure out something to use it for.
Other than making a regular cheesecake, obviously.
And guess what?
I had an idea.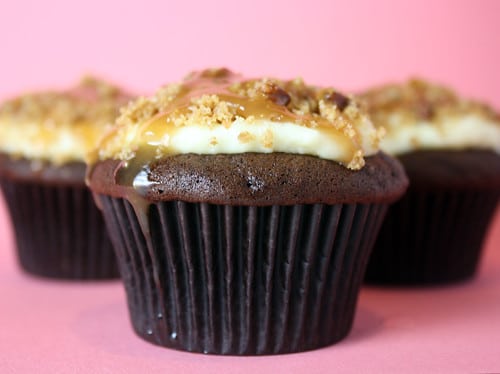 Turtle Cheesecake Cupcakes
A batch (about 24) of your favorite chocolate cupcakes (I make mine with a box of Duncan Hines Dark Chocolate Fudge)
Ingredients
1 box Jell-O No Bake Cheesecake
1 3/4 cups milk
6 Tablespoons butter, melted
2 Tablespoons sugar
1 cup chopped pecans
Caramel Sauce
Instructions
(I used caramel sauce that comes in a squirt bottle. It doesn't need heated, and the bottle is handy for drizzling)
After your cupcakes are cooled, prepare the cheesecake filling according to the box instructions, increasing the amount of milk to 1 3/4 cup instead of 1 1/2.
Place the cheesecake filling in the refrigerator while you prepare your cupcakes to be filled.
Using a the bottom of a large piping tip or a small round cookie cutter, press into the middle of each cupcake. (If you don't have a cutter, you can cut a circle with a small knife).
Press the cutter down about a third of the way and then remove it. It should remove a circle of cake from the center of the cupcake.
After you've cut a circle from every cupcake, prepare your pecan/graham cracker topping.
Pour the graham cracker crumbs from the Jell-O Instant Cheesecake in a medium sized bowl. Add the sugar, melted butter, and chopped pecans. Mix with a fork until the melted butter is evenly distributed throughout the mixture.
Remove your filling from the refrigerator and fill the holes in the cupcakes to overflowing. Spread the excess on the top of the cupcake and sprinkle with the crumb mixture. Finish with a drizzle of caramel sauce.
Notes
Wanna know how to make these?
Easy peasy.
These cupcakes are beautiful, easy, and completely delicious.
I hope you enjoy them!!
Thanks again to Cheryl for having me!!
************************************
Thanks again Kristan………and these are SO going on my MUST MAKE "cupcake list"!!……..I'll eat a cupcake in your honor while I'm in New York City!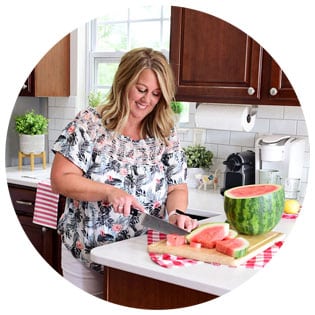 Hi there, I'm Cheryl!
As a wife, mom, and caffeine enthusiast, my journey has taken me from bustling mornings with my family to sharing delicious recipes, home care tips, and heartfelt decorating insights with wonderful readers like you. My love for baking, photography, and tidiness shines through every post I craft. Dive into my world and discover the art of homemaking, one tidy moment at a time. Read more...
Tidymom is a participant in the amazon services llc associates program, an affiliate advertising program designed to provide a means for sites to earn advertising fees by advertising and linking to Amazon.com.
Please respect my work, recipes and photographs. If you do use a recipe in your own writing, please give proper credit and link back to the original post.