Easy Moo Shu Pork & The Family Dish in NYC
You've no doubt by now, heard me talk about a great website called The Family Dish. It's full of great recipes and is all about bringing your family together in the kitchen.  I'm proud to say I'm an Ambassador for this Unilever program.
As part of the program, Unilever brought us to New York City to see the Unilever kitchens, and talk and cook with their experts.  We met Lauren and Anna Marie of @KitchenDishin on Twitter as well as many other amazing Unilever kitchen experts.  These ladies were so full of passion and truly LOVE their jobs……..and oh how I would LOVE their jobs!!
I will share more about the trip over the next week or so, and I will share more of the recipes we prepared that day.
But for today I wanted to share the dish I prepared in New York City in the Unilever Kitchens.  We each prepared a dish with the experts, then presented our dishes to the group then we  enjoyed all the food!
My dish was Moo Shu Pork with Chow Mein Noodles- people! this was SOOOO easy and fun!!
I cooked just like I do at home!…….with my camera on my shoulder! haha
Thanks to Linda Sellers for this picture.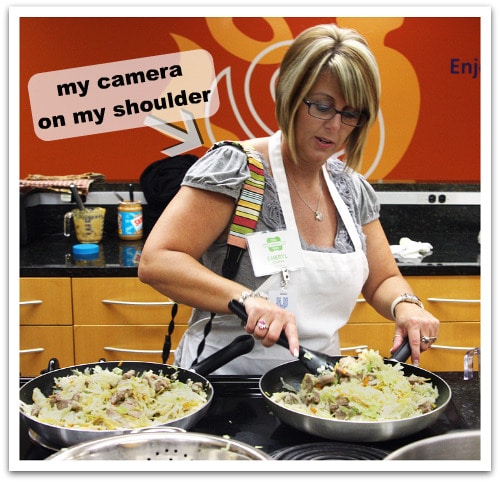 Moo Shu Pork with Chow Mein Noodles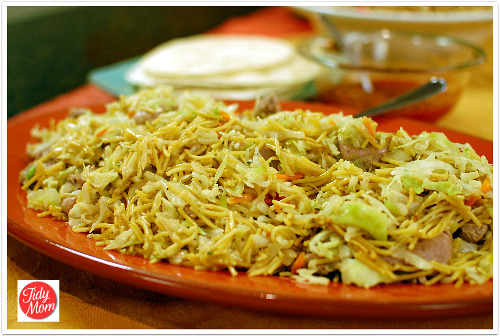 Ingredients
1 lb pork tenderloin, cut into thin strips
2 Tbsp vegetable oil, divided
1 bag (14 oz) coleslaw mix
1-3/4 cups water
1 package Knorr® Asian Sides – Classic Chow Mein
8 (6-in) fajita size flour tortillas, warmed
1/3 cup apricot preserves
2 Tbsp. chili sauce
Instructions
Season pork, if desired, with salt and ground black pepper. Heat 1 tablespoon oil in 12-inch nonstick skillet over medium-high heat and cook pork, stirring occasionally, 4 minutes or until done. Remove pork and set aside.
Heat remaining 1 tablespoon oil in same skillet over medium heat and cook coleslaw mix, stirring frequently, 6 minutes or until tender. Season, if desired, with salt and pepper.
Remove coleslaw mix and set aside. Add water to the same skillet and bring to a boil. Stir in Knorr® Asian Sides – Classic Chow Mein and return to a boil. Reduce heat to medium and cook, stirring occasionally, 7 minutes or until noodles are tender. Stir in pork and coleslaw.
Combine preserves with chili sauce, then spread on warm tortillas. Top with chow mein mixture, then roll up. Serve, if desired, with soy sauce.
https://tidymom.net/easy-moo-shu-pork/
Copyright© 2009-2013 TidyMom.Net
This dish was DELICIOUS!!! I can't wait to make it for my family! I think I'm going to try it with chicken.  Also, I ate it with out the tortilla, but did spoon the sauce over it.
Thanks again to Unilever for the incredible experience.
Tempt Your Tummy Tuesday, Balancing Beauty and Bedlam, Mouth Watering Mondays and Tuesdays at the Table , Foodie Friday, Friday Food, Weekend Wrap Up Party


*Disclosure- This post was created in connection with my appointment as an Ambassador in Unilever's Family Dish Program. For more great ideas, go to www.thefamilydish.com.