Triple Chocolate Caramel Bars
Triple Chocolate Caramel Bars are like a thick chewy brownie only better!! These indulgent cake mix bars are always a hit and easy to make!
Be sure to sign up for my email… to get new recipes and ideas in your inbox!
If there was ever a Monday treat, this is it!
Do you see all of that chocolate?! I mean oh my gosh! Nothing better…….and on a Monday!!
These Triple Chocolate Caramel Bars are dead simple to make, and you'll end up with soft, ooey-gooey dessert no one can resist. Seriously, these cake mix bars are crazy good. They might even melt away all your problems!
Ok, they may not solve world problems, but you've got to admit, there's something pretty wonderful about sitting down with a rich delicious chocolate dessert to make you forget your troubles… even if only temporarily.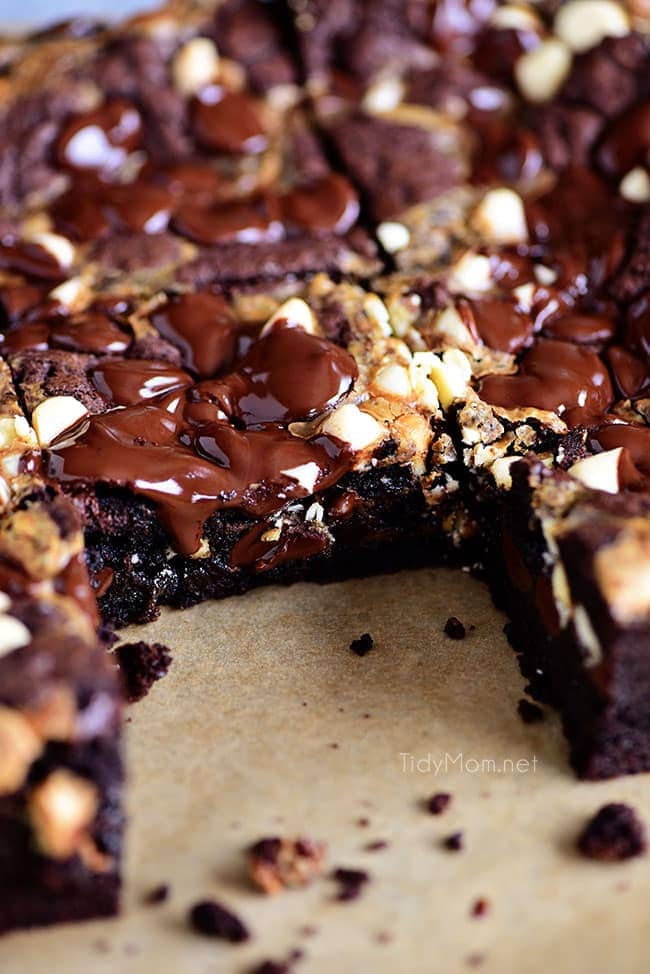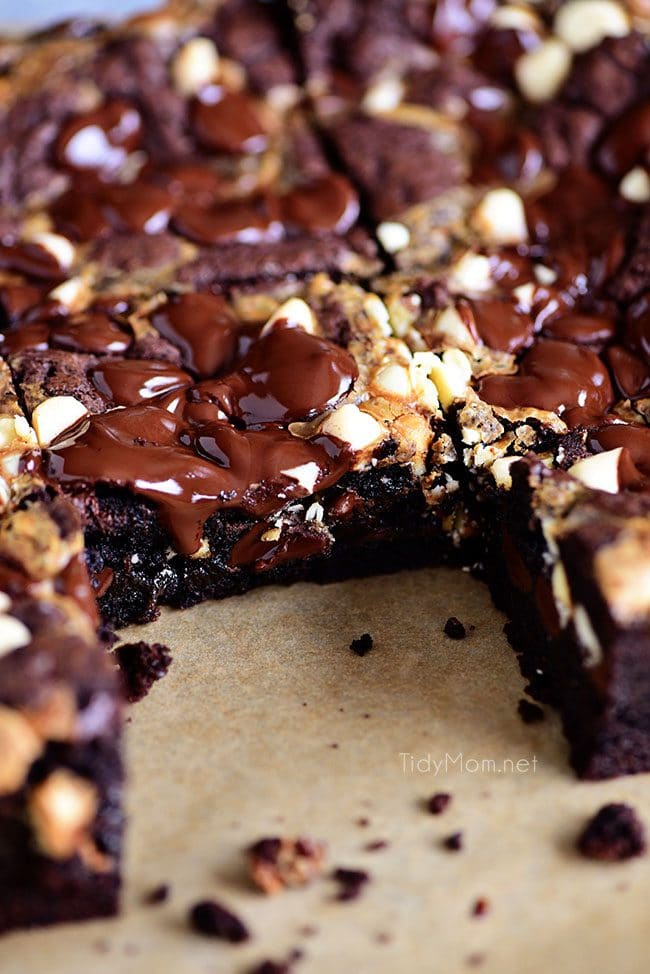 This post may contain affiliate links. Please read my disclosure policy here.
They start with a dark chocolate fudge cake mix and are LOADED with milk chocolate chips, white chocolate chips, and caramel!
No wonder they taste SOOO darn good!
Here's how Triple Chocolate Caramel Bars breakdown layer by layer…
……starting things off with a dough made from my favorite dark chocolate cake mix. Note, you are not following the directions to make a cake, but you will make a stiff dark chocolate dough with the cake mix, butter, and egg.
…..topping the dough with milk chocolate and white chocolate chips
…..next comes the caramel! Caramel sweetened condensed milk is poured over the chips and chocolate dough. You can't beat chocolate + caramel –amiright?
…..finally, sandwich it off, with more of that sweet chocolate dough and chocolate chips!
I told you it was EASY!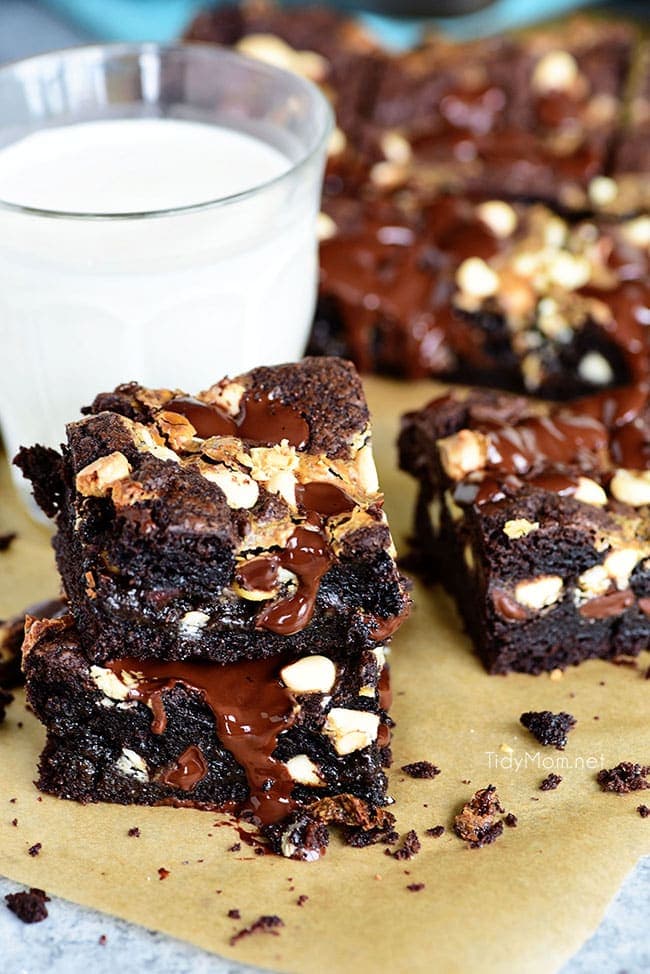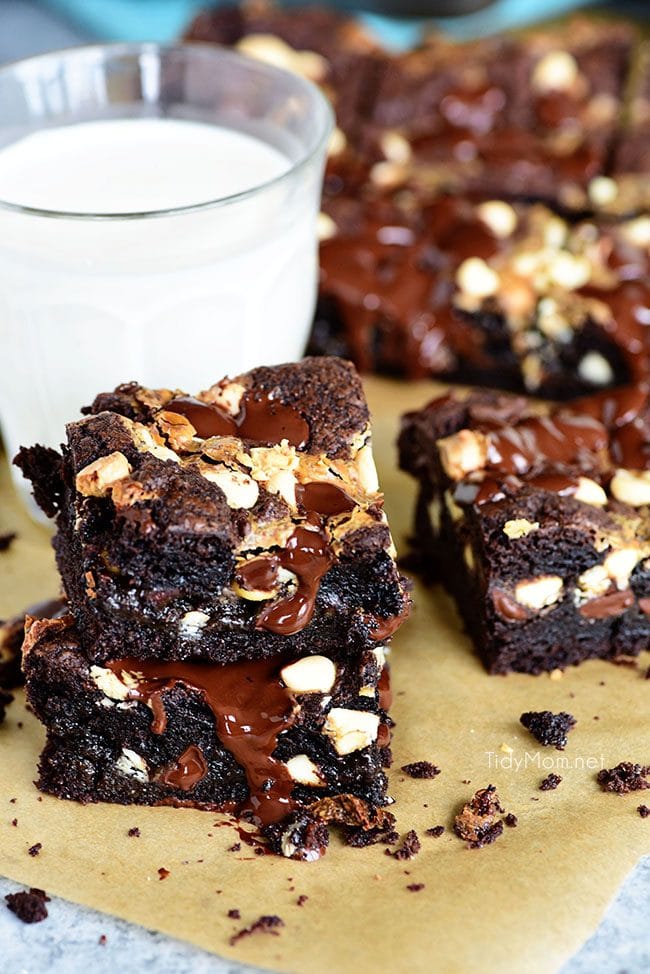 Trust me, when these cake mix bars come out of the oven, it's almost impossible not to just grab a spoon and eat them right out of the pan ….. warm and ooey gooey!!
If you liked this easy cake mix bars recipe, you may like some of these other cake mix recipes, like Gooey Butter Peanut Butter Cookies that disappear FAST every time I make them. Or, how I make perfect cupcakes using a cake mix taste like from scratch. If you're a poke cake lover, you only need 3 ingredients to make a Cinnamon Roll Poke Cake!
Like this Triple Chocolate Caramel Bars Recipe? Pin It!


I created a fun little group on facebook and I'd love for you to join in! It's a place where you can share YOUR favorite recipes, home tips, creative ideas and ask questions and see what's new with TidyMom! If you'd like to check it out, you can request to join HERE. Be sure to follow me on Instagram and tag #tidymom so I can see all the wonderful TidyMom recipes YOU make and tips YOU use!
Connect with TidyMom! Facebook | Twitter | Pinterest | Instagram
Sign up to receive an email in your inbox for each new recipe: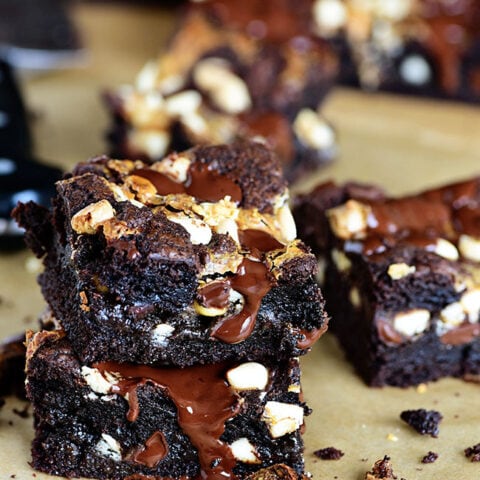 Triple Chocolate Caramel Bars
Triple Chocolate Caramel Bars are like a thick chewy brownie only better!
Ingredients
1 dark chocolate cake mix (I prefer Duncan Hine Dark Chocolate Fudge)
1/2 cup butter, softened
1 large egg
½ cup caramel sweetened condensed milk
1 cup milk chocolate chips
1 cup white chocolate chips
Instructions
Pre-heat oven to 350° F and line a 9x9 (or 8x8) pan with parchment paper and spray with cooking spray
Using an electric mixer, combine cake mix, butter and egg in large bowl until a thick dough forms.
Using your fingers, press ⅔ of the dough into the bottom of the prepared baking pan.
Sprinkle ½ cup of both milk chocolate and white chocolate chips over dough.
Pour a thin, even coat of sweetened condensed milk over the top.
Form remaining dough into approximately 9 balls. Place the dough balls on top of chips and press down to flatten.
Sprinkle top with remaining chocolate chips.
Bake 27- 30 minutes. Remove from oven and cool completely before removing from pan and slicing.