Super Food for Game Day!
T
his Sunday is an
unofficial
American holiday,
Super Bowl Sunday!
and what's a holiday with out some great food?….or make that
SUPER food!
Here are a few of our game day favorites that always score a touchdown!
Mini Ham and Swiss Party Rolls
Ingredients
Sliced Ham (I use 1/2 pound per loaf)
Swiss Cheese (I use about 5 sliced per loaf)
1 pkg King's Hawaiian rolls
1/2 cup melted butter
1/2 tsp Worcestershire sauce
1/2 tsp dry mustard
1-2 tsp onion powder (or dried onion)
1 Tbsp poppy seed
Instructions
The rolls will look like a large solid piece of bread. Leave the rolls intact and slice the loaf in half with a long knife to form a top layer and a bottom layer.
Place ham and cheese on bottom layer of rolls, then place top layer of rolls over ham and cheese and place in a 9×13 pan.
Mix remaining ingredients together and pour mixture over rolls.
Baker 350 for 15-20 minutes.
Let them cool slightly before cutting.
Notes
These reheat well too, even in the microwave.
https://tidymom.net/super-food-for-game-day/
Copyright© 2009-2013 TidyMom.Net
Ingredients
5 large flour tortillas
1 bunch green onions chopped – stems and all
4 ounces chopped green chilies- drained
8 ounces cream cheese – softened
8 ounces sour cream
1/2 pound cheddar cheese – shredded
Salt and pepper to taste
Instructions
Have tortillas at room temperature.
Place the remaining ingredients in a bowl and, with an electric mixer, combine all until well distributed.
Spread mixture fairly thin and evenly on tortillas to within 1/8 inch of edge.
Roll up jelly-roll fashion and wrap each tortilla in plastic wrap.
Refrigerate overnight. When ready to serve, slice in 3/4 inch rounds and arrange on serving plate.
Serve plain or with salsa.
Notes
*Notes:

Tortillas will tend to dry out if rolls are unwrapped and sliced to early.

Make the night before, they have to sit overnight.
https://tidymom.net/super-food-for-game-day/
Copyright© 2009-2013 TidyMom.Net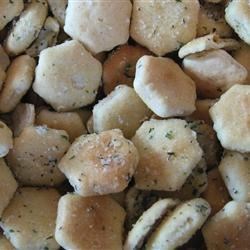 Ingredients
2 bags of Oyster Crackers
1/2 cup oil
1/4 tsp garlic powder
1 tsp dill weed
1 pkg. dry Hidden Valley Ranch Dressing Mix
Instructions
Heat oil, pour over crackers.
Mix dry ingredients and sprinkle over crackers and mix with wooden spoon.
Serve in a bowl.
https://tidymom.net/super-food-for-game-day/
Copyright© 2009-2013 TidyMom.Net