Stitch Fix – Personal Stylist | I'm Lovin It
Shop with your own personal stylist, at Stitch Fix. Get hand-selected women's fashion shipped free, straight to your door. Try on at home risk-free. Perfect for busy lives and moms with little one who never get to shop alone.
Do you ever wish you had your own personal stylist when you go shopping for clothes and accessories? I know I do! I get so overwhelmed by all the choices in the stores, I'm never sure how to dress for my size (short and a little fluffier than I'd like to be). I often shop with my 17 and 25 year old daughters who like to see their mom dress trendy, but often suggest things that I know a 40- something should not be wearing! lol
What happens? I end up with a closet too full, of things that I have only wore a time or two…..or even still have tags on them months later!
I have NEVER been one who can just buy clothes online, like my 25 year old can, I have to try them on and still so often what I'm taking back to the dressing room doesn't look good on me. Then don't even get me started on the whole "what do I wear it with marry-go-round"
Sound familiar? PLEASE tell me I'm not alone. I love to shop, and I love cute clothes, I'm just horrible at putting it all together. That's why I'm currently trying something new that I'm loving so far!! If you follow me on instagram you may have seen me mention yesterday that I got my first Stitch Fix box!
What is Stitch Fix?
Stich Fix is a monthly subscription ( you can cancel any time – no contract) where you fill out very detailed questionnaires based on your style preferences (you can even give them the link to your Pinterest style board if you have one), lifestyle, body type, sizes (even bra size), weight, height etc. After you've given them a clear picture of who you are and what you look like, you get assigned a personal stylist.
Your personal stylist will then send you a box that contains 5 pieces of clothing (and accessories if you want), chosen specifically for you and your style. Your stylist will know if you don't like your arms showing, you need tops but don't need pants, or you hate tight skirts.
Try everything on at home, and only pay for what you want to keep! You have 3 days to send back what you don't love (in the prepaid envelope they've included) and tell Stitch Fix why—the stylists will make sure your next Fix is even better.
What was in my first box?
I had been hearing a few blogging buddies talk about Stitch Fix for a few months, but I always thought "I could NEVER buy clothes online, I have to try things on" But as I saw more, and more and more rave about it, I decided "what do I have to lose" I'll sign up, if I hate everything, I'll send it back and I'm only out $20……….. Allison (17) wanted to try it too.
Our boxes arrived yesterday and we were excited but a little skeptical at first.
We opened our boxes and were oooohing and ahhhing instantly! We really loved everything and best of all……….EVERYTHING FIT!!
I'll show you what came in my box, and my thoughts.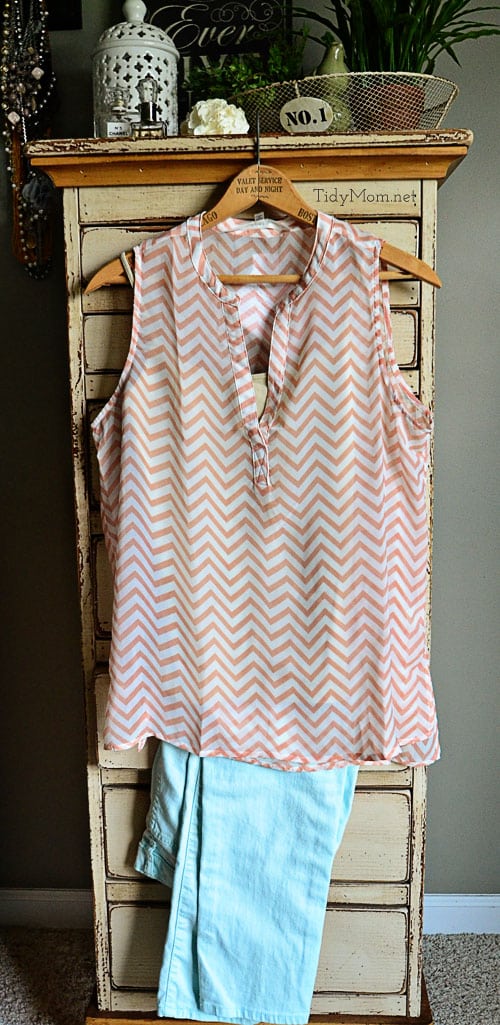 First up was this cute Fun2Fun pink chevron sheer blouse . I instantly loved it!
Each piece of clothing has a tag with outfit ideas for that particular article of clothing. They show you how to wear it dressed up and casual! LOVED that!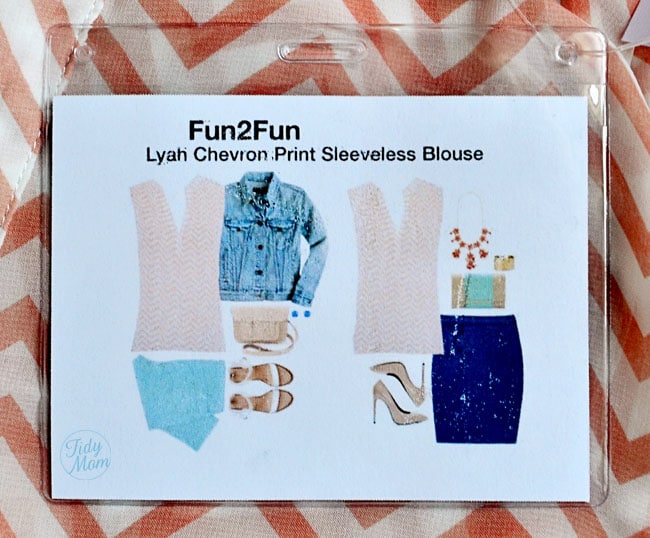 That's where I got the idea to pair it with my mint skinny jeans.
As cute as it was, and it fit really well, I'm just not sure it's something I NEED right now (I have SO many summer clothes), so I decided to pass on this piece………..but it pained me to do so.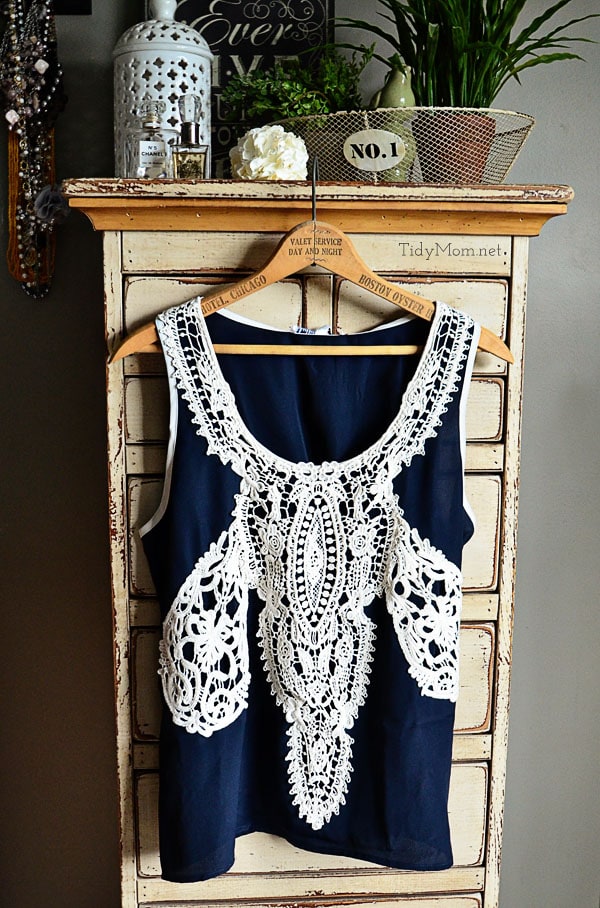 Next was this ADORABLE Collective Concepts Crochet Sleeveless Blouse . This top is totally something I would grab to try on if I saw it in a store!
Look how adorable it is dressed up or down. Since this is something I can wear even in cool weather with a jean jacket and boots I decided to keep it. I love the colors, and the unique crocheting sold me.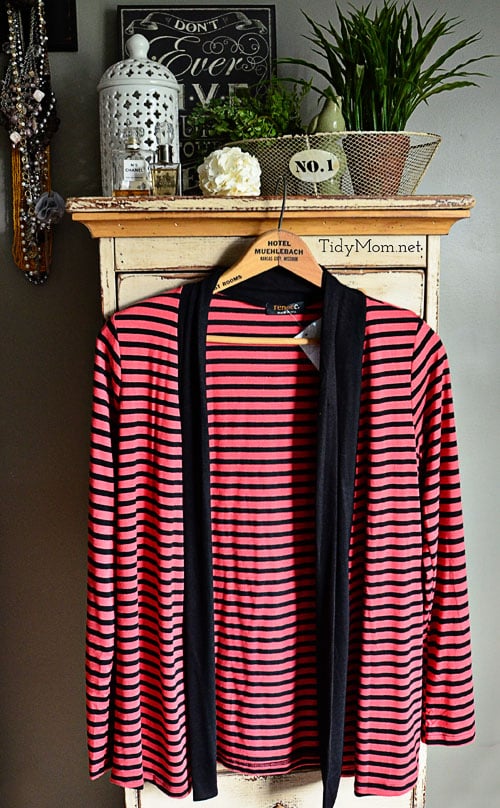 Next was this Renee C Striped Cardigan. The tag says it's orange, but it's more of a salmon and I love it! If you know me at all, I have a slight addiction to cardigans. I'm generally pretty conservative with them, getting solid colors, so I loved that this was stripped and the solid black color block down the front looks like I'm wearing a scarf with it!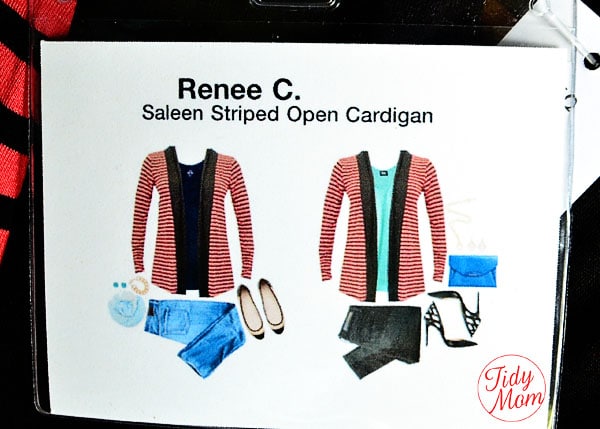 I think it would go great with jeans, black pants and even looked cute with my black maxi dress. Not sure I like it with that blue top they have on the card, I'm a little afraid I would only wear it with a black top…..so I decided to pass……..actually this piece went in and out of the bag several times 😉
**funny little note: you will see that my stylist is checking out my pinterest style board, I pinned an orange stripped cardigan not too long ago 😉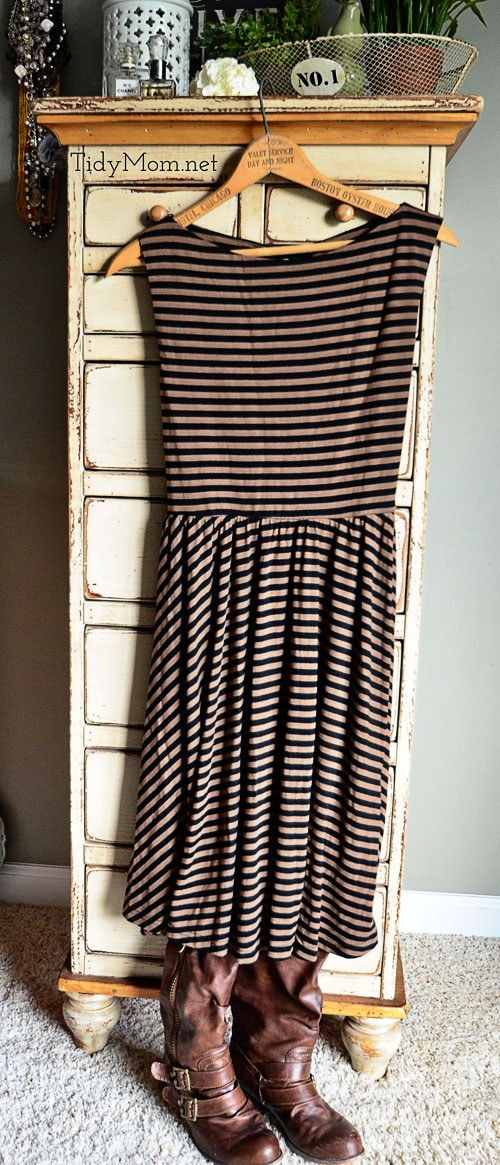 The last piece of clothing was this super cute Angie striped tank dress. Of course I can wear it now, but I instantly pictured it with my brown riding boots for fall!
It fit great, and I love how the stripes on the skirt are at a bit of an angle.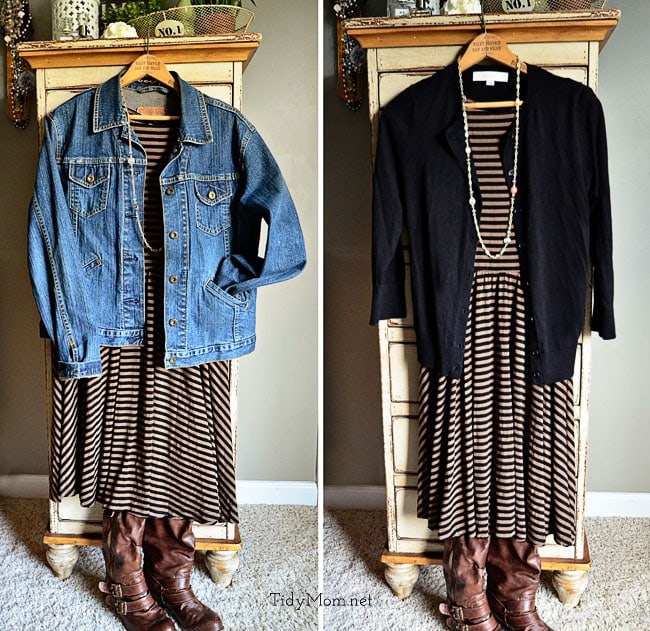 It looks so cute with a denim jacket or black sweater and my brown riding boots.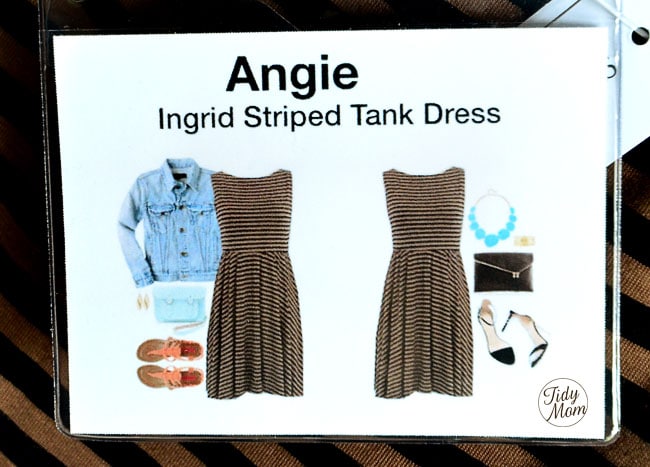 Look how cute it would be dressed up with heals!! Since this piece is SO versatile, I'm keeping it! Can't wait to wear it!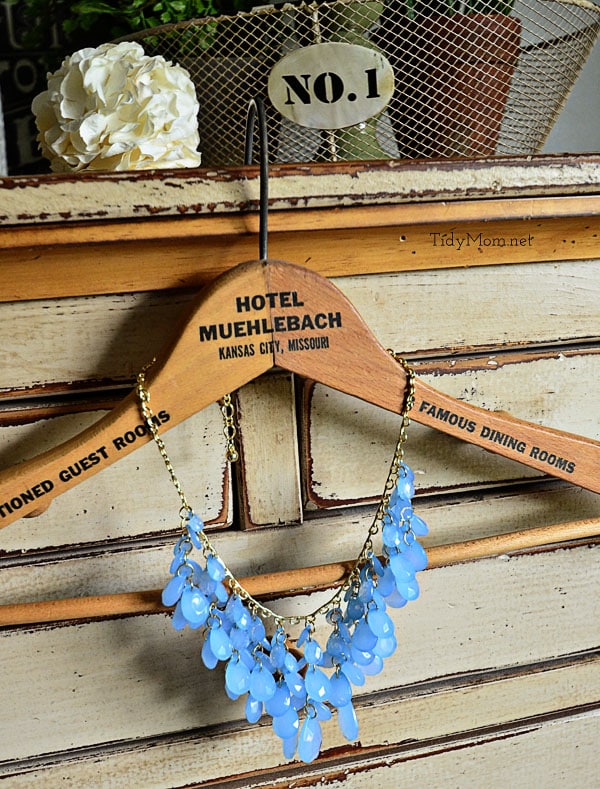 My 5th piece was this cute 41Hawthorn teardrop cluster necklace. I think it would be really great with the right outfit, but I just didn't have anything to go with that color of blue, so it's going back.
How much does Stitch Fix cost?
The styling fee is $20, however if you choose to keep any of the clothes sent, that $20 goes towards your purchase. You can choose what price range you are interested in… and they shop for you based on that price range. You get free shipping both ways and a 25% discount if you buy all 5 items.
And another thing, you don't have to receive a box every month, you can set up you "Fixes" with whatever schedule works for you and your budget!
How much were my items?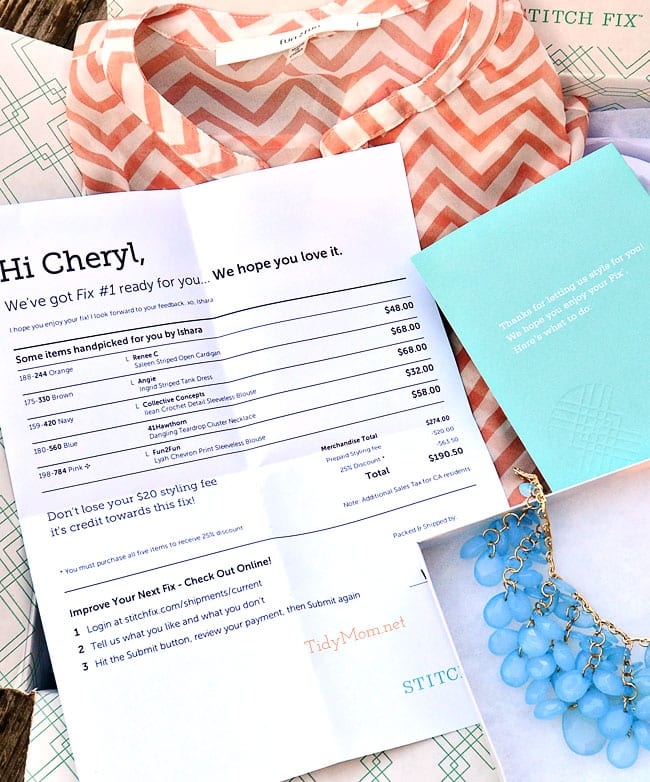 The grand total if I had kept all 5 items at 25% off would be $190.50 – which averages out to $38 per piece, and that's really not all that bad! I would say comparable to shopping at Macy's.
Since I'm only getting 2 pieces, my total is $116 -$20 styling fee that I've already paid = $96 –it definitely is the better deal to get all 5 pieces.
Allison decided on just one item from her box – a pair of really cute dark pink skinny jeans. She sealed everything else back up in the shipping bag so she couldn't change her mind lol…….so I wasn't able to get any pictures for you. (maybe next time).
I'm excited that we have a new season just around the corner, since I don't need any summer clothes right now. So far, I love this service! From what I've seen, most of the clothes are one-of-a-kind and I don't see anyone else with them, which is always nice since all the retail stores seem to carry so much of the same things these days. The clothes are high quality too, not the cheap stuff that falls apart after a few washings.
I would love to hear if you've tried Stitch Fix! Also, if you are thinking about it and have questions…….ask away! I'll answer what I can!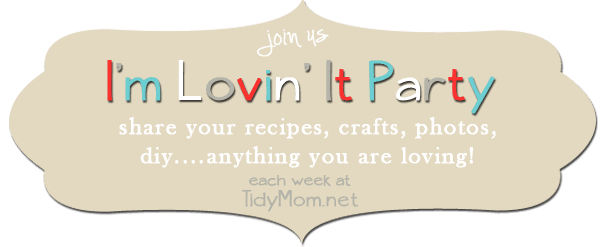 I'm Lovin'…….Stitch Fix

Now it's your turn! Please remember to link back to https://TidyMom.net
Let us know what you're lovin' this week!
*Don't forget to come back over the weekend for the I'm Lovin' It Wrap Up post……where I feature a few of the great links!!
What is I'm Lovin' It Fridays? get all the info, how to's trouble shoot and button here

Disclaimer: This is not a sponsored post it's just I use and wanted to share. The link I provided to sign up, is a referral link and if you sign up using that link I do get a discount on my next box. When you sign up, you will get a referral link to use as well!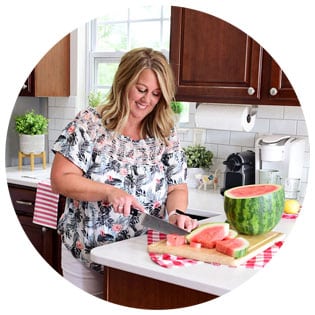 Hi there, I'm Cheryl!
As a wife, mom, and caffeine enthusiast, my journey has taken me from bustling mornings with my family to sharing delicious recipes, home care tips, and heartfelt decorating insights with wonderful readers like you. My love for baking, photography, and tidiness shines through every post I craft. Dive into my world and discover the art of homemaking, one tidy moment at a time. Read more...
Tidymom is a participant in the amazon services llc associates program, an affiliate advertising program designed to provide a means for sites to earn advertising fees by advertising and linking to Amazon.com.
Please respect my work, recipes and photographs. If you do use a recipe in your own writing, please give proper credit and link back to the original post.