How to get Paint out of Clothes
Don't throw it out! Learn how to get paint out of clothes, so you don't have to throw your favorite piece in the trash.
We've been in the middle of working on our family room makeover, that I told you about a few months ago. We decided to wait until the holidays were over to really get started.
As soon as the Christmas tree came down, we got to painting. I finally decided on Benjamin Moore Coventry Gray and couldn't be happier!!
It's the perfect gray paint color! I can't wait to share some pictures of the progress soon.
During the painting, my husband happened to walk thru the room with his favorite coat on and brushed a corner with fresh paint……and you guessed it, he ended up with paint on the sleeve.
How does that always happen?! It's not just him.. I know I've done it myself more times than I care to admit. You think you're being so careful…
You should have seen the disappointment on his face when he told me about it – after it was dry.
I told him, no worries, I know a little trick that should get dry paint out of clothes, and since the jacket was machine washable, it should come right out!
This method is 99% effective, and is worth a try! Since you already have paint on the garment, you don't have much left to lose, right?
It's definitely worth the effort, I promise!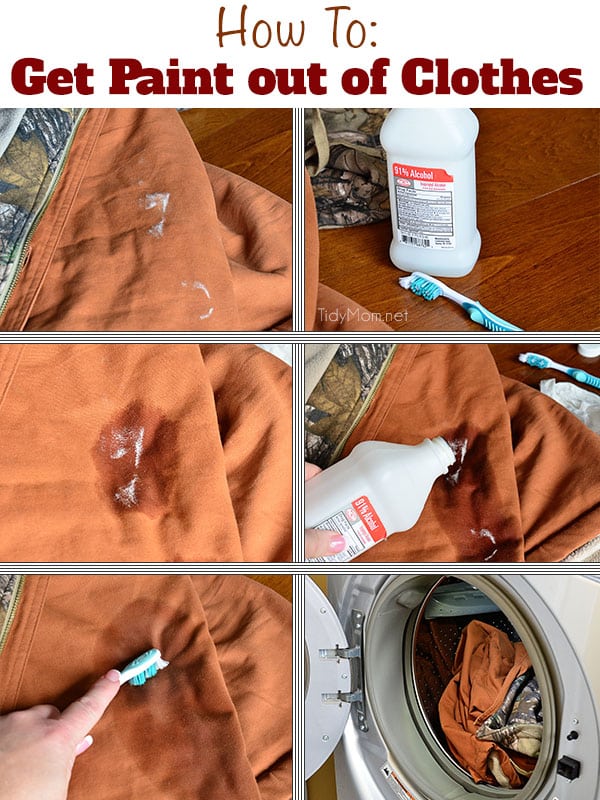 This post may contain affiliate links. Please read my disclosure policy here.
Paint can be removed from clothes, especially if you act quickly. I'm going to explain how to remove water-based paint from clothes that can be machine washed.
How to get paint out of clothes:
Supplies:
All you need is an old cloth, 91% Isopropyl alcohol (aka rubbing alcohol, you can get at the drug store or Amazon) and a brush (I used an old toothbrush).
What To Do First:
Act As Fast As Possible: Try to follow the steps below as soon as possible, because once the paint dries, it can become more difficult to remove. If you are not able to treat it quickly, try to keep the paint stain wet until you can treat it properly.
Remove Excess Paint Before Treating: Use a spoon or flat side of a table knife to scrape excess paint from the fabric. Working from the back of the fabric, flush the stain under warm running water. Or blot stain with a clean rag to absorb as much of the remaining paint that you can from the fabric.
IF Paint Has Dried: Use a spoon, dull table knife or hard bristled brush to scrape away as much paint as you can from the fabric.
Now that you've gathered what you need and scraped away what you can, you're ready to get down to business. Don't worry, you've got this!
Steps to remove paint from clothing:
Use a wet cloth to get the area with the paint wet – it doesn't need to be soaking wet, just dab it with the wet cloth until the fabric is wet.
Saturate the paint stain with Isopropyl alcohol
Use your brush to scrub until the paint is no longer visible. (if needed, add a little more alcohol while scrubbing) you will see the paint break down and crumble.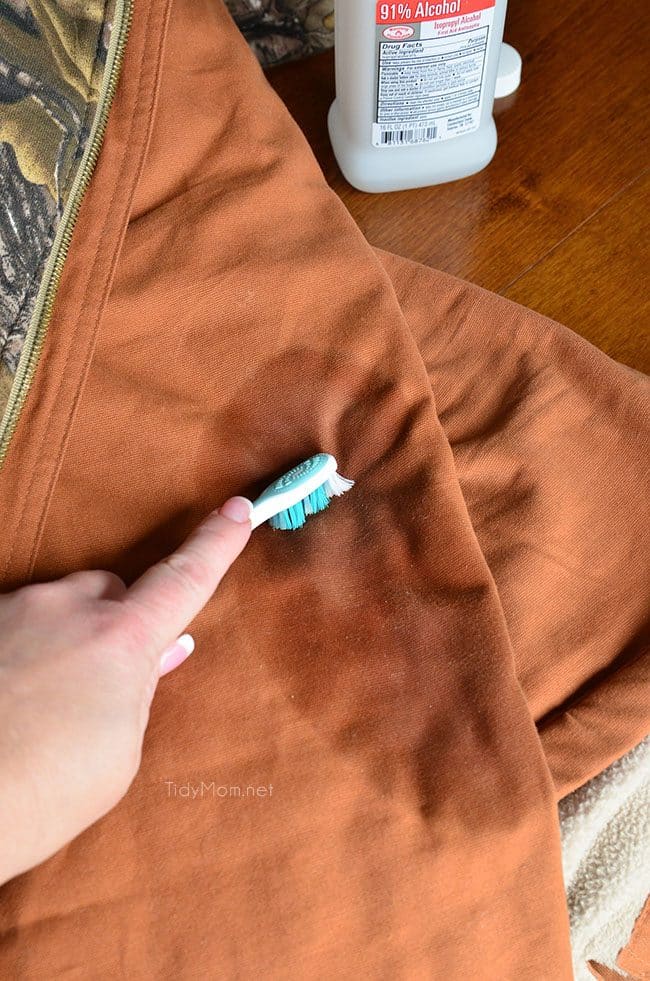 Place garment in the washer and launder according to the label.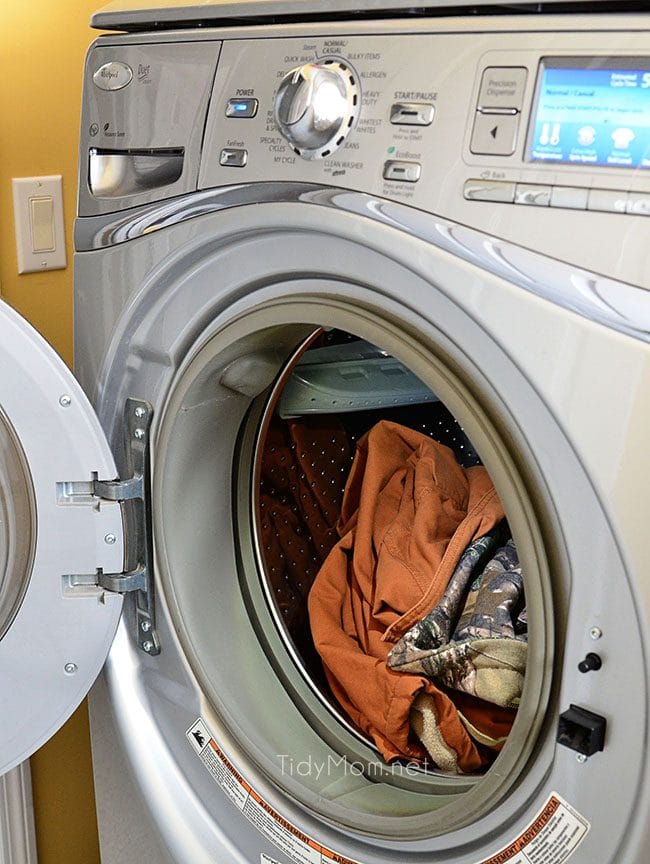 That's it!!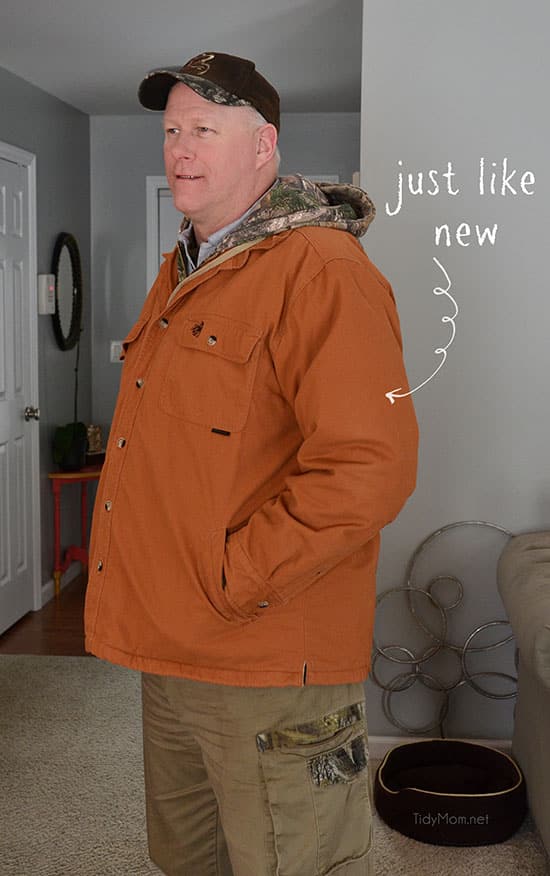 It should look as good as new!
Remember, unexpected painting accidents don't have to mean disaster. As long as you act quickly and follow the instructions on the garment care tag, these handy tips should help you remove paint from your favorite clothes in no time at all.
I'm a big fan of anything that will save clothes and money. Especially when they're a favorite jacket or sweatshirt!
He's a happy man again!……and you get a little sneak peek at my beautiful gray walls! 😉
UPDATE:
See how the perfect gray paint looks in our home!
Transitioning to Spring in the Family Room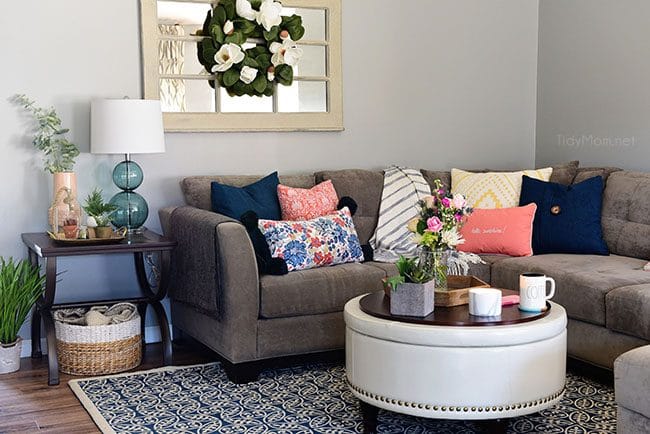 It's been four years since we painted the family room and I still love the color!! See all the updates to our family room decor by clicking the image below.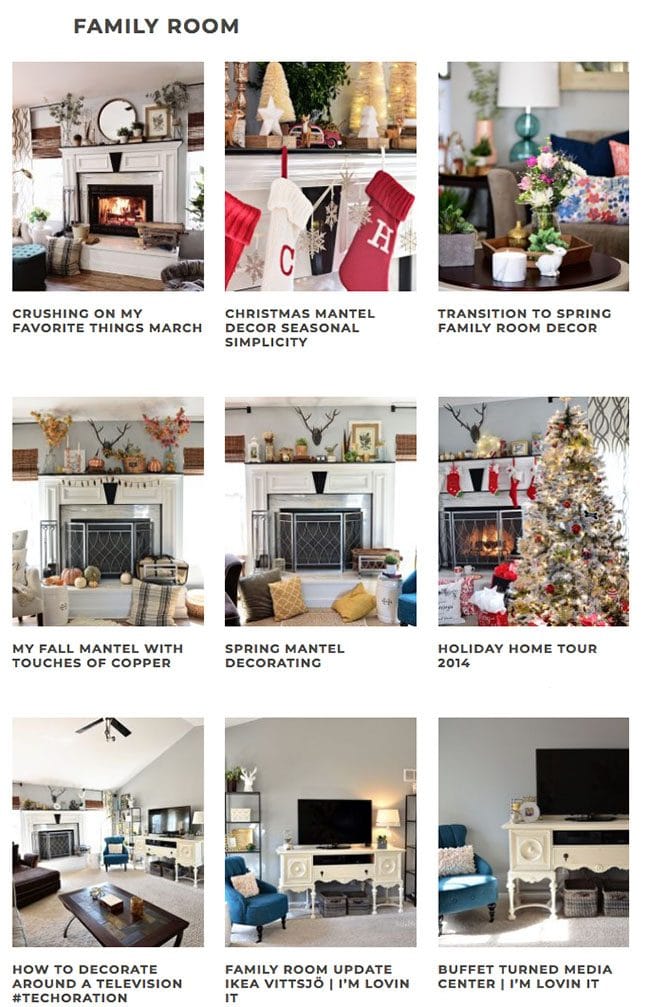 Like this tip on How to Get Paint Out of Clothes? PIN IT!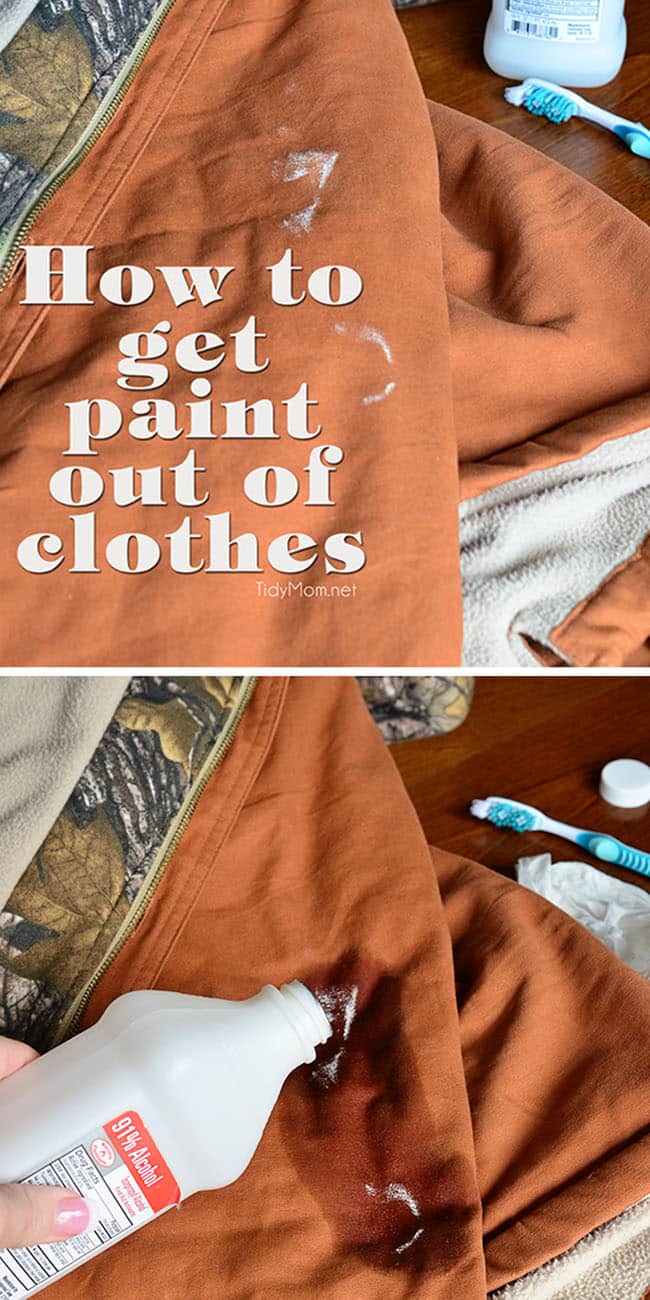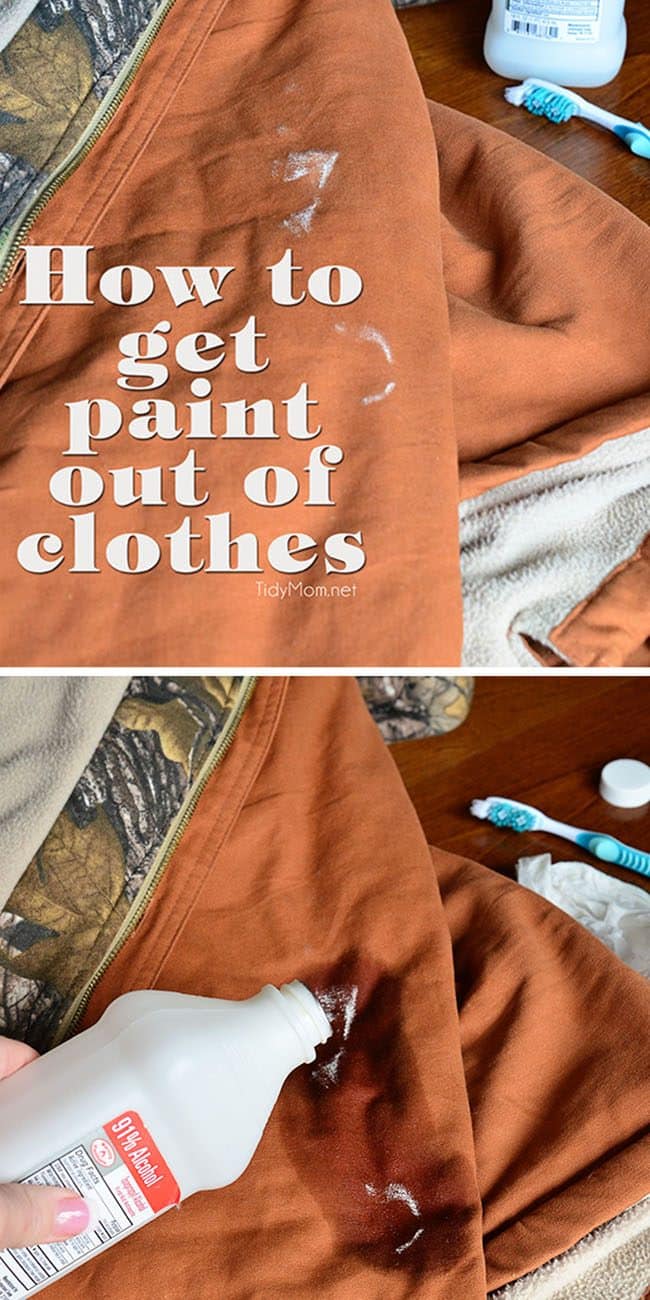 Happy painting!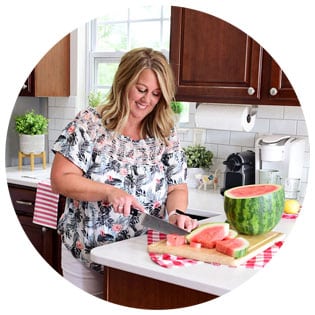 Hi there, I'm Cheryl!
As a wife, mom, and caffeine enthusiast, my journey has taken me from bustling mornings with my family to sharing delicious recipes, home care tips, and heartfelt decorating insights with wonderful readers like you. My love for baking, photography, and tidiness shines through every post I craft. Dive into my world and discover the art of homemaking, one tidy moment at a time. Read more...
Tidymom is a participant in the amazon services llc associates program, an affiliate advertising program designed to provide a means for sites to earn advertising fees by advertising and linking to Amazon.com.
Please respect my work, recipes and photographs. If you do use a recipe in your own writing, please give proper credit and link back to the original post.