Shrimp & Broccoli Fettuccine with Philadelphia Cooking Creme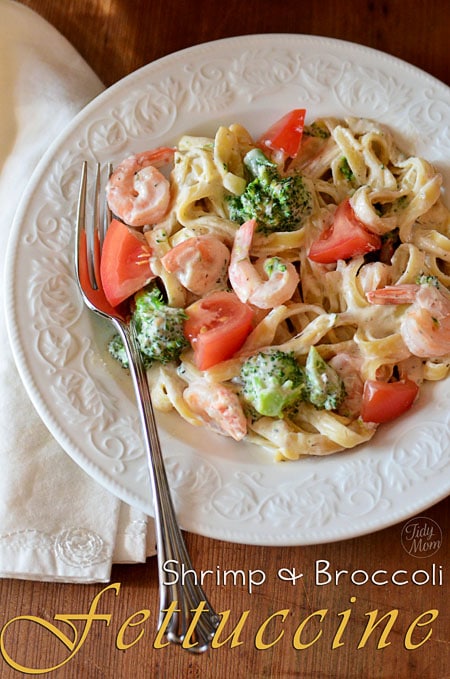 While I love spending time in the kitchen, when it comes to fixing dinner, most of the time I like to get in and out with a healthy dinner I can have on the table fast that everyone will enjoy!
Pasta dishes are almost always sure to get two thumbs up from the whole crew.
My friends over at Kraft asked me if I would be willing to replace a family favorite and serve my family a meal using Philadelphia Cooking Creme. Well, I had no problem with that task, because we already love it on our grilled pizzas!
Philadelphia Cooking Creme makes dinner simple but far from boring! With just a few minutes prep time, and boiling some water I had this delicious Shrimp & Broccoli Fettuccine ready in about 20 minutes.
The Philadelphia Savory Lemon and Herb Cooking Creme was creamy and full of flavor without being overpowering. I added a little bit of extra milk to the recipe and topped some chopped tomatoes and a little Parmesan cheese. I think next time I will try it with sun-dried tomatoes and grilled chicken for another great meal.
I served this with a Cesar salad and homemade artisan bread this made just enough for our family of four!
Check out more recipes at Kraft Philadelphia Fresh Family Favorites monthly recipe program, featuring simple, creamy dishes that are sure to please even the pickiest eaters! Give the Philly Cooking Cremes a try and let me know what you think!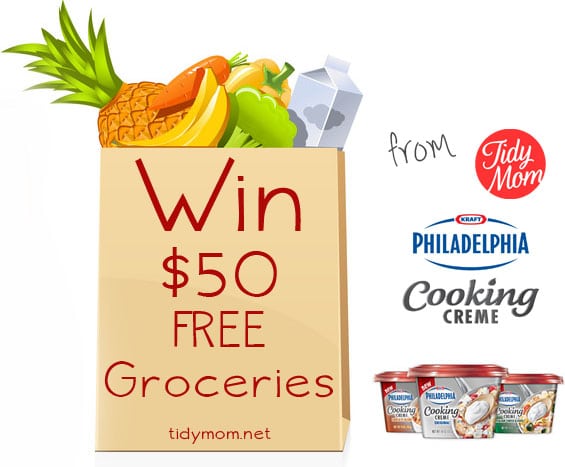 Shrimp & Broccoli Fettuccine
Ingredients
1/3 lb. fettuccine, uncooked
1 cup broccoli florets
¾ lb. frozen cooked cleaned medium shrimp, thawed
1 clove garlic, minced
1 tub (10 oz.) PHILADELPHIA Savory Lemon & Herb Cooking Creme
1/3 cup milk
¼ cup chopped tomatoes
Parmesan cheese to taste.
Instructions
Cook pasta in large saucepan as directed on package, adding broccoli for the last 3 min. Drain; keep warm.
Cook and stir shrimp and garlic in large nonstick skillet on medium heat 2 to 3 min. or until shrimp are heated through. Add cooking creme and milk; cook and stir 2 min.
Add pasta to shrimp mixture; mix lightly. Top with tomatoes and Parmesan cheese.

Disclaimer: "I was selected by Kraft Foods to participate in the Philadelphia Cooking Creme recipe program. While I have been compensated for my time, my opinions are my own, and I have not been paid to post positive comments. Kraft Foods is providing the prizes for this program at no cost to me. This program is not administered or sponsored by Kraft Foods or its affiliates, but solely by TidyMom.net