Root Beer Float Cupcakes
Growing up my dad was always the big sweet eater in the family, remember my story about how he encouraged my love of doughnuts?
Well, my  mom always enjoys a good dessert like the rest of us, but there is one treat she always LOVES…… Ice Cream Floats.    A big tall glass with 2 scoops of vanilla ice cream,  pour root beer or cream soda over the top, stick in a straw…….. THAT is mom's idea of heaven!!
This moist nostalgic  cupcake will take you to decades past, when ice cream floats (and sodas) were once so popular at the local soda fountain.
I saw this recipe on Cupcake Project months ago, and have been promising my family I would make them………so this weekend the time had come!
These cupcakes were slightly crumbly yet moist and a strong root beer flavor.  After baking them I think I discovered my "error".  I purchased Root Beer Concentrate at a local baking supply store, but the recipe calls for Root Beer EXTRACT.  My little bottle looks just like a bottle of extract…even the Root Beer flavoring at the grocery store says CONCENTRATE.  But I'm pretty sure CONCENTRATE must be MUCH stronger.  So if you make this recipe, I would either be sure to purchase root beer EXTRACT or reduce the amount of concentrate to about 1/4-1/2 of what is called for in EXTRACT.
Other than that, they're really VERY yummy…….just VERY strong because of my mistake………I'm anxious to try them again, and next time I may leave off the frosting (it is yummy) but may just try the cupcake with a scoop of vanilla ice cream…….. because, really, anything served with ice cream is wonderful.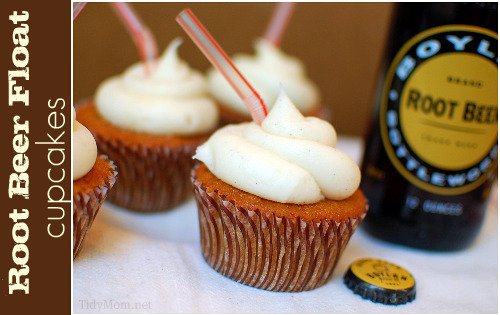 Ingredients
Cupcakes

1 Cup Rootbeer Soda (non-diet)
1 Teaspoon Apple Cider Vinegar
3/4 Cup Sugar
1/3 Cup Canola Oil
1/2 Teaspoon Vanilla Extract
2 Teaspoons Root Beer Extract *(if you use root beer concentrate then only use 1/2 teaspoon)
1 1/3 Cups Flour
3/4 Teaspoon Baking Soda
1/2 Teaspoon Baking Powder
Pinch of Salt

Vanilla Frosting

1 (8 ounce) cream cheese, softened
1/4 cup butter, softened
4 cups powdered sugar
1.5 teaspoon vanilla bean paste
Instructions
Cupcakes

Preheat your oven to 350
Combine root beer soda and vinegar and let stand for a few minutes.
Add in the sugar and oil, whisking until slightly frothy.
Mix in your extracts, and slowly add the flour, along with the baking powder, baking soda, and salt. Careful not to over mix.
Fill cupcake liners approximately 3/4 full. (At first I thought I had a lot more batter than 12 cupcakes, but then I noticed the batter would settle, so I went back and added a little batter to each liner, which made 12 cupcakes)
Bake for about 18 – 22 minutes.

Vanilla Frosting

Beat cream cheese and butter until well blended.
Add powdered sugar and mix until nice a creamy
Add vanilla (you could use vanilla extract, I just like the look of the vanilla bean flecks in my frosting)
Frost with piping bag and jumbo 3/4" round open tip.
Notes
The vanilla frosting gave the flavor of the "ice cream", though like I mentioned, these might even be good unfrosted and served with a scoop of vanilla ice cream instead.
https://tidymom.net/root-beer-float-cupcakes/
Copyright© 2009-2013 TidyMom.Net
NEW FEATURE: Save recipes to your personal recipe box with the

Once you have your favorite recipes in your Recipe Box create a Meal Plan with them and the ingredients will automatically be added to a Grocery List!
Transport your self back to "the good ol' days"
Supplies:
I purchased my brown stripe cupcake papers and jumbo tip from Sweet Baking Supply.  They also sell a Root Beer flavoring that I think would be the same as the concentrate that I used.
 Craving more? Sign up for the TidyMom newsletter to stay on top of what's new right to your inbox! And stay in touch on Facebook, Twitter, Google+ and Pinterest for all of the latest updates