Owl S'Mores: I'm Lovin' It
If you have little ones around at Thanksgiving and are looking for an activity that will keep them busy and their tummies content while they wait for the big meal………look no further!!
I just fell in love with Amy of Living Locurto Owl S'Mores.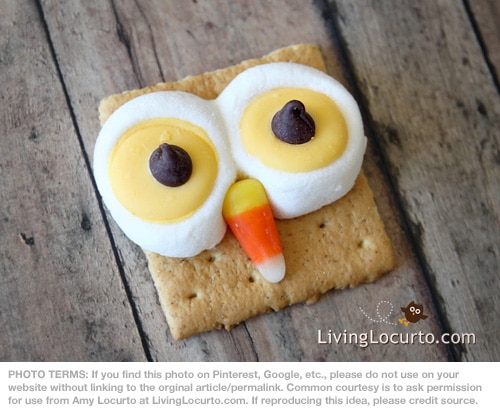 How cute are THOSE!!?
An easy fun fall treat for any age!
All You'll need is:
graham crackers
marshmallows
chocolate chips
yellow candy melts
candy corn
Head over to Living Locurto for instructions !  Amy even created Owl Party Printables too!
Amy and Brianna from The Savvy Moms Guide outdid themselves with their "Whoot of Thanks" play date  using Amy's Owl S'Mores as a fun craft.
What is it about these birds that make them so CUTE?!
Photos by Racz Photography and Printables by Anders Ruff.
Now it's your turn!
Let us know what you're lovin' this week!
If you have something to share with us on your blog, add your link below.
*Don't forget to come back over the weekend for the I'm Lovin' It Wrap Up post……were I feature a few of the great links!!
What is I'm Lovin' It Fridays? get all the info, how to's and button here