How to Cut Apart a Chicken & Cumin Chicken with Black Bean Stuffing Recipe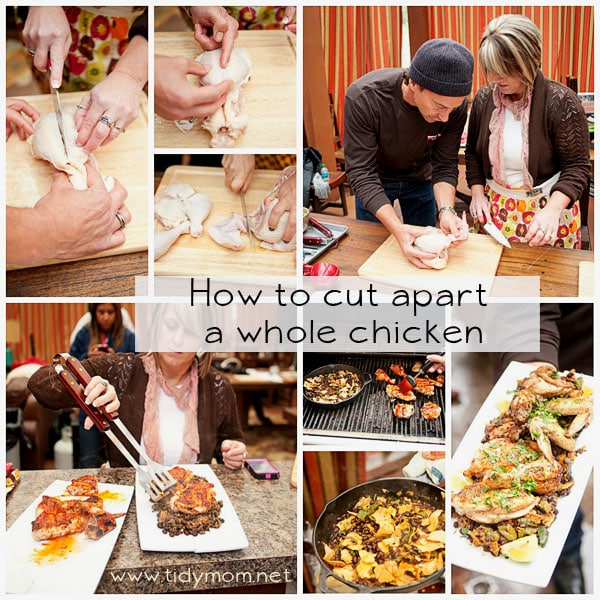 Many recipes call for a whole cut up chicken.  But grocery stores charge extra if you want to buy your chicken already cut up.
When I was in Montana last fall with Bush's Beans, Jeffrey Saad showed us how we can save money by cutting up a whole chicken at home, rather than paying premium pricing for pre-cut and pagacked chicken at the grocery store.
I caught it all on video! Come watch how full of energy and passion Jeffrey is and learn how to cut apart a whole chicken.
After the demo.  We split into 2 teams and cut up our own chickens and prepared at ate Jeffrey's Cumin Chicken with Black Bean Stuffing.
If you like chicken with a mexican flavor, you're going to love this recipe!  The spicy chicken is full of flavor and the dressing is loaded with black beans and corn tortillas.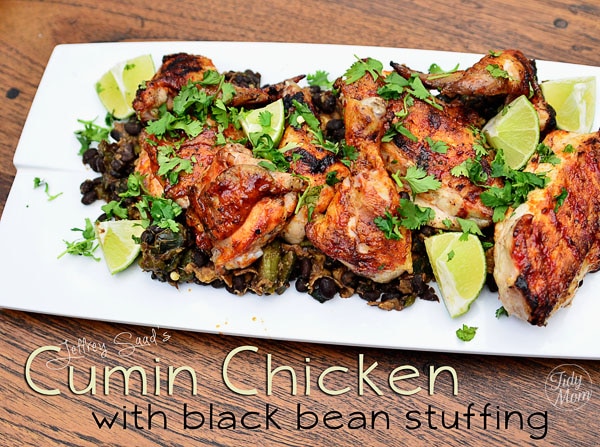 We cooked our chicken on an outdoor grill, but you could definitely use and indoor grill or even an oven.  Either way, it's sure to be a crowd pleaser and good enough to impress guests!
Cumin Chicken with Black Bean Dressing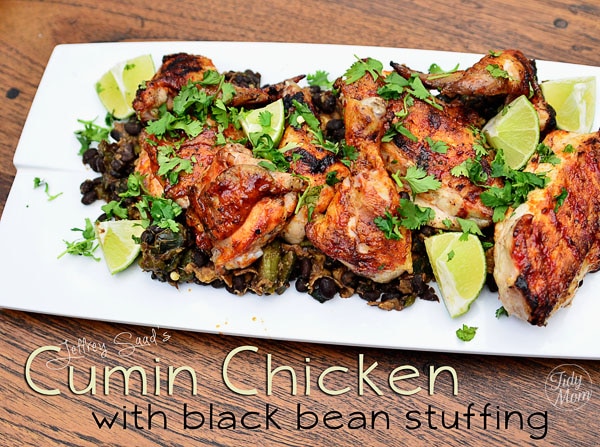 Ingredients
For Chicken:
5 pounds whole chicken or equal amount skin on chicken pieces, rised and pat dry
1 tsp kosher salt
1 tsp ground pepper
2 tsp canola oil
1 Tbsp cumin seed
3 Tbsp agave syrup or honey
For Stuffing:
1 each green pasilla chile*
1 each jalapeño pepper*
4 each corn tortillas (6 inch)
1 can (15 ounces) black beans, drained and rinsed (I prefer BUSH'S®)
1/4 cup chicken stock
1/4 tsp smoked paprika
1/4 tsp kosher salt
1/4 cup fresh cilantro, chopped
6 wedges of lime
Instructions
Season chicken pieces with salt and pepper and lightly cover with oil. Mix cumin seeds with agave syrup or honey and set aside.
Set one side of clean, well-oiled grill to medium high heat and the other side to medium low heat. When grill is hot, using tongs, place chicken skin side down on hot side of grill until there are nice grill marks (about 5 minutes). Then flip chicken over (skin side up), place on cooler side of grill, close grill lid and let chicken cook (3-5 minutes for breast meat; 12 minutes for bone in leg/thigh meat).
In the last two minutes of cooking, brush with the cumin/agave syrup on both sides of chicken and cook each side for one minute. Chicken is done when internal temperature reaches 160 degrees F.
Remove chicken from grill and let rest at least 10 minutes before serving.
For Stuffing: Using metal tongs blacken chile and jalapeño peppers on the grill for 3 minutes per side. Place chile and jalapeño in small bowl, cover with foil tightly. Let sit for 10 minutes. Once cool, wipe skin off (do not rinse under water). Discard stems. Discard seeds (unless you want it spicier). Chop chile and jalapeño into ½-inch pieces. Set aside.
Using metal tongs, place tortillas on the grill for 30 seconds on each side or until slightly charred. Chop tortillas into ¾-inch strips.
Pour black beans in medium-sized grill-safe pan. Add chile, jalapeño, tortillas, chicken stock, paprika and ¼ teaspoon salt. Place the pan directly on the grill and heat just until mixture comes to a boil. Remove pan from heat and set aside to cool briefly.
Serve chicken with a side of black bean stuffing and garnish with cilantro and lime wedges.
*Substitution: Use ½ cup canned roasted chiles in place of green pasilla chile and jalapeño pepper.
https://tidymom.net/how-to-cut-apart-a-chicken-cumin-chicken-with-black-bean-stuffing-recipe/
Copyright© 2009-2013 TidyMom.Net
 photo in collage from Crackle Photography
This post sponsored by
want to see your ad here? contact me
I'm linking up with these parties.......please visit them! Made by You Monday, Get Your Craft On, Weekend Wrap Up Party, Pity Party , Tasty Tuesday, Strut Your Stuff