Flank Steak Sandwiches
It's Tuesday, and time for a recipe post.  I've been busy moving into my new office space,and moving my mom into a new apartment, I haven't had time to do much cooking or baking.  But I did have time to whip up this family favorite!
My mom used to make Flank Steak Sandwiches with Dill Butter all the time when I was growing up.  It's now one of the most requested meals by my husband and kids!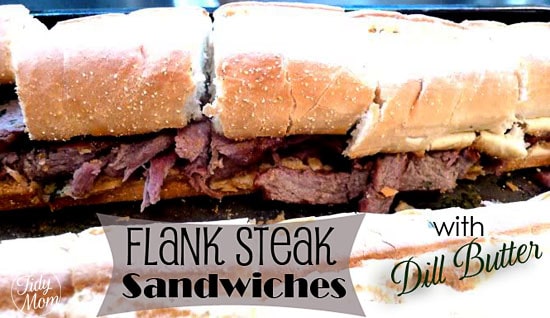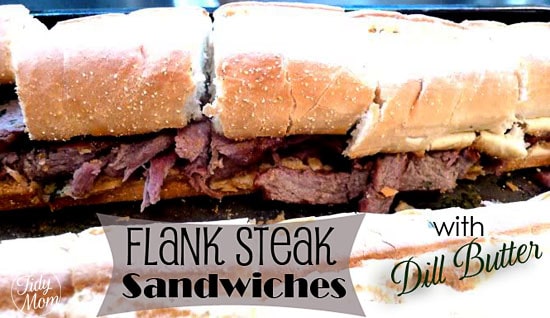 This makes 2 loaves and is usually enough for 4-5 adults.
Ingredients
2+ pounds of Flank Steak (I have better luck with 2 steaks a little over a pound each)
2 loaves French Bread
1 stick of margarine-melted
2 tsp Dill Weed
Garlic Salt
Instructions
Season your steaks with Garlic Salt on both sides
Cut both loaves of bread lengthwise and place on cookie sheet
Place in hot oven (I usually put it on 400) and watch it until it's toasted
I cook my steaks outside on the grill – 6 mins on each side. You can do them in the oven if you'd prefer
When the steaks are finished, you are going to slice the meat thin, diagonal to the grain.
In the picture below you can see the grain, it's going horizontal, I use an electric knife and cut thin strips diagonal to that grain, this keeps the mead tender.
Melt your butter and add Dill Weed and stir
After all of the meat is sliced, place it on the toasted bread
Then pour the melted dill butter over the meat.
Now fold the loaves shut and slice into sandwiches. (I use the electric knife for this step too – make sure you hold the bread down tight while cutting)
https://tidymom.net/flank-steak-sandwiches/
Copyright© 2009-2013 TidyMom.Net
YUMMY Flank Steak Sandwiches!!
I just throw the cookie sheet on the table! LOL Serve with some fresh corn on the cob, grilled shrimp skewers and roasted potato wedges!
We never have any LEFTOVERS!