Great Places to Eat in Savannah, Georgia
This post may contain Amazon or other affiliate links. As an Amazon associate, I earn from qualifying purchases.
Savannah, Georgia is definitely the place for incredible Southern food. This is a list of great places to eat in Savannah. Fried green tomatoes, fried chicken, cinnamon rolls, ice cream and more!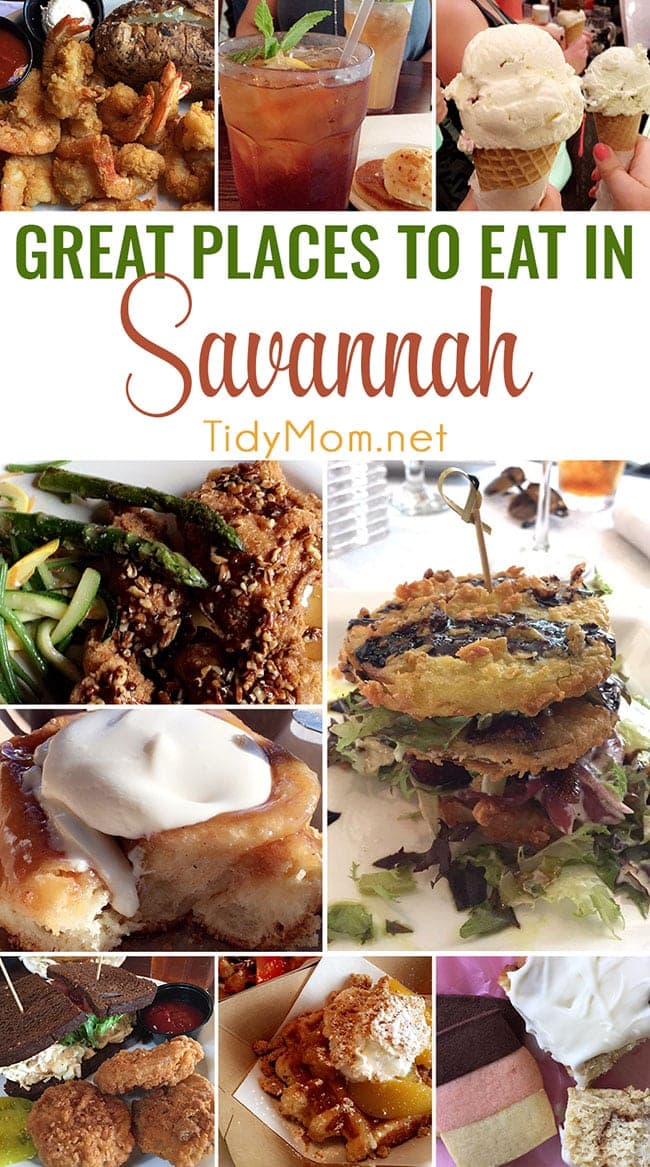 A few weeks ago, my daughters and I spent 5 days in Savannah, Georgia, for our annual girls trip. We had so much fun checking out this beautiful city! (If you follow me on Snapchat and Instagram you might have gotten a peek and what all we did!) Savannah and the area around it has SO much to offer. We went nonstop all day each day and never ran out of fun things to do, see, and eat!
Savannah was just so beautiful, now I want to move there. Today I'm going to share our favorite places to eat, we probably ate our weight in Southern food with all the Great Places to Eat in Savannah. I also can't wait to show you our vacation rental that made us feel like we were right at home. Later in the week I'll share what else we did besides eat, during our vacation to Savannah.
After a 6+ hour delay at the airport at home, instead of arriving in Savannah on a Monday afternoon, we arrived at 9pm in the pouring rain, and the tail end of a tropical storm. So we picked up our rental car and headed directly to our vacation rental in Savannah Historic District.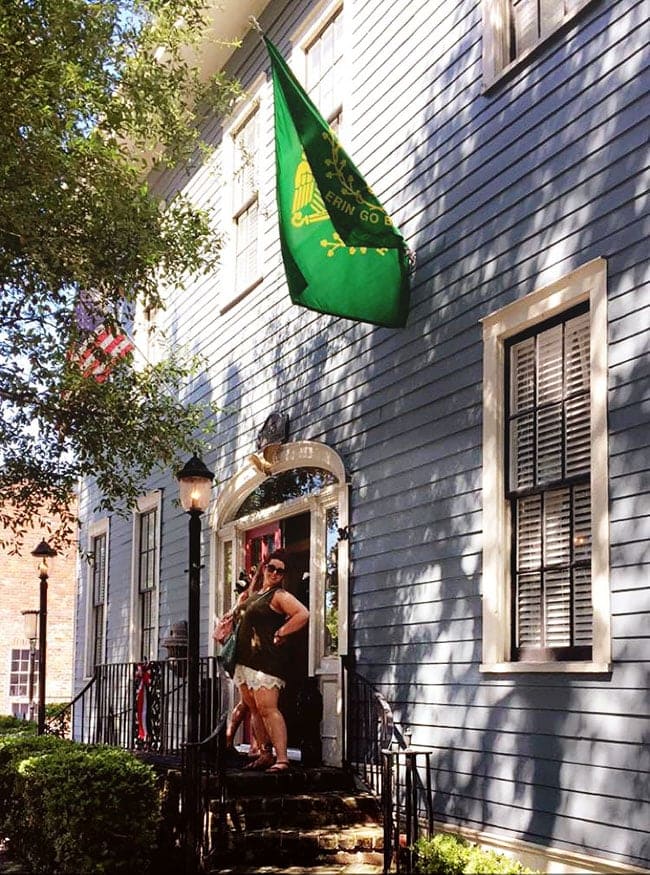 We booked our stay at The Champagne Suite with Southern Belle Vacation Rentals, who I found thru VRBO.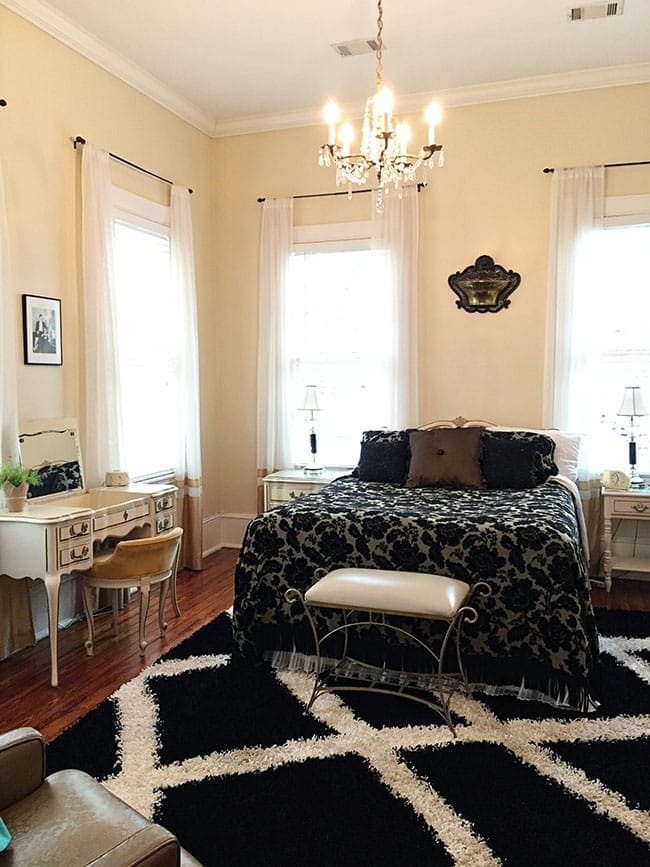 The minute we walked in to the 1,300 sq ft apartment, we felt at home. My room was gorgeous! Just ask my girls how many times I said "I could totally live here!!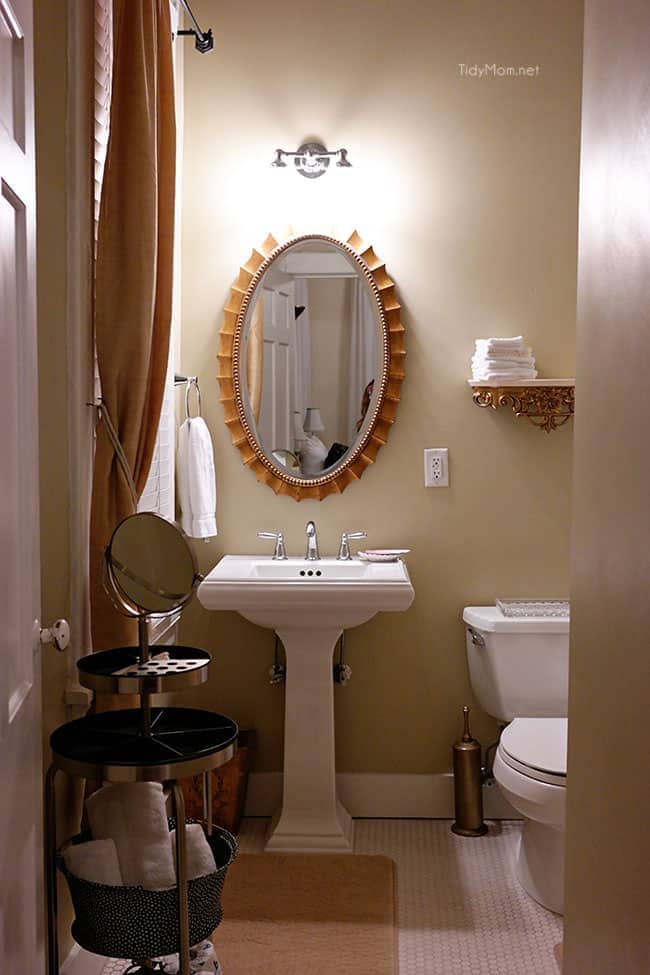 I had my own bathroom, a large walk in closet, a fireplace and an abundance of windows,light and space!!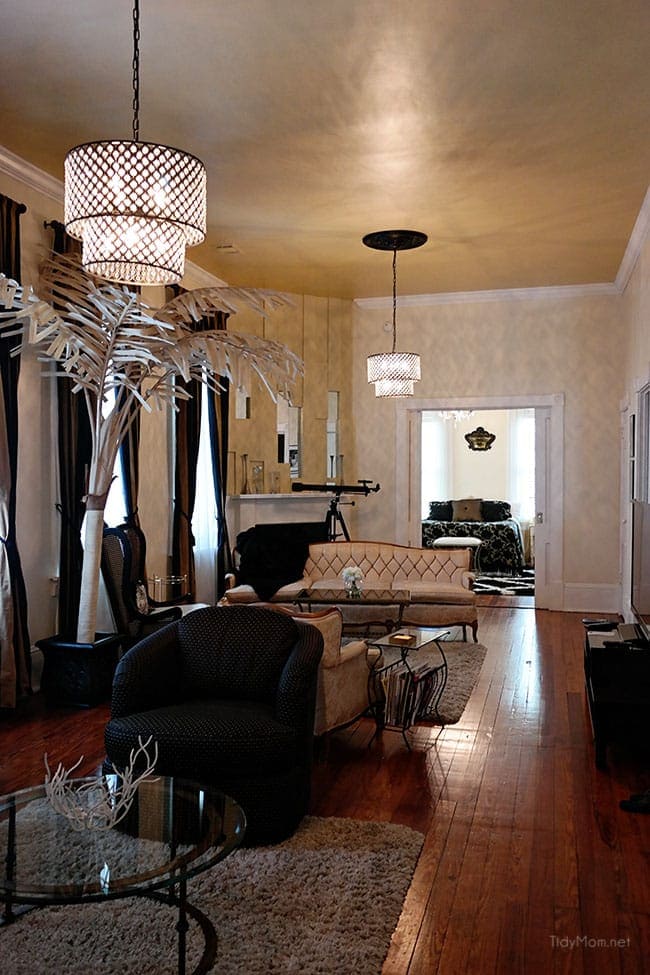 The living room felt grand yet comfortable. There were little decor touches that made it feel like home. A period-authentic bookshelf was filled with old photos, postcards and games.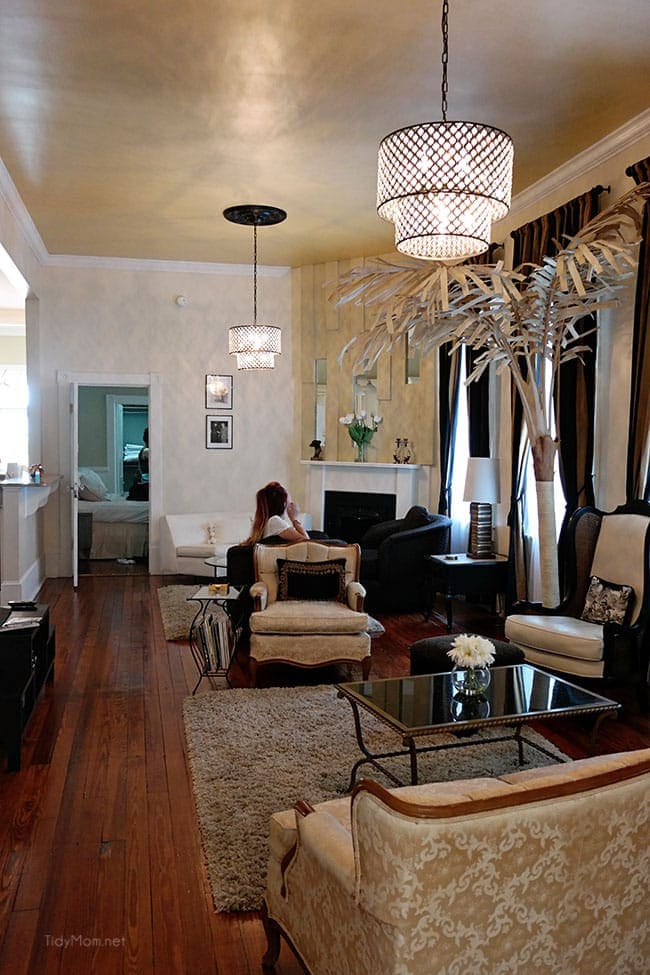 The girls shared a room, with their own bath and walk in closet at the other end of the living room.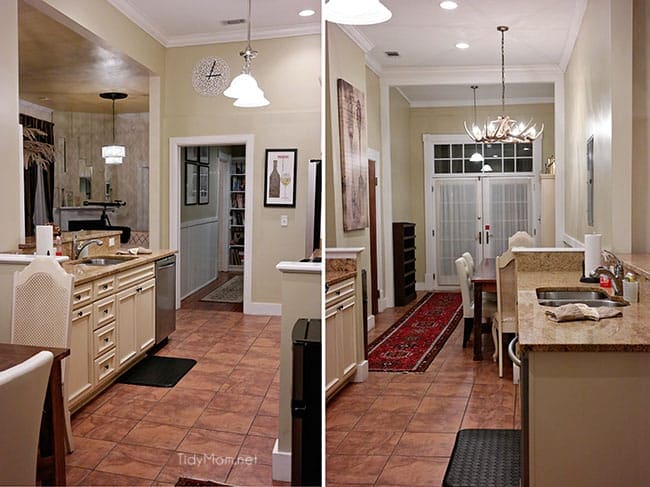 The kitchen had granite counter-tops, modern appliances, cooking supplies and a big dining table. We picked up some groceries on our way in the first night, so we could have coffee every morning, cereal, drinks and other snacks. We didn't cook while we were there, but we did make a frozen pizza one day and used the microwave and oven to heat up left-overs.
The Champagne Suite also has a washer and dryer, which came in handy on a few occasions. (we brought a few laundry tablets with us)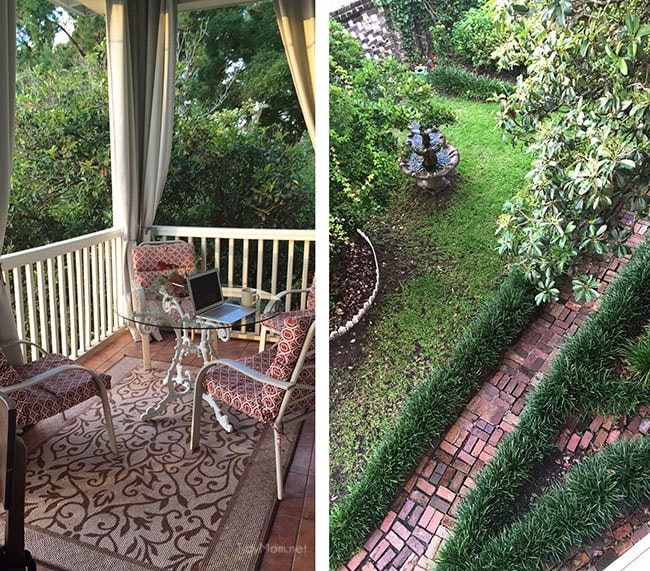 We had a private parking spot around back, as well as a beautiful porch that over looks a stunning courtyard. The perfect spot for my morning coffee and checking my email.
We loved everything about The Champagne suite. It's located in the heart of Savannah downtown and sits just minutes from the beautiful banks of the Savannah River. While we were within walking distance to so much, like Emmet Park, Washington Square, River Street and Broughton Avenue, we rarely needed our rental car. But it was hot and humid in Savannah in June, so we did drive a bit since we had the car and we got tired of sweating every where we went. lol
MORE: You May Also like the Cottages in Seaside Florida Vacation Rental
We did eventually venture outside on day two and our first meal in Savannah was at Belford's in City Market for lunch. I had the "BLT" Stack – Fried green tomatoes, candied bacon, frisée, pickled red onion, black pepper buttermilk dressing, balsamic reduction, basil oil……OUTSTANDING!! I need to try and recreate it at home. Allison and Heather had the chicken salad and crab cakes, both were fabulous as well.
For dinner that night we walked down to Huey's on River Street. We heard their fried green tomatoes were a must, and they did not disappoint. Allison and I enjoyed shrimp creole while Heather had BBQ shrimp ….completely delicious
While the food was excellent at Huey's, the service we had was not so great, but I would still recommend going 😉
After Huey's, we decided to walk around River Street a bit and then had dessert at Lulu's Chocolate Bar, voted best desserts in Savannah. All desserts are made from scratch. We enjoyed White Chocolate Creme Brulee, Dark Chocolate Peanut Butter Mousse Cake and Chocolate Cookie Cake.
Heaven help me.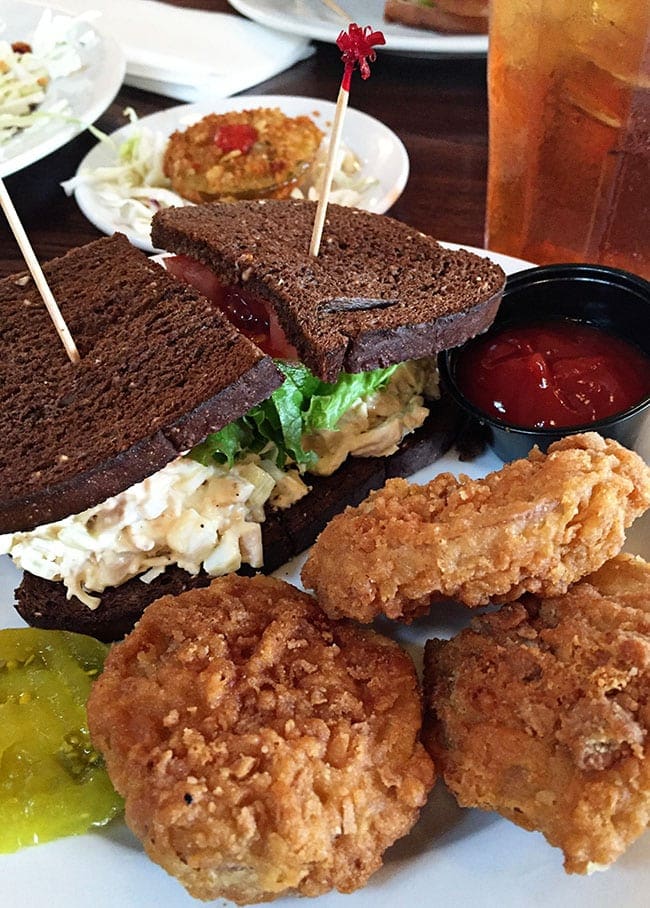 You can't visit Savannah without eating at Paula Deen's The Lady and Sons Restaurant. We had reservations for lunch one day, but still had to wait close to a half hour. If you are driving, you should know it was nearly impossible to find any where to park for blocks away, so we finally found a parking garage just a few blocks down W. Congress at Drayton Street.
We were seated at a table on the third floor, where there were many empty tables. So, we were a little confused why so many people were waiting, even with a reservation. But our waiter was awesome, and did a fabulous job! He was attentive, charming, friendly and kept our drinks filled and plenty of cheddar biscuit and a hoecakes on our table.
We were told by friends to order off the menu in lieu of the buffet (you may want to note though, the items on the buffet, like fried chicken, are not on the menu). Of course we ordered fried green tomatoes (are you seeing a pattern here? lol), they were served with Vidalia onion relish and roasted red pepper sauce. Allison had the BBQ pulled chicken and loved it. Heather had a BLT and I ordered Jelly Roll Fries and a Chicken Salad Sandwich which were both fabulous! What are jelly roll fries? I had to ask too…… they are sliced potatoes that are batter dipped and fried. They don't taste anything like a french fry or fried potatoes. I really enjoyed the jelly rolls, the girls just thought they were "ok"
We were SO full we had no room to order dessert. We absolutely enjoyed our meals, and even took the left overs back to the house and at them another day. I would definitely go again, and recommend to someone visiting Savannah.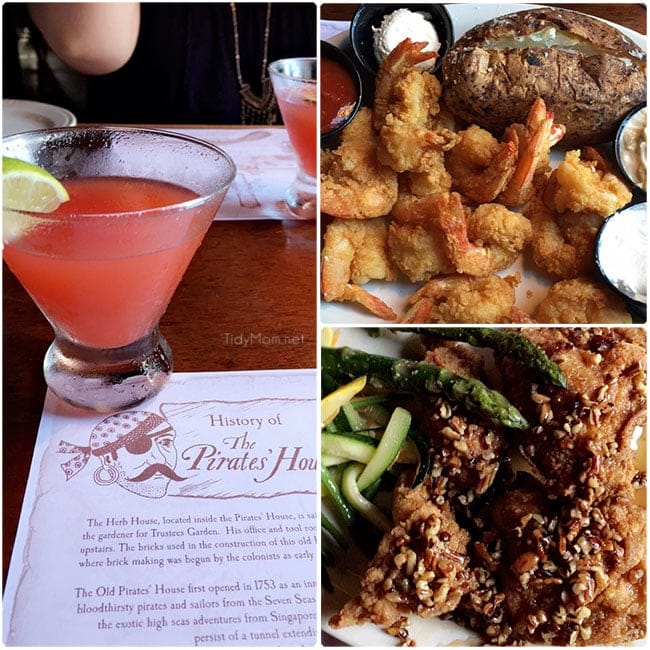 Another meal we enjoyed for dinner was The Pirate's House,next door to our house. A historic restaurant and tavern established in 1753. The Pirate's House is the oldest standing building in the state of Georgia. The restaurant is one of Savannah's most-popular tourist attractions.
We made reservations, because we had plans after dinner, and we were seated as soon as we arrived. Our waiter was dressed as a pirate, a little cheesy, but he did a good job. We enjoyed biscuits and honey with the orange marmalade sauce while we waited for our food.
Heather and I had the fried shrimp which was great, but Allison made the best selection by going with the pecan crusted chicken breast, which she raved about as the BEST chicken she has ever had. Definitely recommend for lunch or dinner.
Side note, I've read that they give a small tour of the building, and tell you some of the interesting history about the caverns and paths underneath the restaurant that lead out to the bay, and of course pirates, although this was never offered to us.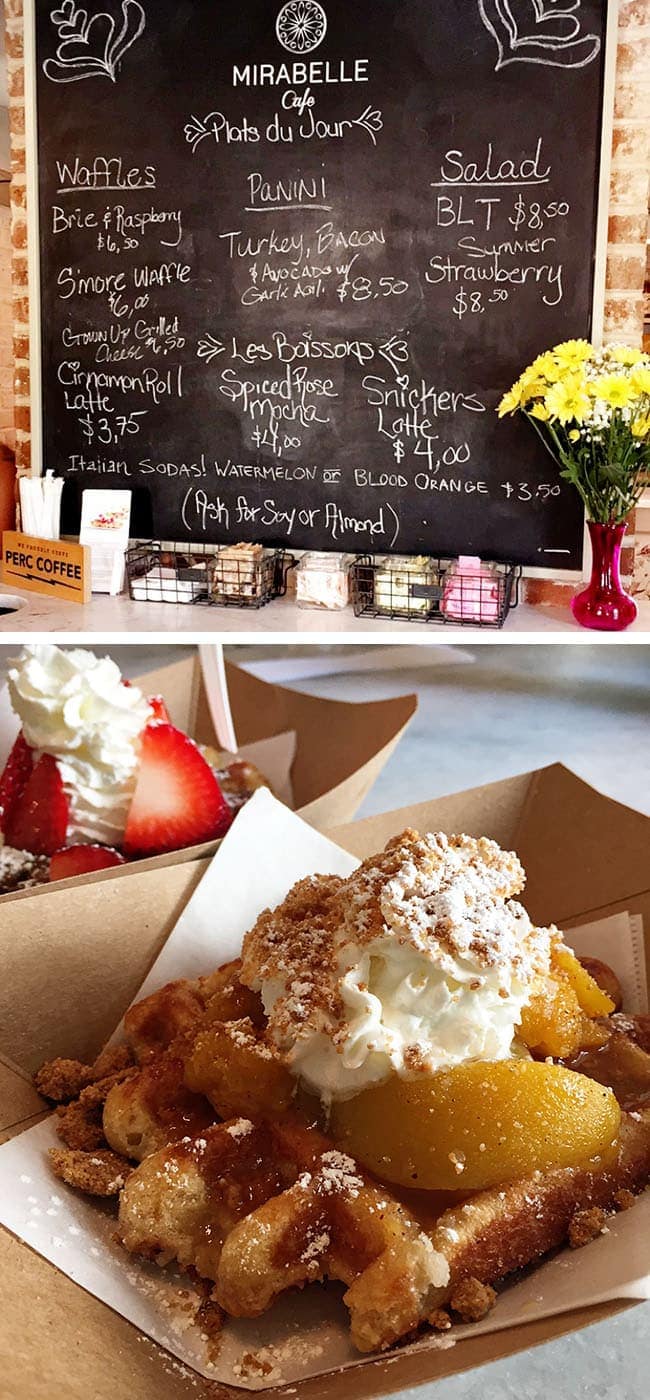 We ran into the cutest little place, Mirabelle Cafe . Don't let the menu fool you when you see waffles. These are a decadent dessert, probably not something you'd want for breakfast. They make Liege Waffles; a sweet and enriched dough with bits of Pearl Sugar folded into it. While the sweet enriched dough cooks on the cast iron, the "pearls" of sugar in the dough melt and caramelize. Are you drooling yet?!
I'm still dreaming about these waffles! We had the GeorgiaPeach Cobbler Waffle and Nutella and Strawberries Waffle.
Arguably the best waffles I've ever had!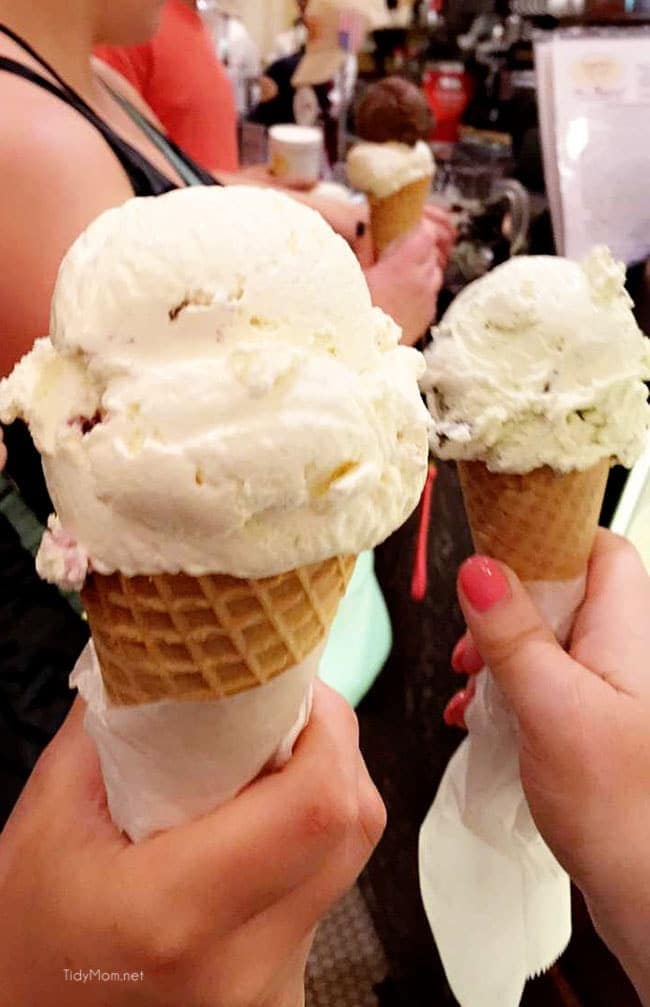 Leopold's Ice Cream is a Savannah tradition. But, standing in a line a block long for ice cream was just not high on our list. However, we did discover if you go right before they close there's no line. Ice Cream at 10:30pm was a great treat on a hot humid night after our ghost tour.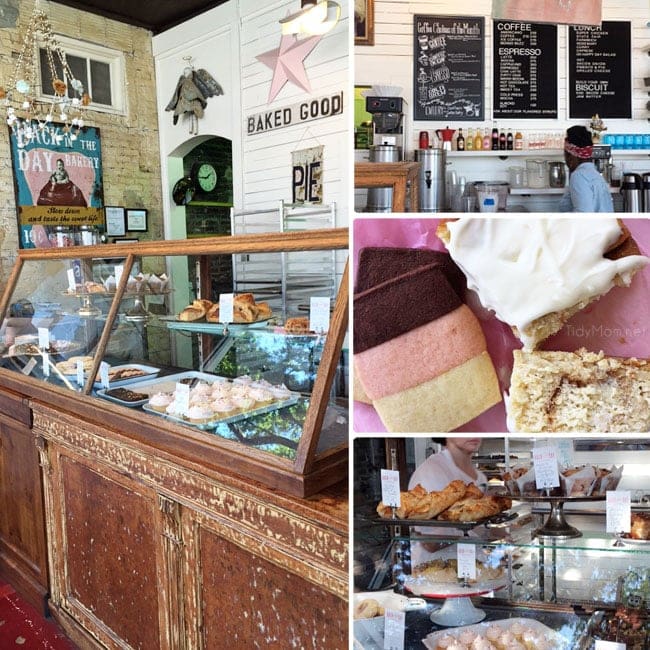 Before we left for Savannah, the one place that many friends said we HAD to visit was Back in the Day Bakery. Well, you don't have to twist my arm to visit a bakery.
First we have to talk about the atmosphere, it's cute, cozy and still feels trendy. The cases are filled with confections, all made in-house and displayed on antique trays and platters.
Our first visit was on an afternoon, so we got some pastries to go – they were placed in a white box with pink tissue and tied in a pink ribbon – adorable! The shortbread cookies were melt in your mouth good!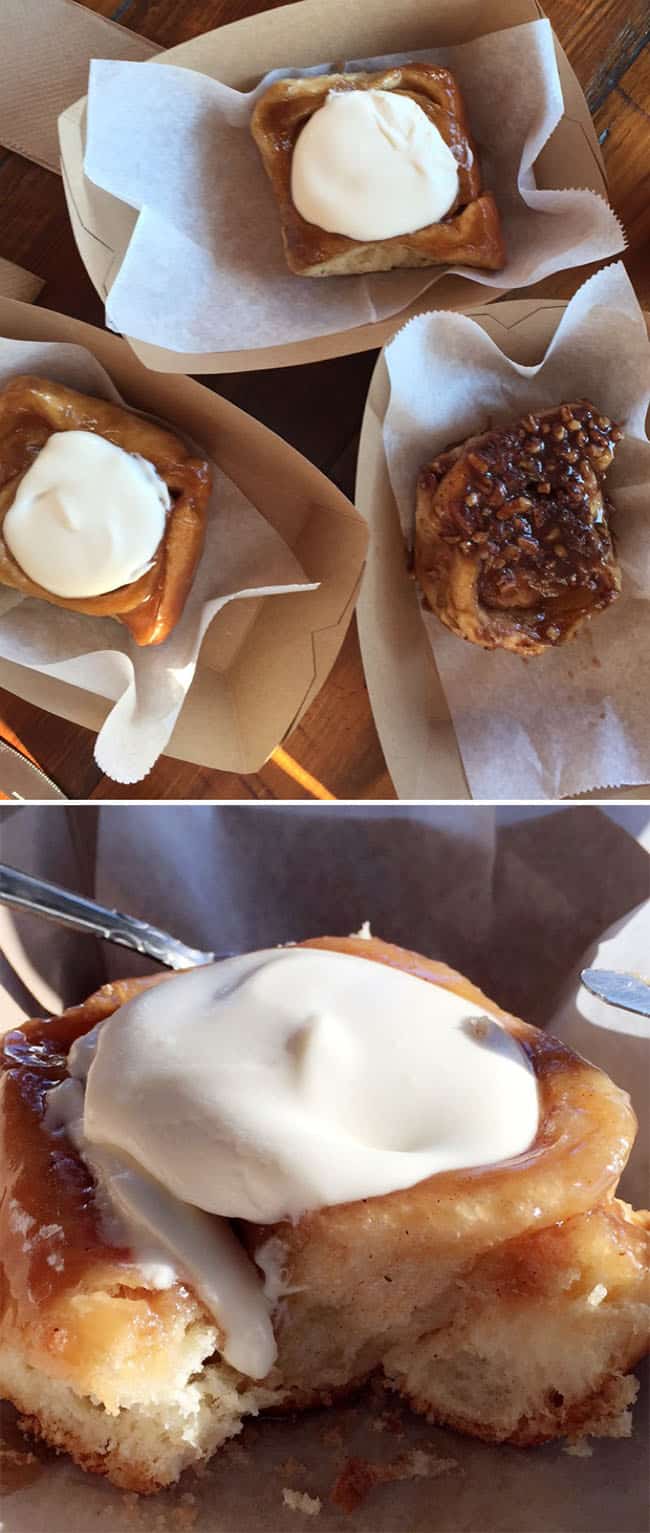 On our last day, we made another visit to Back in the Day Bakery before we headed for the airport. We had heard their cinnamon rolls are a must, go fast and only available on Saturdays. So we got their before the doors opened just as a line was starting to form. We had the cinnamon rolls, which lived up to their expectation……..but once again, Allison made the winning choice with the pecan sticky bun! oh they are worth another trip back to Savannah for those sticky buns!! Don't miss them!!
Visit Kevin and Amanda if you want lots of info on Sweets in Savannah.
Do you have some favorites in Savannah, tell me about them in comments below!!
Want to stay in the Champagne Suite in Savannah Georgia? Contact Southern Belle Vacation Rentals (they were fabulous to work with) and pin it for later!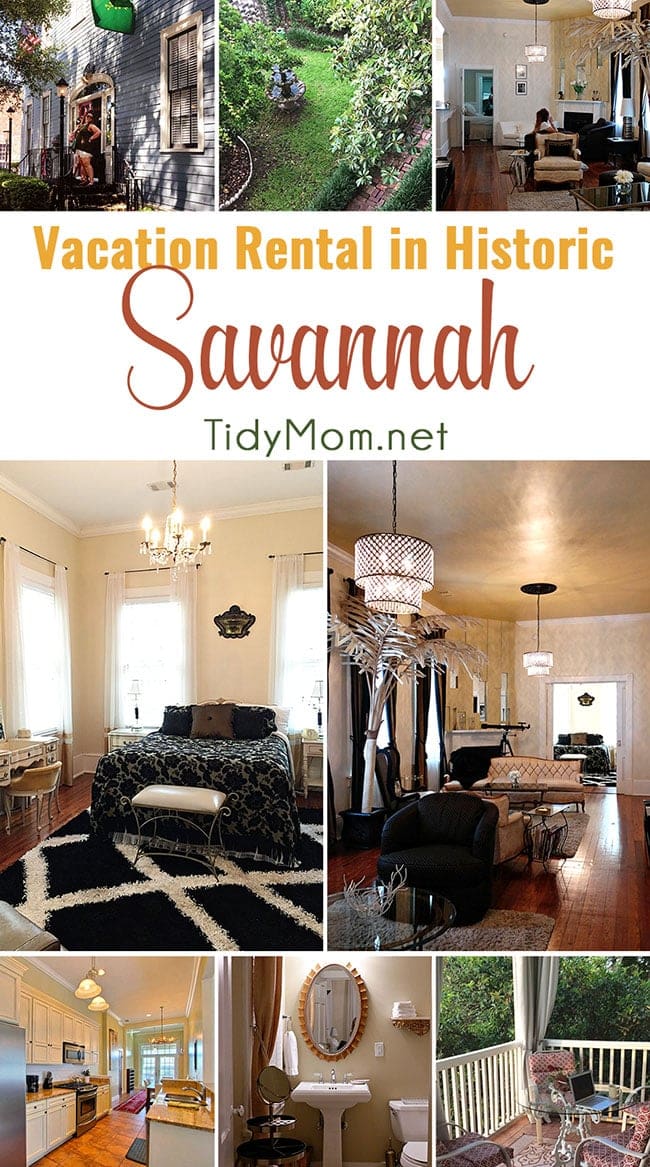 Check out my next post, where I share some of the sightseeing and other things we did in and around Savannah.
Things to do and sights to see in Savannah, GA. From trolley tours of historic Savannah, to points around Savannah, like Tybee Island, Wormsloe Historic Site and Bonaventure Cemetery. A must read if you're planning a first visit to Savannah Georgia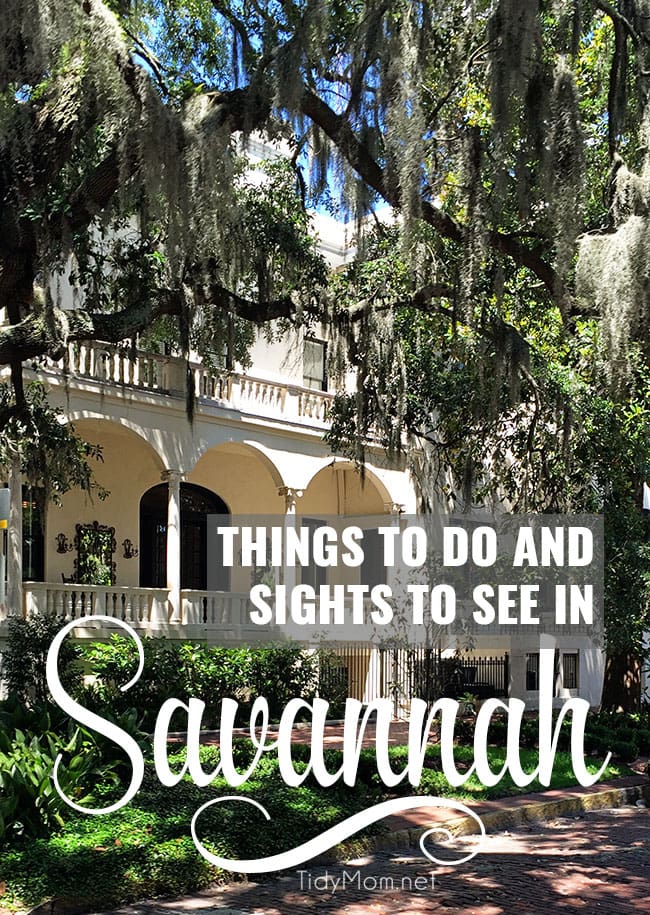 Disclaimer: I have a working relationship with Southern Belle Vacation Rentals. As always, all views and opinions are my own.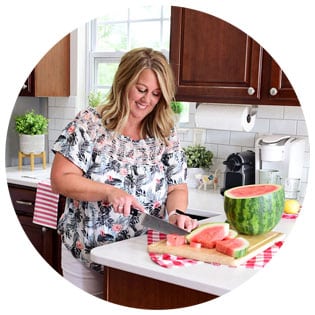 Hi there, I'm Cheryl!
As a wife, mom, and caffeine enthusiast, my journey has taken me from bustling mornings with my family to sharing delicious recipes, home care tips, and heartfelt decorating insights with wonderful readers like you. My love for baking, photography, and tidiness shines through every post I craft. Dive into my world and discover the art of homemaking, one tidy moment at a time. Read more...
Tidymom is a participant in the amazon services llc associates program, an affiliate advertising program designed to provide a means for sites to earn advertising fees by advertising and linking to Amazon.com.
Please respect my work, recipes and photographs. If you do use a recipe in your own writing, please give proper credit and link back to the original post.