How I Beat Dry Skin | I'm Lovin' It
The other day while I was out running errands, and Instagram and tweeting what I was doing along the way, I happened to mention my secret weapon to battle dry skin ………….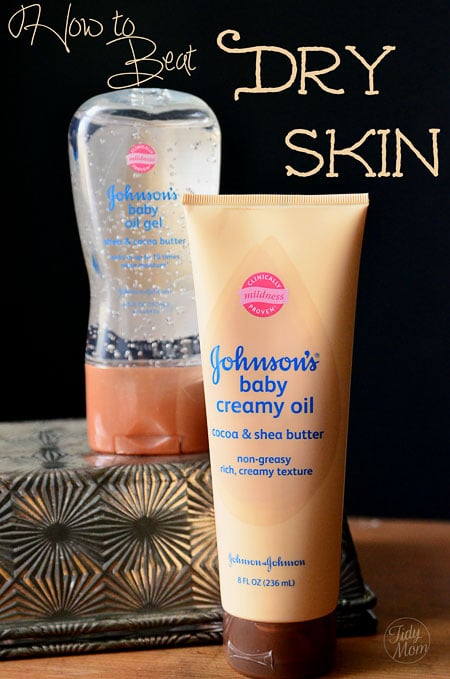 Seems a lot of people were interested, so I thought I'd share with the rest of you!  It's so simple, I never really gave it much thought, but it's too good NOT to share!
We are pretty tough on our skin and while the Winter is the most notorious for dry skin, but the sun and even our home air conditioners can dry out our skin the rest of the year. I know my feet get super dry in the summer when I'm running around in sandals all the time.
How to Moisturize Dry Skin
shower or bathe in warm but not hot water
BEFORE you dry off, using a nickel size portion of Johnson's Baby Oil Gel (be sure to use the baby oil GEL, it's thicker than just baby oil) massage into skin (use more as needed, but don't over do it)
Towel dry skin, pat don't rub
Immediately apply Johnson's Baby Creamy Oil all over skin.
None of this leaves my skin feeling greasy, just soft and smooth and it's WAY cheaper than some of the other products out there.
The real key is to using it on damp skin, to lock in moisture.
Do you have tips for battling dry skin?
I'm Lovin'……Johnson's Baby Oil

Now it's your turn! Please remember to link back to http://TidyMom.net
Let us know what you're lovin' this week!
Share your recipes, crafts, diy's, photography, printables, products..anything you are loving!
If you have something to share with us on your blog, add your link below.
*Don't forget to come back over the weekend for the I'm Lovin' It Wrap Up post……where I feature a few of the great links!!

What is I'm Lovin' It Fridays? get all the info, how to's trouble shoot and button here