Candy Corn Cookies
no cookie cutter needed!
One of my favorite things about Halloween is all the fun treats! Candy Corn Cookies come together in a flash…. no rolling or cookie cutters involved! Using a basic butter cookie dough and a little food coloring, and you have the perfect recipe for candy corn shaped cookies!! They are just as cute as the classic fall candy and party perfect!!
Be sure to sign up for my email… to get new recipes and ideas in your inbox!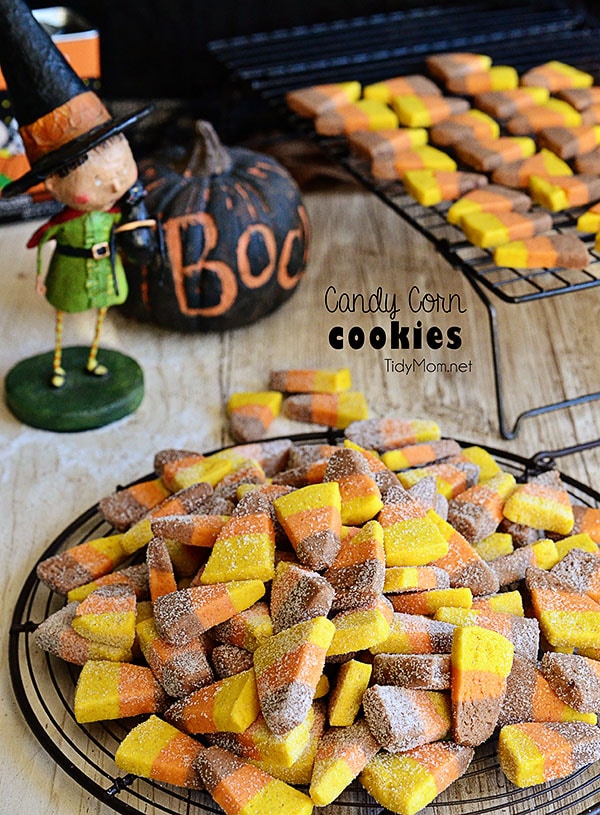 You can't think of Halloween without candy corn coming to mind. That funny little tri-colored candy that everyone either loves or hates. I don't think I know anyone who says "candy corn? I can take it or leave it"….am I right?
Whether you love candy corn or not, you're going to love these cute little candy corn inspired cookies. They are super easy to make with your favorite sugar or butter cookie recipe dyed with a little food coloring, stacked in a loaf pan and cut into little triangles.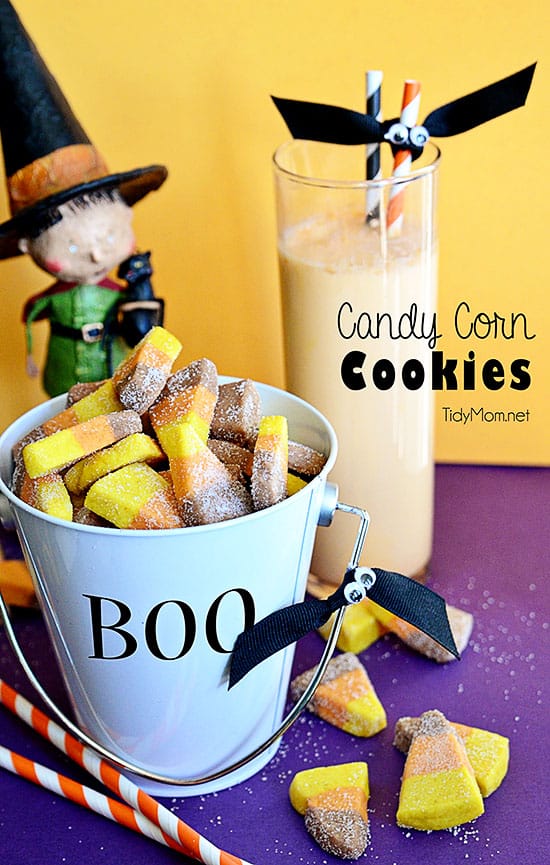 These Candy Corn Cookies would be fabulous as a Halloween gift, party favor, or desserts table treat. You can get a head start on these buttery cookies by shaping and chilling the cookie dough ahead of time, then slice and bake the tricolor treats when you are ready!
This is also a great recipe or Halloween project to make with the kids.
Grab your mixer and apron and let's get started!
Supplies For Candy Corn Cookies:
This post may contain affiliate links. Please read my disclosure policy here.
How To Make Candy Corn Cookies
(printable recipe at end of post)
Simply start with a batch of your favorite sugar or butter cookie dough and divide it into thirds – if you have a kitchen scale you can use it to get them the same size, if not, just eyeball it 😉
Next, you need to color your dough to look like candy corn. Return 1/3 of your dough back to your mixer and add a little yellow gel color (I used Wilton Lemon Yellow), another 1/3 with orange (I used Wilton Orange) and the last 1/3 you can either leave plain for a traditional white, orange and yellow candy corn.
Or you can color with Wilton Brown Gel Color, OR you can melt 1 ounce of semi-sweet chocolate and mix that into your dough for the brown, orange and yellow candy corn like I did!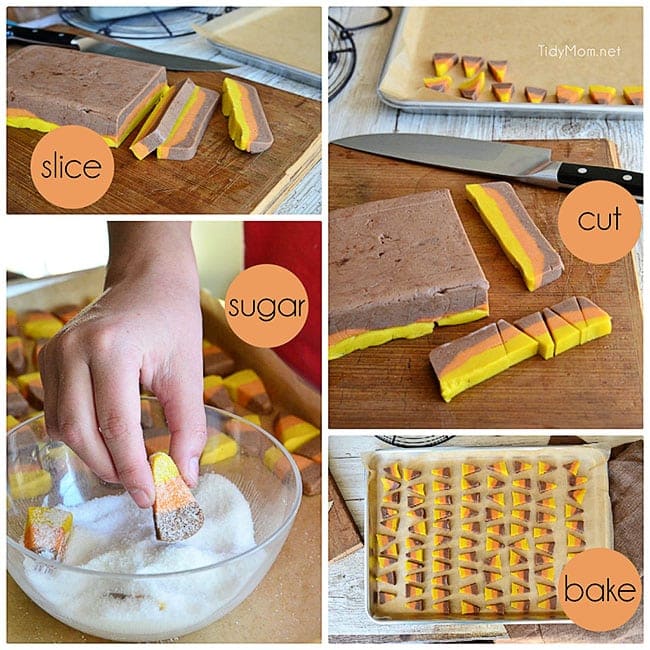 Once you have all of your dough colored, line a loaf pan with plastic wrap. Take the white or brown (whichever you are using) dough and press it evenly into the bottom of the loaf pan.
Then press orange dough over the white/brown, and lastly, press the yellow over the orange. Fold plastic wrap over dough and chill in the refrigerator for at least two hours.
After the dough has chilled for a few hours, remove from pan and plastic wrap.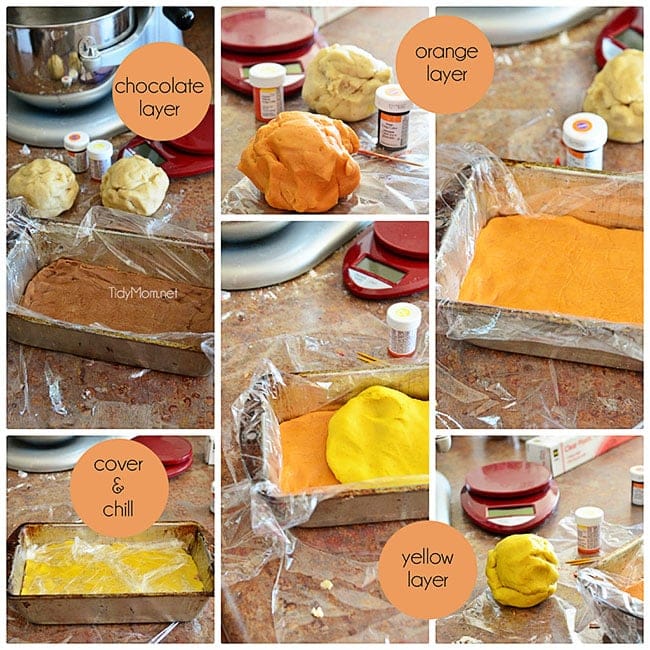 Heat your oven to 350°.
Cut dough brick into 1/4 inch slices, then cut each slice into 6-7 wedges. Place 1-inch apart onto a parchment-lined baking sheet.
Bake 10-12 minutes or until bottoms are slightly browned. Cool for just 1 minute, then immediately place warm cookies in a bowl of sugar to coat. Place cookies on cooling rack to cool completely.
Enjoy!!! I love how quick and easy these candy corn cookies are. Don't they turn out just adorable?!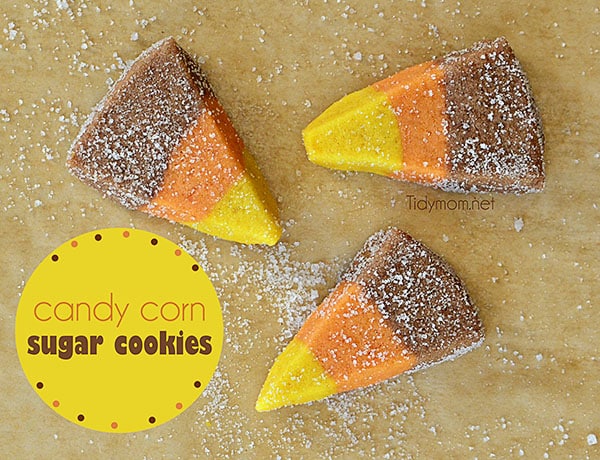 CHECK OUT HOW EASY THESE CANDY CORN COOKIES ARE TO MAKE! WATCH THE VIDEO
click to see more of my recipe videos
So tell me…..are you a candy corn lover or hater?
Need supplies to make these Candy Corn Cookies? I recommend these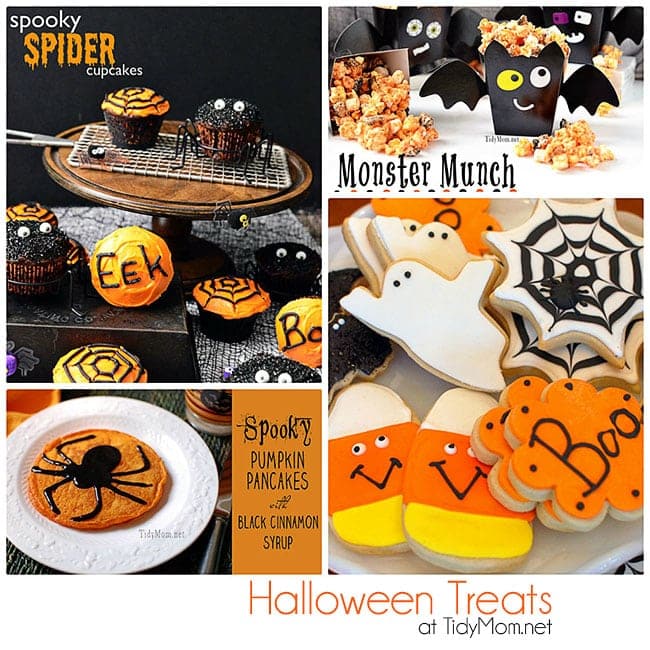 Halloween Spider Cupcakes | Monster Munch | Spooky Pumpkin Pancakes with Black Cinnamon Syrup | Halloween Cookies
I created a fun little group on facebook and I'd love for you to join in! It's a place where you can share YOUR favorite recipes, home tips, creative ideas and ask questions and see what's new with TidyMom! If you'd like to check it out, you can request to join HERE. Be sure to follow me on Instagram and tag #tidymom so I can see all the wonderful TidyMom recipes YOU make and tips YOU use!
Connect with TidyMom! Facebook|Twitter|Pinterest|Instagram
Sign up to receive an email in your inbox for each new recipe: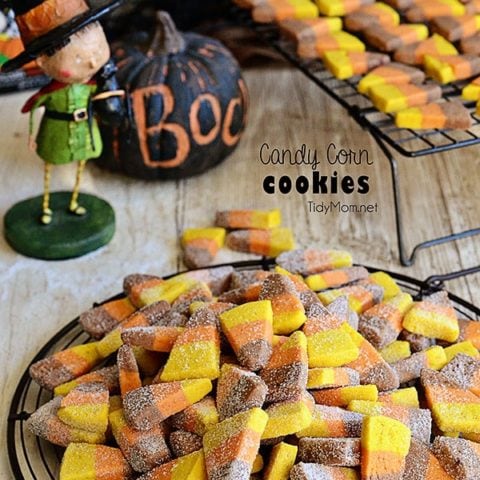 Candy Corn Cookies
Yield: about 80 cookies

Prep Time: 30 minutes

Cook Time: 10 minutes

Total Time: 40 minutes

These candy corn shaped butter cookies come together in a flash…. no rolling or cookie cutters involved! 
Ingredients
1 batch of butter cookie dough
yellow gel food color
orange gel food color
brown gel food color
1/2 cup granulated sugar
Instructions
Simply start with a batch of your favorite sugar or butter cookie dough and divide it into thirds - if you have a kitchen scale you can use it to get them the same size, if not, just eyeball it 😉
Next, you need to color your dough to look like candy corn. Return 1/3 of your dough back to your mixer and add a little yellow gel color (I used Wilton Lemon Yellow), another 1/3 with orange (I used Wilton Orange) and the last 1/3 you can either leave plain for a traditional white, orange and yellow candy corn, or you can color with Wilton Brown Gel Color, OR you can melt 1 ounce of semi-sweet chocolate and mix that into your dough for the brown, orange and yellow candy corn like I did!
Once you have all of your dough colored, line a loaf pan with plastic wrap. Take the white or brown (whichever you are using) dough and press it evenly into the bottom of the loaf pan. Then press orange dough over the white/brown, and lastly, press the yellow over the orange. Fold plastic wrap over dough and chill in the refrigerator for at least two hours.
After dough has chilled for a few hours, remove from pan and plastic wrap.
Heat oven to 350°.
Cut dough brick into 1/4 inch slices, then cut each slice into 6-7 wedges. Place 1-inch apart onto a parchment-lined baking sheet.
Bake 10-12 minutes or until bottoms are slightly browned. Cool for just 1 minute, then immediately place warm cookies in a bowl of sugar to coat. Place cookies on cooling rack to cool completely
Enjoy