Baked Spaghetti Pie & Fix-it and Freeze-it Tips
This Baked Spaghetti Pie recipe is so easy, with your favorite jarred sauce, better yet, you can fix and freeze it ahead of time.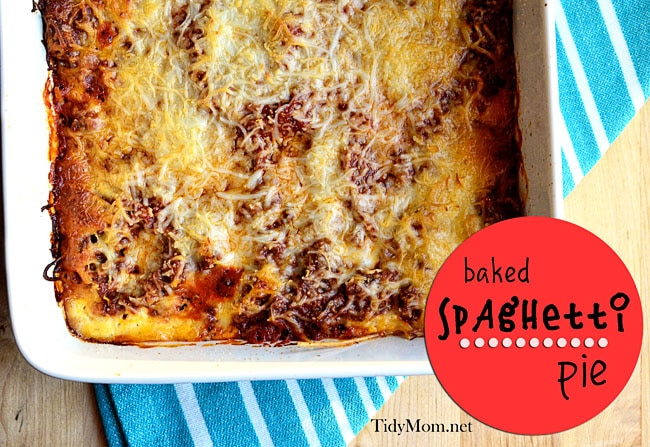 Spaghetti pie, where have you been all of my life? I have made lasagna, Three Cheese Mostaccioli, and numerous other baked pasta, but had never even heard of Baked Spaghetti Pie, until recently.
Knowing that spaghetti is always a hit, and I've been on the hunt for some new dinner ideas, I knew Baked Spaghetti Pie would be a pretty sure bet for dinner success! and I was right!
This meal is hard to beat. It's easy enough for any weeknight yet delicious enough to serve guests. It's easy, with your favorite jarred sauce or make it special with homemade pasta sauce. Better yet, you can fix and freeze this dish ahead of time. You'll have a convenient homemade meal that just needs to be popped in the oven on a busy weeknight.
Fix-it and Freeze-it Tips for Make Ahead Baked Pasta Dishes:
Line a 13- x 9-inch baking dish with heavy-duty nonstick aluminum foil, allowing several inches of foil to extend over sides. Prepare recipe as directed in foil-lined dish. Freeze unbaked spaghetti pie (or any baked pasta dish) until firm. Remove from baking dish by holding edges of foil; fold foil over pasta dish. Wrap in additional foil, making sure it is tightly sealed to keep out the air. Freeze up to 1 month.
The day before serving, remove pasta dish from the freezer. Remove foil, and place lasagna in a lightly greased 13- x 9-inch baking dish. Cover and thaw overnight in the refrigerator. Bake as directed. (Note: Pasta dish may also be baked frozen. Plan to double the baking times.)
source: May 2006 issue of Southern Living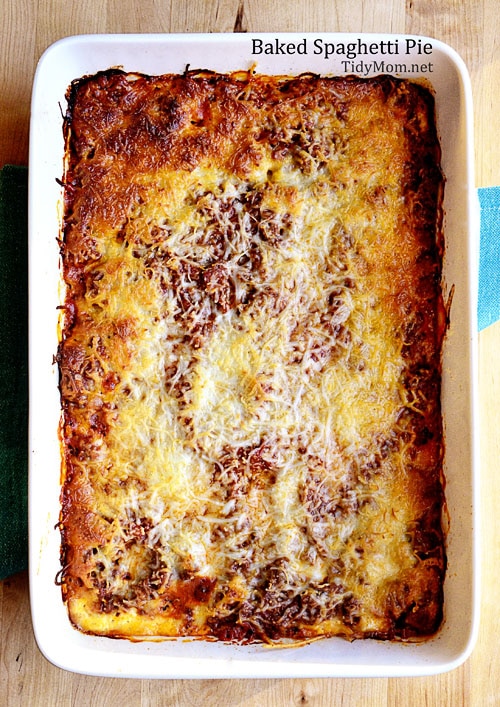 What's your family's favorite baked pasta?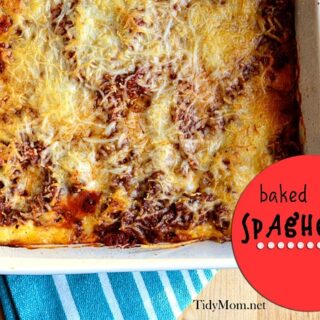 Baked Spaghetti Pie
Use homemade marinara sauce or your favorite bottled sauce for this easy and heart hearty Italian dish. Add garlic bread and a salad to complete the meal.
Ingredients
1 pound ground beef
1 jar (26 ounces) pasta sauce
8 ounces spaghetti, cooked al dente
1/2 cup grated Parmesan
2 eggs
1 cup heavy cream
1 cup 2% milk
1/2 teaspoon garlic salt
1½ cup shredded mozzarella cheese
Instructions
Heat oven to 350 degrees, place rack in center of the oven and lightly coat a deep 9x13 baking dish with nonstick cooking spray.
Brown ground beef in skillet, stirring occasionally and breaking up the meat until the meat is cooked through 5-7 minutes. Remove the skillet from the heat and drain the excess grease, if any. Add pasta sauce to meat and set aside (no need to heat sauce).
Place cooked spaghetti in a baking dish and sprinkle Parmesan evenly over the top.
In a small bowl whisk eggs and add cream, milk, garlic salt, to combine.
Pour egg mixture over the Parmesan and noodles.
Pour meat sauce over the top and spread evenly if needed, then sprinkle with mozzarella.
Bake 45-50 minutes until cheese browns and sauce bubbles. Let sit for 10 minutes before serving.
Notes
OPTIONS: This can easily be made vegetarian, just leave out the meat. Heavy cream and 2% milk could be replaced with 2 cups of whole milk.