Apple Cheddar Pork Burgers
Apple Cheddar Pork Burgers are a simple dinner solution the whole family will devour!! Made with just five ingredients and packed with flavor, tart apples and sharp cheddar (inside and out) are going to elevate your burgers to a whole new dimension with an unexpected flavor that everyone is going to love!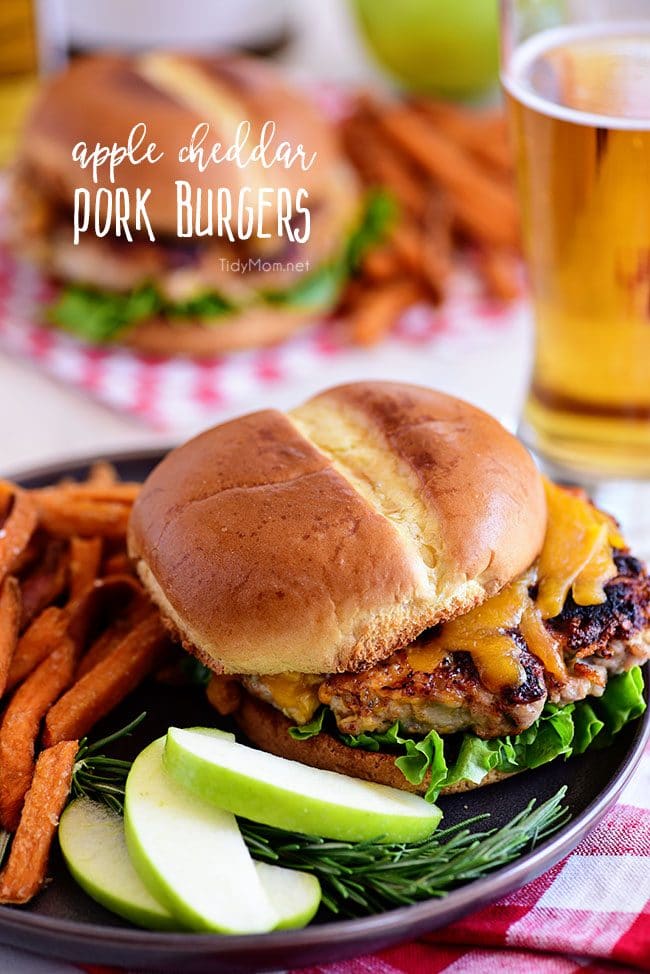 I like to always have a few quick dinner ideas in my meal plan because I never know what life is going to throw our way. Quick and easy meals are my forte just like these Apple Cheddar Pork Burgers, to make sure my family gets a home-cooked meal on the table, especially during the week.
Right now, bringing my family around the table to talk, laugh and enjoy a wholesome meal together is very important to me.
I grew up in a household that always ate dinner together, at the table. My husband and I have continued that tradition with our family.  Whether it's all four or just the two of us, we sit at the table and eat together. I could probably count on one hand (in 30+ years of marriage) the times we didn't eat at the dinner table. As the girls have gotten older and our lives busier, it's still something we manage to do on a pretty regular basis.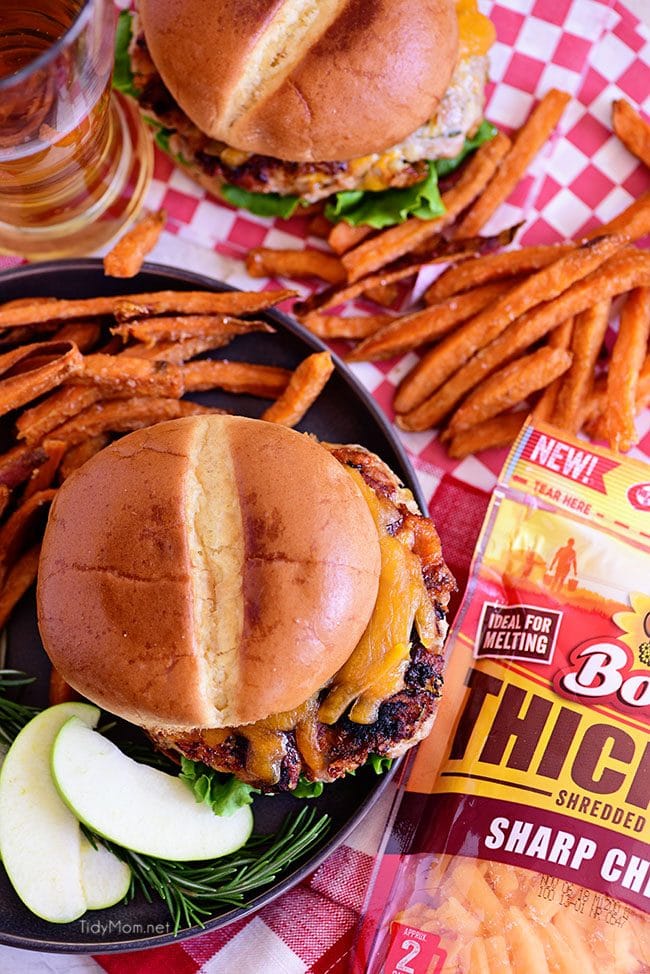 Today I'm teaming up with my friends at Borden® Cheese, to share  Apple Cheddar Pork Burgers recipe.  As always views, opinions, and love of cheese are all my own.
Finding nutritious, easy to make weeknight meals can be quite the challenge, but with Borden® Cheese and a few simple ingredients, you can make healthy, delicious dinners packed with protein and calcium for your family in no time.
Burgers show up on our dinner table a few times a month (weekly during the summer).  The good news is, burgers are easy to change up and get creative with, so you don't feel like you're serving the same thing all the time.  Besides ground beef, I like to mix it up with ground chicken, turkey, and pork for a change of pace.
No matter what kind of meat or toppings you choose, burgers can be pretty simple. But it's the quality of the ingredients that can take a good burger to an EXTRAORDINARY burger, like these Apple Cheddar Pork Burgers.
That's why I love using Borden® Cheese in my recipes.  Its creamy goodness is crafted with high-quality, wholesome ingredients and love.
Dinner doesn't have to be complicated to be delicious and nutritious.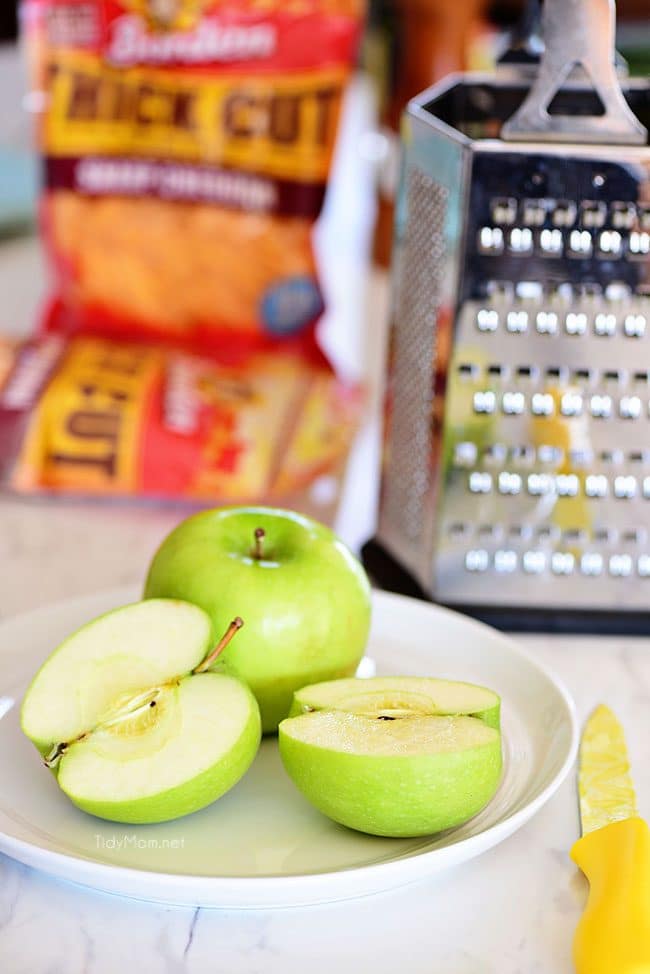 Apple Cheddar Pork Burgers are packed with fresh ingredients like tart Granny Smith apples.  I use about 1 1/2 apple per pound of ground pork (feel free to use more or less).
You will need to core and grate the apples, no need to remove the skin (unless you want to).  I find that when you grate an apple half, you will end up with most of the skin intact at the end, so I just discard that big chunk of skin and don't worry about the little bit of skin that is grated with the apple.
Apples contain a lot of water or juice, so you want to place the grated apple in a paper towel. Fold the paper towel around the grated apple and squeeze, letting the paper towel absorb most of the liquid from the apple.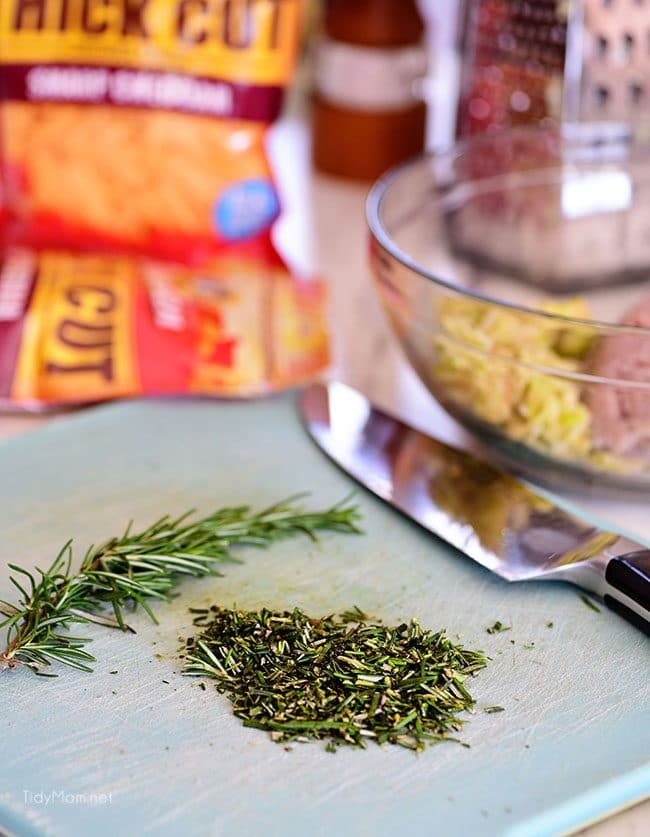 I love to use fresh herbs any time I can, and fresh rosemary works perfectly here with the pork and apples.  If you don't have fresh rosemary on hand, you can certainly use 1 teaspoon of dried rosemary.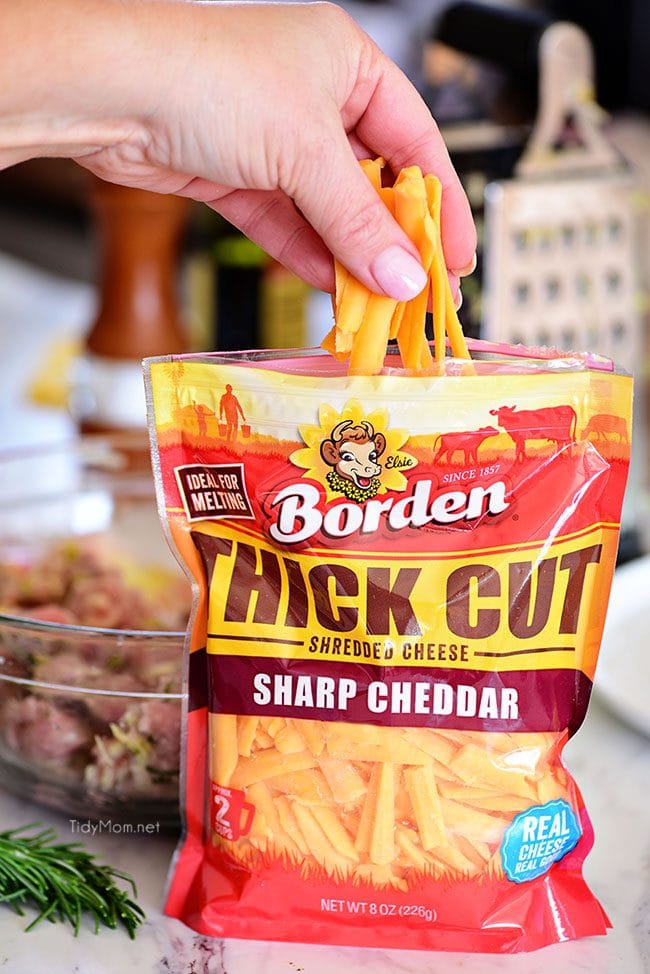 If you prefer thicker shredded cheese like I do, you're going to love the new Borden® Cheese Thick Cut Shreds.  They are perfect for melting, providing smooth, creamy coverage to family favorites such as casseroles and burgers.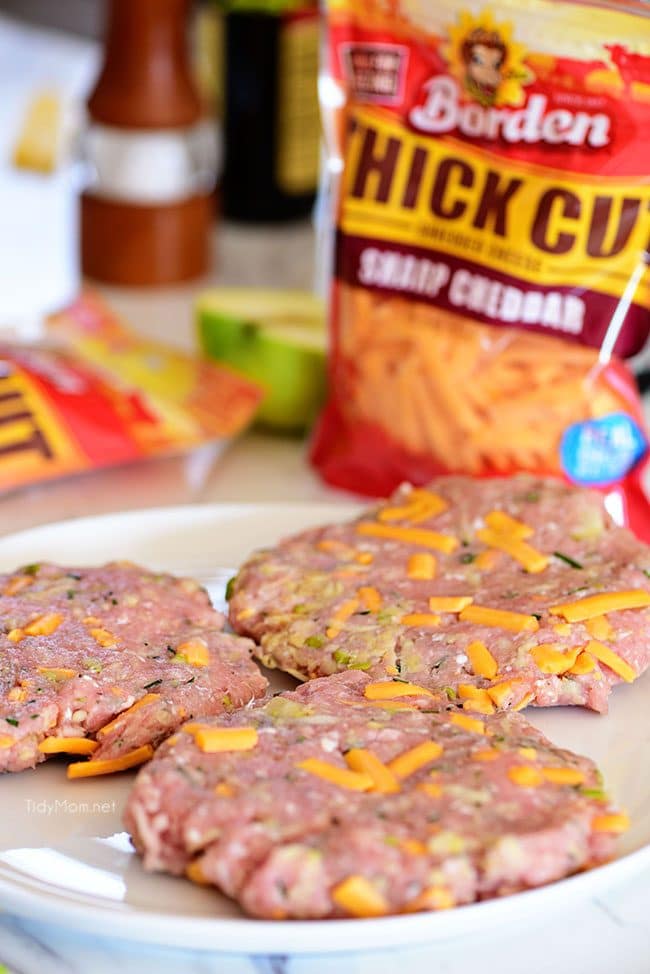 Just mix the ground pork, with the grated apples, fresh rosemary, and sharp cheddar cheese, form into patties and cook.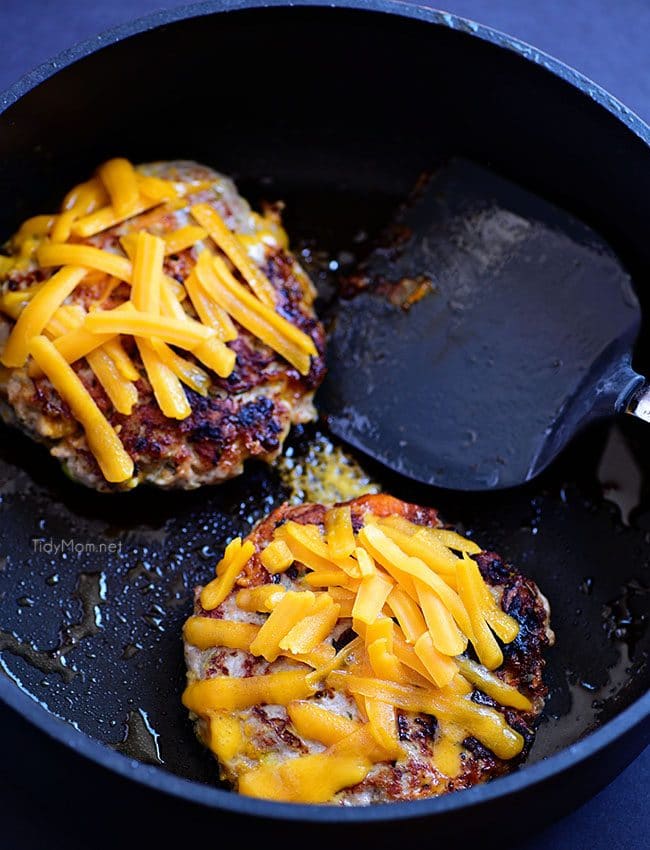 And because Borden® Cheese Thick Cut Shreds are perfect for melting, add more to the top of your burger during the last minute or two of cooking time.  That way you end up with creamy cheesy goodness both inside and out!!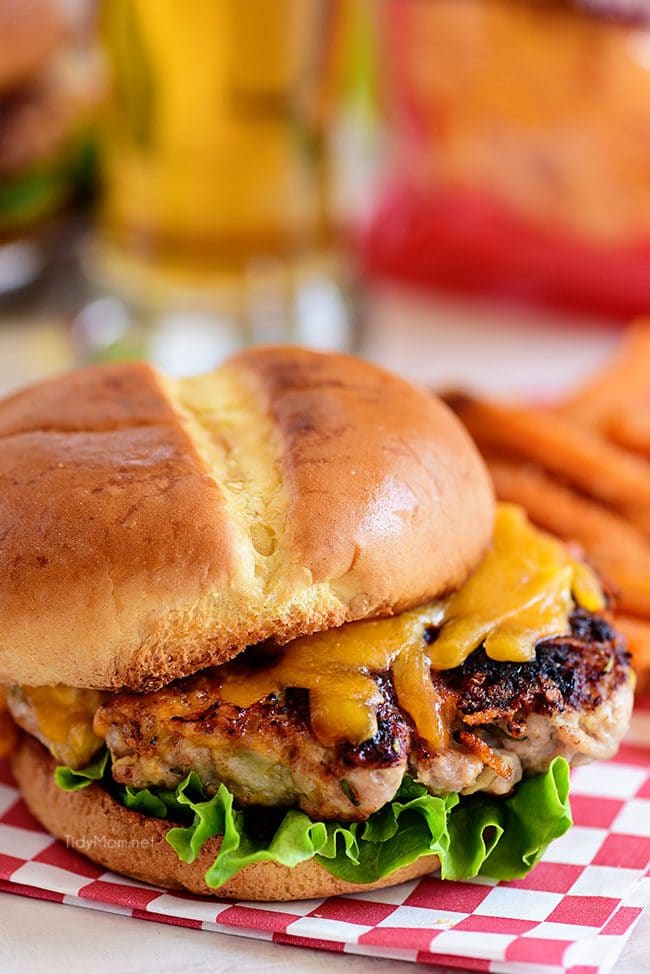 How to freeze Apple Cheddar Pork Burgers
Life doesn't have to get in the way of a home-cooked meal. These Apple Cheddar Pork Burgers are the perfect example, and can even be prepped ahead of time.
You can cook these pork burgers on the grill or on the stovetop in a pan. Often I will refrigerate or freeze my burgers before cooking so that they hold together better, but I cooked these right after forming them and they were still perfect!
You can make up burgers ahead, and refrigerated for 24 hours or freeze them for 3 months before cooking.
How to freeze burgers.
Simply flash freeze the burgers on a baking sheet (overnight or until frozen solid).  Then stack them with parchment in between and put them in a large resealable freezer bag.
Remove as much air out of the bag as possible to help prevent freezer burn.  Label and date the bag and freeze until the dinner bell rings!
No need to thaw, you can grill or pan fry the burgers from frozen.  How's that for a fast dinner?!
Your perfect cheeseburger awaits!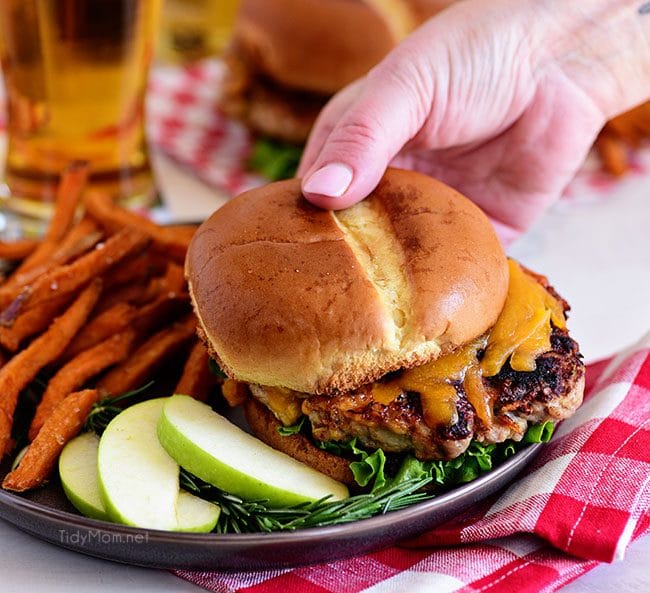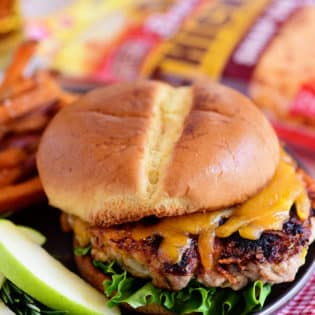 Apple Cheddar Pork Burgers
Ingredients:
1 pound fresh ground pork
1 ½  Granny Smith apples, cored and shredded
1 tablespoon fresh rosemary, chopped
1 cup Borden® Cheese Sharp Cheddar Thick Cut Shreds (divided)
2 tablespoons olive oil (if cooking on a stove-top pan)
4 sturdy burger buns, toasted
Directions:
Grate apples on a paper towel. Fold the paper towel around the grated apple and squeeze, letting the paper towel absorb most of the liquid from the apples.
In a large bowl combine pork, grated apples, rosemary and a half a cup of cheese and mix with your hands. Season with salt and pepper, if desired.
Form meat into 3 or 4 patties. (we like larger burgers, so I usually make 3, but you can certainly get 4 quarter pound burgers as well)
Heat a grill to medium indirect heat or drizzle olive oil in a large non-stick skillet over medium-high heat. Add the burgers and cook about 5 minutes. Flip and cook for another 4 minutes, then sprinkle top of burgers with remaining cheese and continue cooking 1-2 minutes longer or until cooked through. Check the burgers with a meat thermometer to make sure they've reached temperature (160 degrees).
Serve each burger on a toasted bun and toppings of your choice.
Making this recipe? Share it with us on Instagram using the hashtag #TidyMom so we can see what you're creating in the kitchen!
Want more great recipes like this? Follow my TidyMom Easy Recipes Pinterest Board
Like this recipe for Apple Cheddar Pork Burgers? Pin It!