Cheesy Ravioli Bake with Chicken
with recipe video
This Cheesy Ravioli Bake Casserole with Chicken is easy to make and impossible to resist, making it the perfect weeknight dish. Cheese ravioli, marinara sauce, chicken and lots of cheese, all layered and baked until bubbly and gooey! 
This post is in partnership with Borden® Cheese. All views, opinions, and love of cheese are my own. Thanks to the brands, and readers, who help support TidyMom.
I LOVE pasta…..and cheese!
There, I said it out loud, and now you know my secret.  It's actually a family secret, we all love pasta with lots of cheese!!
It's comfort food. Life can get crazy, especially around the holidays, and digging into a big dish of pasta makes me stop, slow down and savor the comfort. When It comes to cold weather comfort food, the cheesier, the better.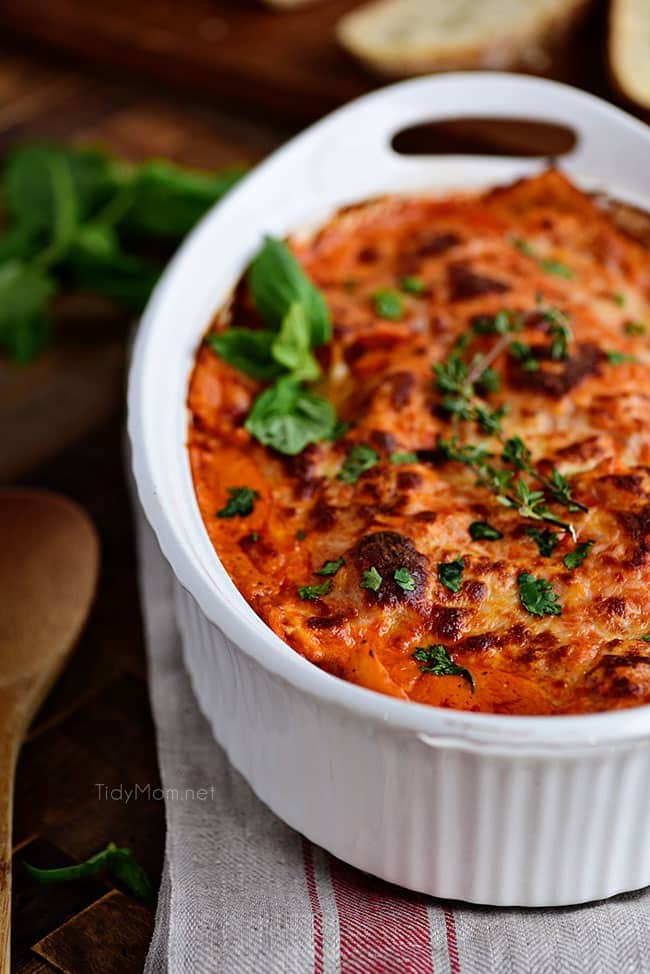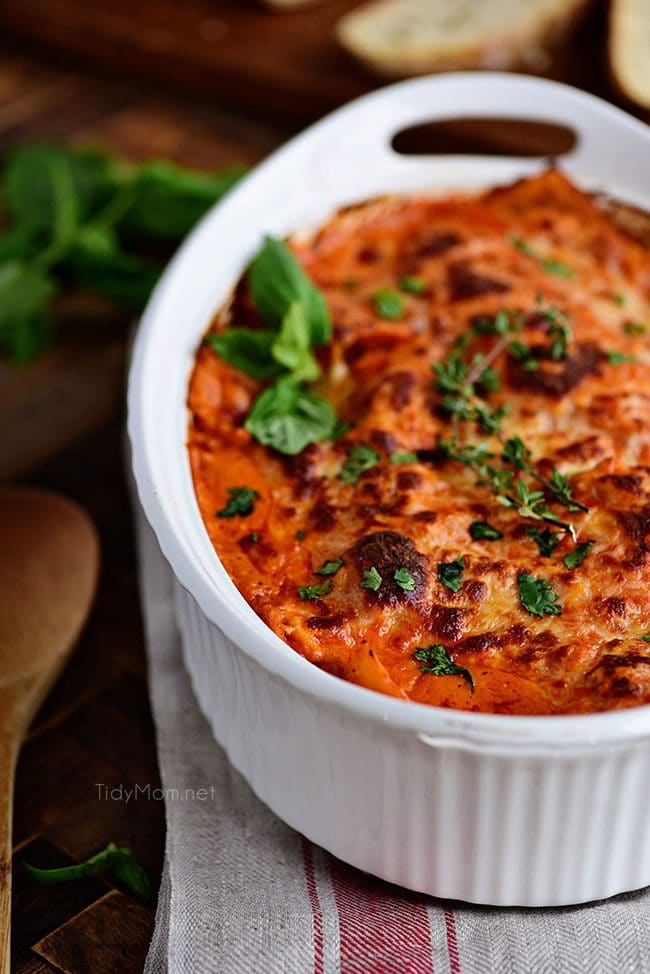 There is no denying that we have been forced to shift things around a bit, to adapt to our children's new lives as they enter adulthood. This was a big year, Heather just turned 30, and over the summer Allison turned 21 and started her third year at Mizzou.
Much to our dismay, some of our holiday traditions are changing as well.  This year was the first year the four of us didn't spend Thanksgiving together. Allison's boyfriend is from Chicago (we are in St. Louis) and she decided to spend Thanksgiving with his family this year.  This also means, our Christmas decorations are going up a bit later, or they will go up without her here to help.  I'm sure with all this change, will come new traditions, but there's one tradition that will never change, and that's sharing homecooked meals around our dinner table when we are all together.
Everyone loves a warm and cheesy baked pasta, especially when the girls are home for the holidays. When I ask what meals they want when they are home, whether it's just a weekend or holiday break, Cheesy Ravioli Bake is always on the list!
Thanks to packaged (fresh or frozen) ravioli, jarred sauce and Borden® Cheese, this dish is super simple to put together; you can even assemble it earlier in the day and pop it in the oven later when you're ready to eat.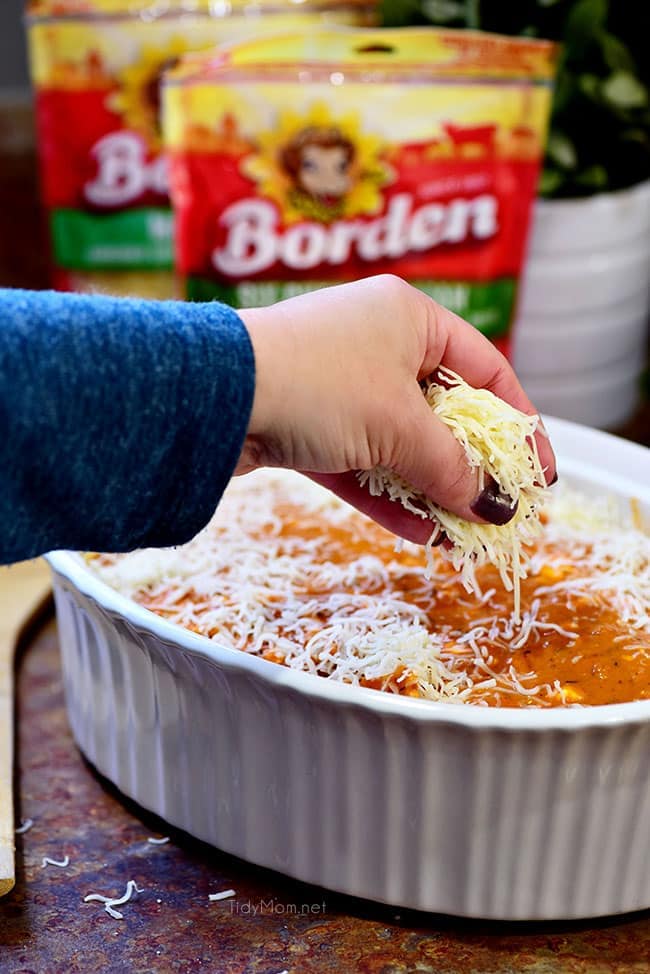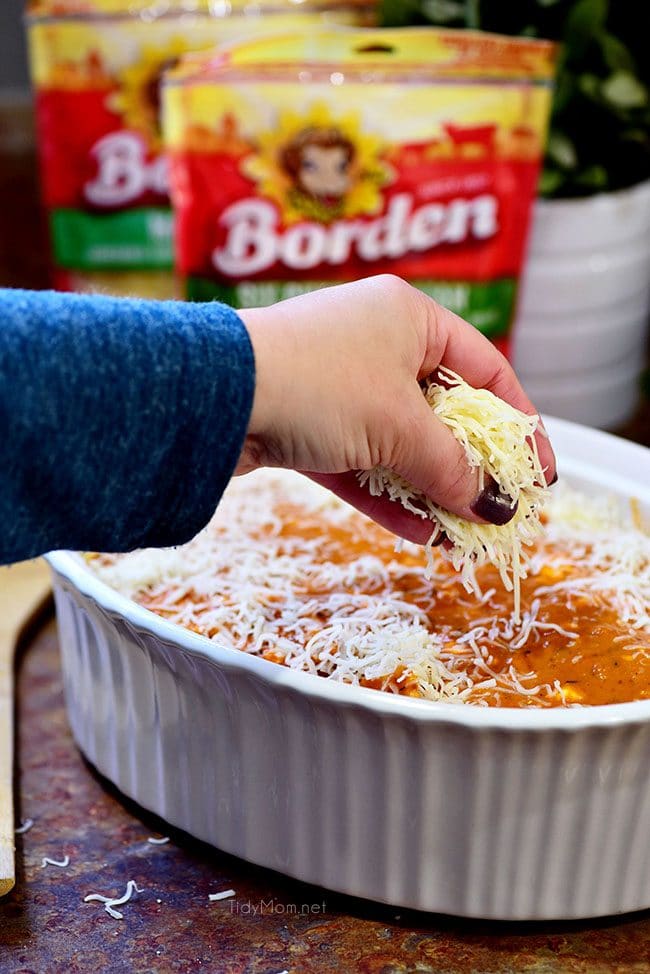 WHAT MAKES CHEESY RAVIOLI BAKE SO DELICIOUS
No pasta bake is complete without cheese, and boy does this Cheesy Ravioli Bake deliver! It should be called Cheese Lovers Ravioli Bake!!
This holiday season, there is no ingredient more creamy and delicious for our family's favorite recipe than Borden® Cheese. Packed with protein, it transforms this family favorite into delicious memories.
For this casserole, I use Borden® CheeseParmesan and Borden® Six Cheese Italian Shreds (their all-new Thick Cut Mozzarella Shreds would also be a great option). The ravioli is cheese filled, and I put a little cream cheese in the sauce and finish it off with a final layer of cheese that gets brown and bubbly during the baking process.
Be sure to let the cheese get nice and golden brown because that's gold, baby!  At our house there have even been fights for the crispy, almost burnt cheesy topping……. so be warned.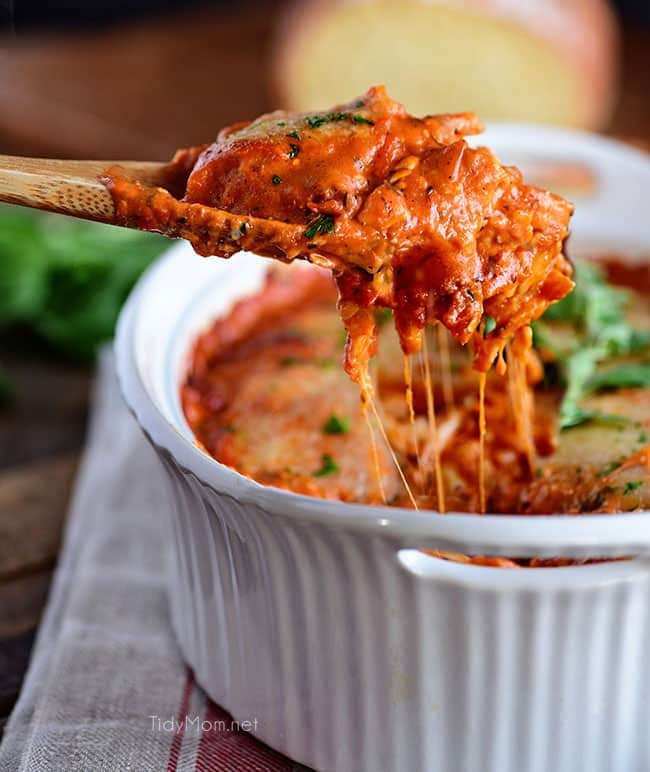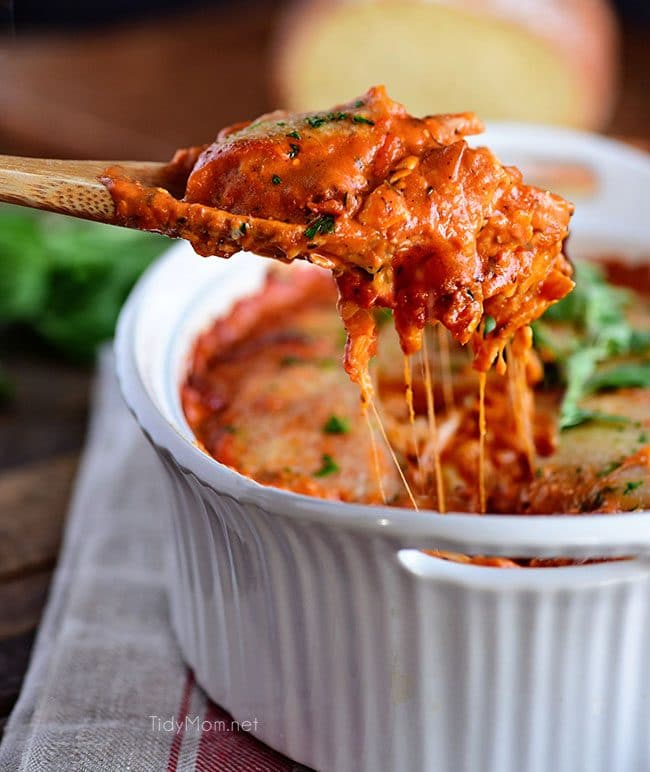 NOTES ON MAKING CHEESY RAVIOLI BAKE CASSEROLE
If you don't have cream cheese, you can use cottage cheese or ricotta cheese instead.
Use any shredded Borden

®

cheese variety you like– six cheese Italian, mozzarella, parmesan, provolone, cheddar or a mix.
Use a good quality marinara or spaghetti or vodka sauce, not plain tomato sauce to ensure flavor.
Feel free to add swap out the chicken for ground beef, sausage, or even pepperoni to this baked ravioli.
Use refrigerated or frozen ravioli with any filling you prefer.
Get a head start on dinner and prep this dish up to baking, cover and put in refrigerator until ready to bake. Add 20 minutes to baking time if the casserole has been in the fridge. You can also freeze for 2 months.  Thaw out overnight in the refrigerator before baking.
CHECK OUT HOW EASY THIS CHEESY RAVIOLI BAKE WITH CHICKEN RECIPE IS TO MAKE! WATCH THE VIDEO!
click to see more of my recipe videos
Borden
®

Cheese is about bringing families together.

Since there's no place like home for the holidays this year they are making it easier for families across the country to be together to celebrate the holidays by awarding $100,000 in prizes to be used for travel fare.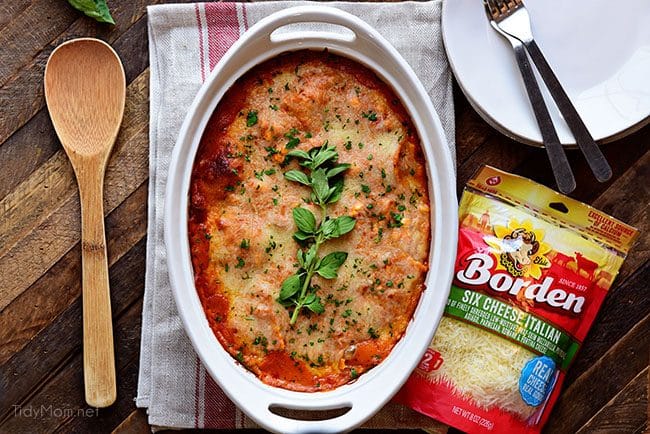 Through this national contest, winners will receive a $500 VISA cash gift card to go towards the cost of travel to get them home to celebrate the holidays with their families.
TO ENTER: visit BordenHomefortheHolidays.com and share why its important to you to get home this holiday season for a chance to win. The contest runs from Sunday, November 19, 2017, through Friday, December 8, 2017.  Winners will be notified on Monday, December 11, 2017
CLICK HERE TO GET A COUPON FOR ANY BORDEN PRODUCT
LIKE THIS CHEESY RAVIOLI BAKE WITH CHICKEN RECIPE?  PIN IT!


I created a fun little group on facebook and I'd love for you to join in! It's a place where you can share YOUR favorite recipes, home tips, creative ideas and ask questions and see what's new with TidyMom! If you'd like to check it out, you can request to join HERE. Be sure to follow me on Instagram and tag #tidymom so I can see all the wonderful TidyMom recipes YOU make and tips YOU use!
Connect with TidyMom! Facebook | Twitter | Google+ | Pinterest | Instagram
Sign up to receive an email in your inbox for each new recipe: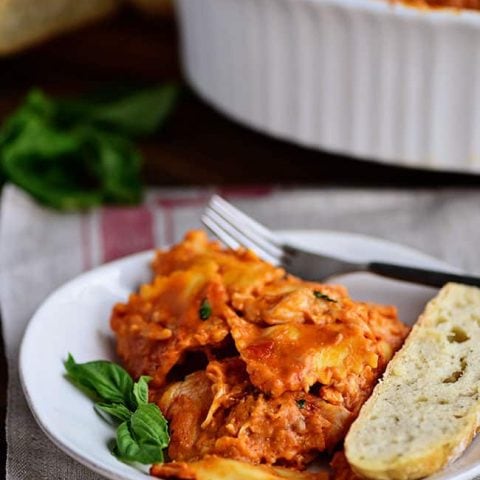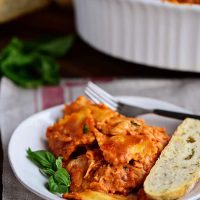 Cheesy Ravioli Bake with Chicken
This cheesy ravioli bake casserole is the perfect weeknight dish. Cheese ravioli, marinara sauce, shredded mozzarella, and parmesan cheese are layered on top of each other and topped off with another layer of cheese, and baked until bubbly and gooey!
Ingredients
1 (16-ounce) package cheese-filled ravioli
36 ounces of your favorite pasta sauce (I use vodka sauce)
4 ounces cream cheese, softened
1/4 teaspoon dried thyme
1/2 tablespoon dried parsley
1 pound cooked chicken, shredded (I use rotisserie)
8 ounces Borden® Mozzarella Cheese Shreds, divided
4 ounces Borden® Finely Shredded Parmesan Cheeses, divided
fresh parsley for garnish (optional)
Instructions
Bring a large pot of salted water to boil. Preheat oven to 350°F and spray 11x7-inch or 12x9-inch (2-quart) glass baking dish with cooking spray.
Add ravioli to boiling water cook ravioli just until tender, about 2-3 minutes; drain well and set aside.
Meanwhile, combine marinara sauce and cream cheese in a medium/large saucepan over medium heat. Cook, stirring constantly until cream cheese has melted (about 3-5 minutes). Stir in thyme and parsley.
Cover the bottom of the casserole dish with ⅓ of the ravioli. Top with half of the chicken. Ladle ⅓ of the sauce on top. Sprinkle with ⅓ of parmesan and mozzarella cheese. Repeat ravioli, followed by chicken, sauce, and ⅓ of the cheese. For the final layer, line up remaining ravioli, followed by remaining sauce, and cover with remaining cheese.
Bake uncovered until the sauce bubbles and the cheeses on top melt, about 30 minutes. Garnish with chopped parsley and enjoy!
Recommended Products
As an Amazon Associate and member of other affiliate programs, I earn from qualifying purchases.