Mini S'more Pies
Mini S'more Pies are the perfect dessert for snacking or entertaining.  Not only do they require very little work, but they can be made ahead of time.  Serve warm, room temperature or chilled.  Either way, it's chocolate, marshmallow, graham cracker deliciousness presented in the form of a decadent mini pie.

click to see more of my recipe videos
So I totally forgot I had this recipe for mini s'more pies to share with you.  Allison made them, back in July!  The girls get together on Mondays with their girl friends to watch the Bachelor/Bachelorette and Allison is usually in charge of bringing a dessert since she likes to bake.  She found a recipe for an easy s'mores pie and we had mini graham cracker crusts, so Mini S'more Pies it was!!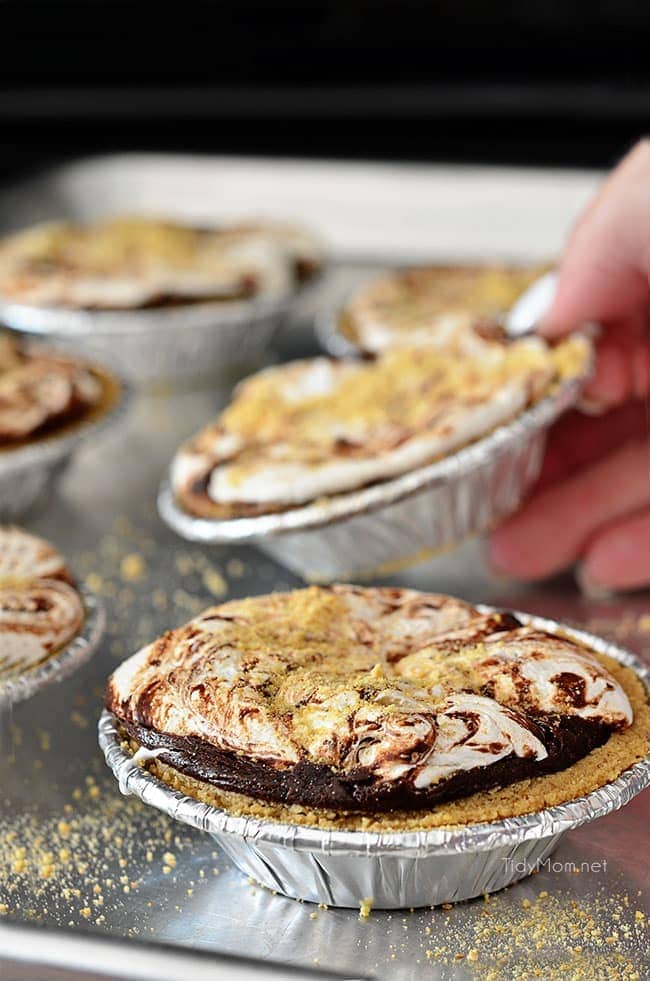 Traditional s'mores are always good…….but if you don't feel like building a fire and all the mess, mini s'more pies are where it's at!
They start with ready made graham cracker crusts, filled with a melt in your mouth chocolate fudge-like filling, topped with marshmallow cream (reminiscent of warm gooey melted marshmallows) and toasted to perfection in the oven! Just like a traditional s'mores, but better!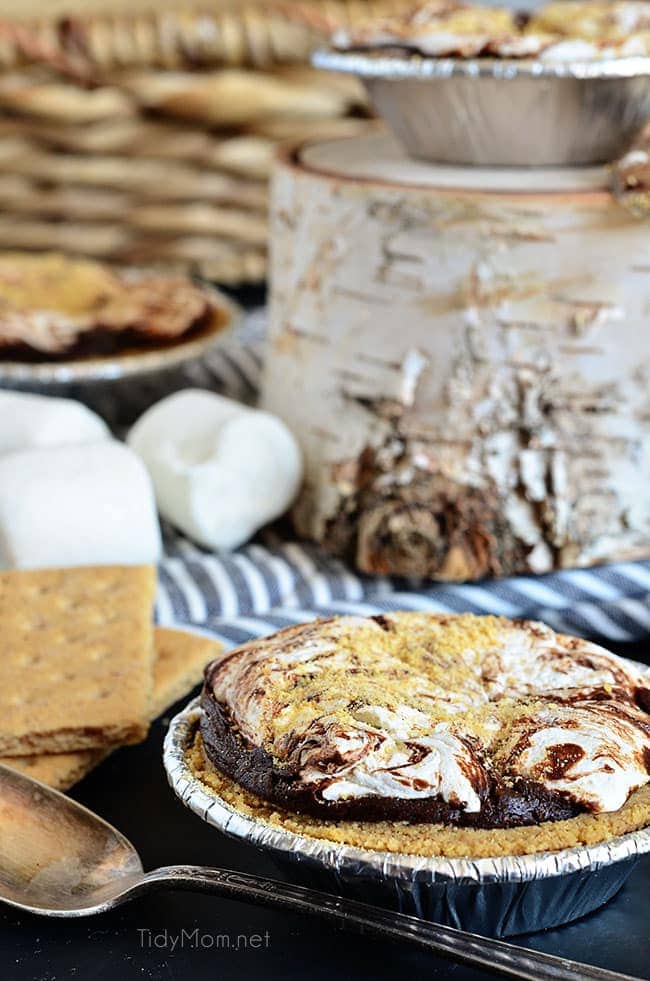 You can enjoy this pie about 30 minutes after you pull them out of the oven  – promise me you'll try one warm like that!!  They can also be enjoyed cooled to room temperature or chilled in the refrigerator.
No matter how you serve these mini s'more pies, it's one of those 'wow-your-guests but almost no effort' recipes that will have everyone drooling.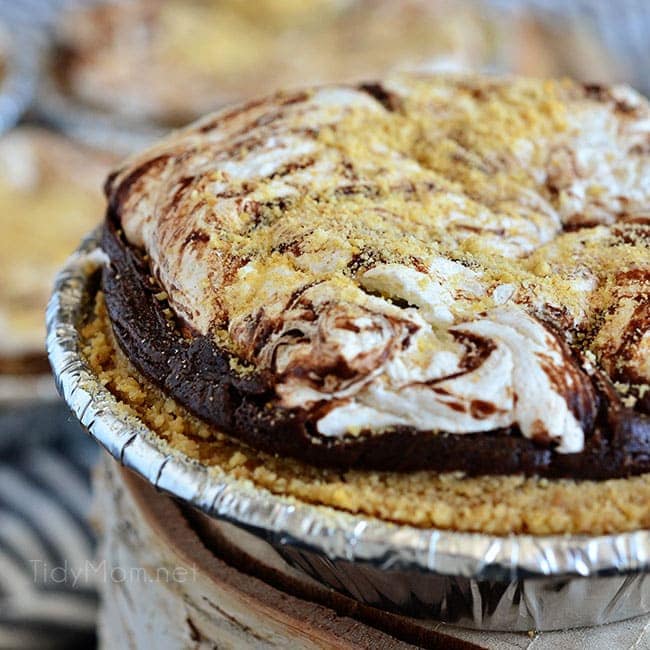 I SUGGEST FOR THIS MINI S'MORE PIES RECIPE: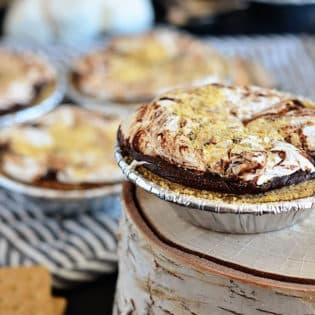 Mini S'more Pies
The perfect dessert for entertaining or snacking. It's one of those 'wow-your-guests but almost no effort' recipes that will have everyone drooling.
Ingredients:
6 ready-made mini graham cracker pie crusts
3 eggs
8 ounces semi sweet chocolate chips
4 tablespoons butter
1 (7 ounce) jar of marshmallow cream
1/2 cup graham cracker crumbs (for garnish)
Directions:
Heat oven to 325°. Place pie crusts on baking sheet and set aside.
In a medium bowl, beat eggs with electric mixer for 3 minutes or until they double in size.
Cut butter into 4 pieces and place into microwave-safe bowl.  Add chocolate to bowl and microwave on high for 30 seconds.  Stir and continue microwaving in 30 second intervals and stirring until chocolate is melted, approximately 1.5 minutes.
Using a rubber spatula, fold half of  egg mixture into chocolate until well combined then fold in remaining eggs. Use a large spoon or ice cream scoop, evenly divide chocolate filling into pie crusts.
Using a small greased spoon, place dollops of marshmallow cream on top of each pie. TIP:  grease fingers too to make is easier to move marshmallow off spoon onto pies. Use the tip of a knife to swirl marshmallow cream with the top of the chocolate.
Bake approximately 20-25 minutes, until the filling has puffed up.  Remove from oven and allow to cool 30 minutes (tops will deflate).  Garnish with graham cracker crumbs. Serve warm, room temperature or chill in refrigerator.  We really enjoyed that at any temperature.
Making this recipe? Share it with us on Instagram using the hashtag #TidyMom so we can see what you're creating in the kitchen!
Want more great recipes like this? Follow my TidyMom Easy Recipes Pinterest Board


More S'more Pies you might enjoy: