Potted Chocolate Cheesecake
What a great way to celebrate Mother's Day, a wedding, a shower or Spring with these cleverly disguised desserts, Potted Chocolate Cheesecake.  Spoon no-bake chocolate cheesecake into votive candleholders and serve with wooden "plant marker" spoons.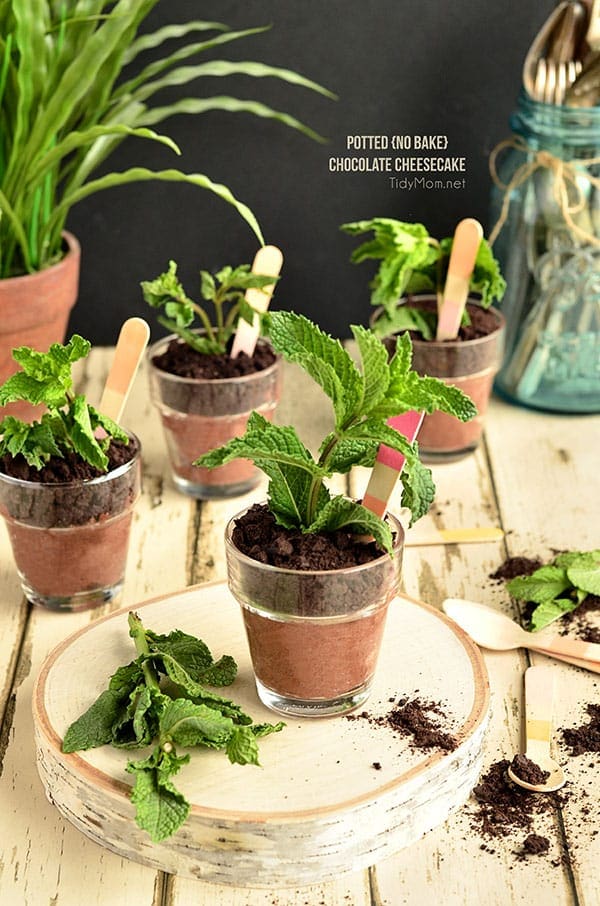 These may look like darling potted herbs, but these Potted Chocolate Cheesecake sprout to life when they are topped with ground cookie "dirt" and a sprig of fresh mint!
The original Martha Stewart recipe uses a very rich chocolate pudding, but I decided to use no-bake cheesecake for a little more "grown-up" dessert.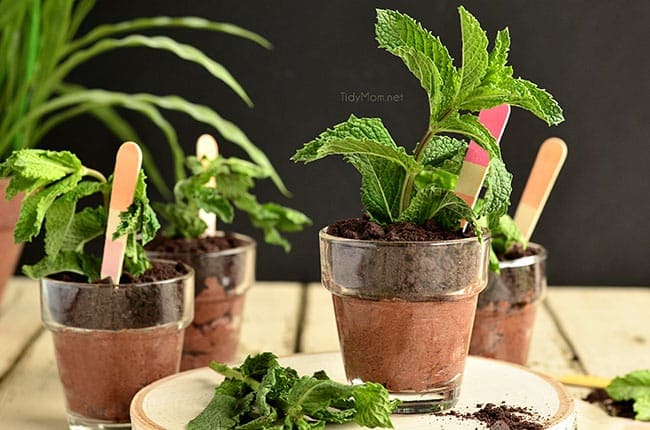 These little desserts may not be ultra-gourmet, but they are super easy, whimsical, and perfectly yummy……….they'll make your guests smile.
And make Mom happy….. especially because she doesn't have to cook these herself! Some of the best ideas for Mom gifts are Mother's Day recipes. Particularly dessert (what woman doesn't love chocolate?) prepared by the people they love.
Make Mother's Day really special………she'll love it even more if you clean up the kitchen afterward. 🙂
You can always fill these with chocolate mousse or chocolate pudding if cheesecake is not your thing.
Sources:
This post may contain affiliate links. Please read my disclosure policy here.
wooden spoons were purchased from Sucre Shop
Glass flower pot votives at Michaels
Want more great recipes like this? Follow my TidyMom Easy Recipes Pinterest Board