Chocolate Covered Strawberry Cake Balls
These cake balls have all the delicious flavor of a chocolate covered strawberry.  A perfect Valentine treat for your sweethearts, or dessert any time of year…. Chocolate Covered Strawberry Cake Balls.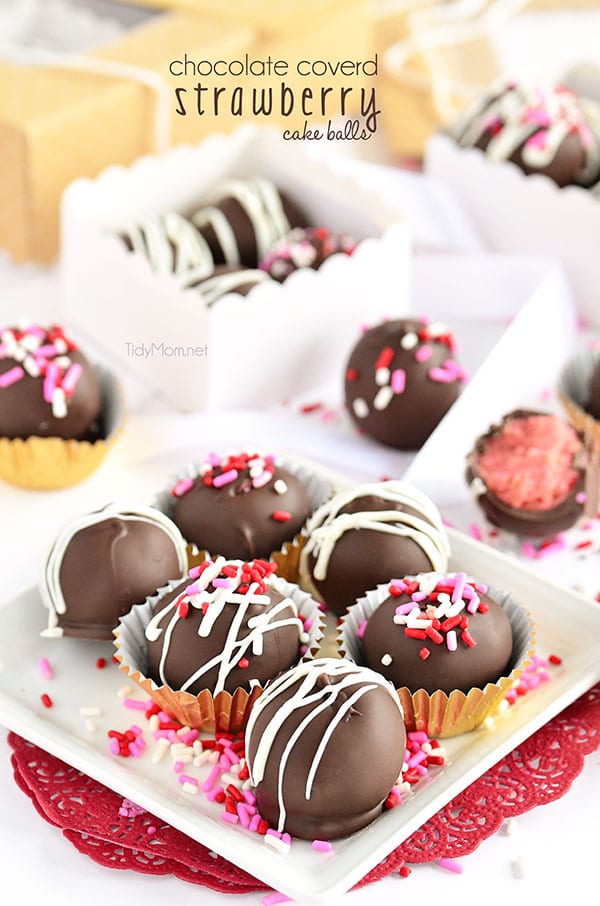 How do you feel about Valentine's Day?
I'm pretty fortunate to have a husband of 27+ years who doesn't need the calendar to tell him when to be romantic.  I don't know about you, but those days when he runs to the store when it's below zero and snow piled up to his knees because I mentioned that I'm out of my favorite cereal…..that's love.  When I'm feeling my worst, and he looks at me and tells me I look beautiful……that's love.  When he touches me every time I walk past him,  accepts me and all of my flaws, eats peanut butter toast because I don't feel like cooking, and makes me laugh every day…….that's love.    Life with him makes perfect sense.  Every day may not be a Valentine's Day, but I sure love how much he tries.  He's my sweet Valentine every day 😉 
So what is Valentine's Day to me?  A time to celebrate all of the love in our life and a good excuse to eat chocolate and make pretty girly pink and red desserts!
Chocolate Covered Strawberry Cake Balls for Valentines Day
Allison asked if I would make some cake balls for Valentine's Day.  Since we all love chocolate covered strawberries at our house, she thought Chocolate Covered Strawberry Cake Balls would be the perfect treat to celebrate the day of love!!  Plus, who doesn't love cake balls!
I've been making Steve red velvet cake balls for years, they are one of his favorite treats. Right up there with chocolate chip cookies and Coke.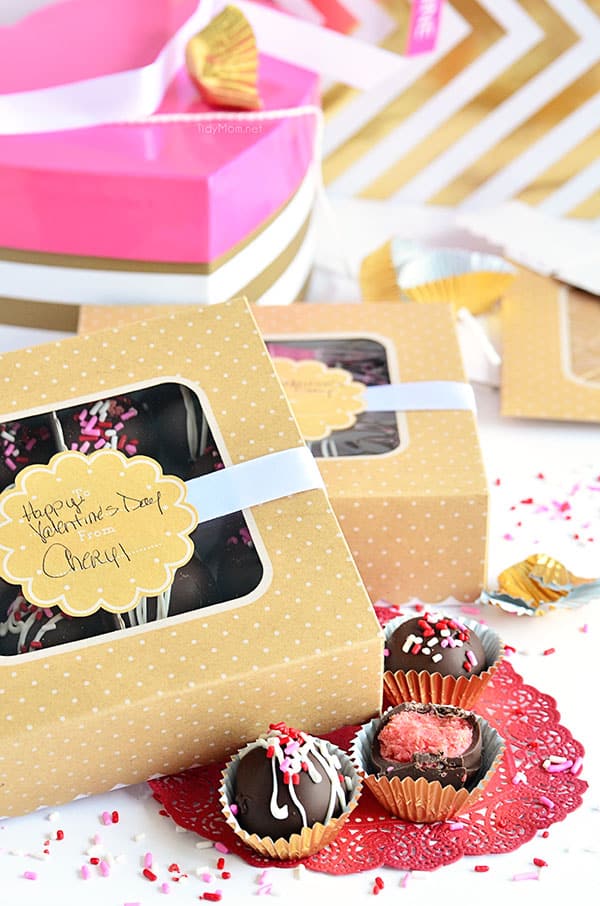 I made a batch for Heather to take to the salon to share with co-workers and clients, and a batch for Allison to take and share with her girl friends at their anti-Valentine party.  These are almost as good as a real chocolate covered strawberry!
I'm so in love with the little boxes I put them in. I picked up these Martha Stewart Treat Boxes at Michaels a few months ago.   They are the perfect size.   They come with the little scalloped boxes, paper liners, ribbon and even the cute labels. Filled with cake truffles, they make a super cute Valentine's Day treat to give someone. And chocolate covered strawberry cake balls are a little different than the typical candy.  It's like cake and candy all in one!
Do you celebrate Valentine's Day in a special way?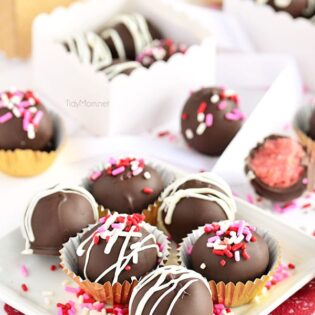 Chocolate Covered Strawberry Cake Balls
These cake balls have all the delicious flavor of a chocolate covered strawberry and make a perfect Valentine treat for your sweethearts.
Ingredients:
1 box Duncan Hines strawberry cake mix, prepared and baked
1/2 can Strawberry Frosting
1/4 can Cream Cheese Frosting
6-8 ounces chocolate or 1 package chocolate bark
1-2 ounces white chocolate for garnish (optional)
sprinkles
Directions:
Prepare cake mix and bake as directed using a 9 x 13 cake pan.
Let cake cool completely. Using your hands, remove cake from pan and crumble into a large bowl
Add frosting and mix until a pink dough forms.(you can use a fork or electric mixer, but I like to just use my hands, squishing it between my fingers to fully incorporate).
Roll in 1-inch balls and place on parchment paper lined sheet pan. Freeze the balls for at least 1 hour, until firm but not frozen. Right before removing from freezer, melt chocolate in the microwave in 30 second increments until melted completely. Using a fork or toothpick, dip balls in chocolate and gently move it around, just until coated. Lift it out, allowing any excess chocolate to drip off. Place on parchment lined pan. Push off fork using a spoon, or remove toothpick. Decorate with sprinkles while wet. Drizzle with melted white chocolate once dry.
Refrigerate immediately to set.
We prefer cake balls chilled, but they can also be kept at room temperature.
I like to wear food-safe gloves while rolling cake balls.

*I use a one-inch cookie scoop to make cake balls, if you want them round (instead of flat on the bottom) roll into a tight ball with your hands after scooping.

*if my chocolate is thick, I will add a little dollop of shortening to thin it out, this will also make your chocolate more shinny.

*I have found using a toothpick is the easiest way to dip the balls in chocolate. you just remove the toothpick as the chocolate sets, and if you want to cover up the hole, just dip the toothpick in the melted chocolate cover the hole with a more chocolate - when it hardens, you'll never see the hole from the toothpick.
Making this recipe? Share it with us on Instagram using the hashtag #TidyMom so we can see what you're creating in the kitchen!
Want more great recipes like this? Follow my TidyMom Easy Recipes Pinterest Board
More cake balls recipes:
Baby Blue Velvet Cake Truffles
Valentine's Day Cake Gift Box of Cake Truffles
LIKE IT? PIN IT!