Cheesy Baked Tomatoes
A delicious and flavorful side dish that will go with just about anything! These cheesy baked tomatoes are the perfect way to take advantage of all the juicy summer tomatoes with melt in your mouth mozzarella and parmesan cheese.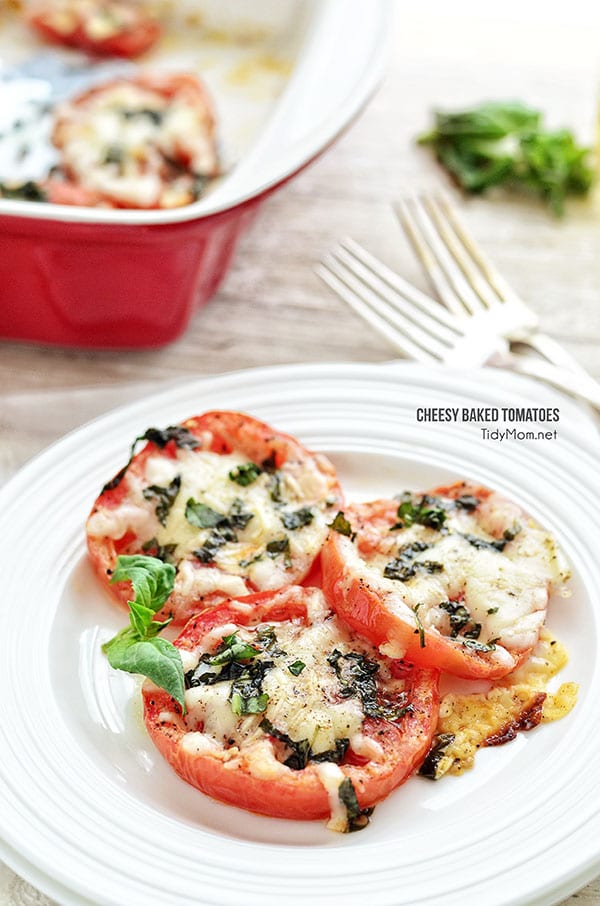 Sometimes the simplest dishes can be the best.  Nothing fancy, but oh so delicious!
Don't you just love a dish that turns out even better than you had imagined?  And not only that, it's literally no trouble to make, screams summer time and makes a perfect side dish to almost any meal.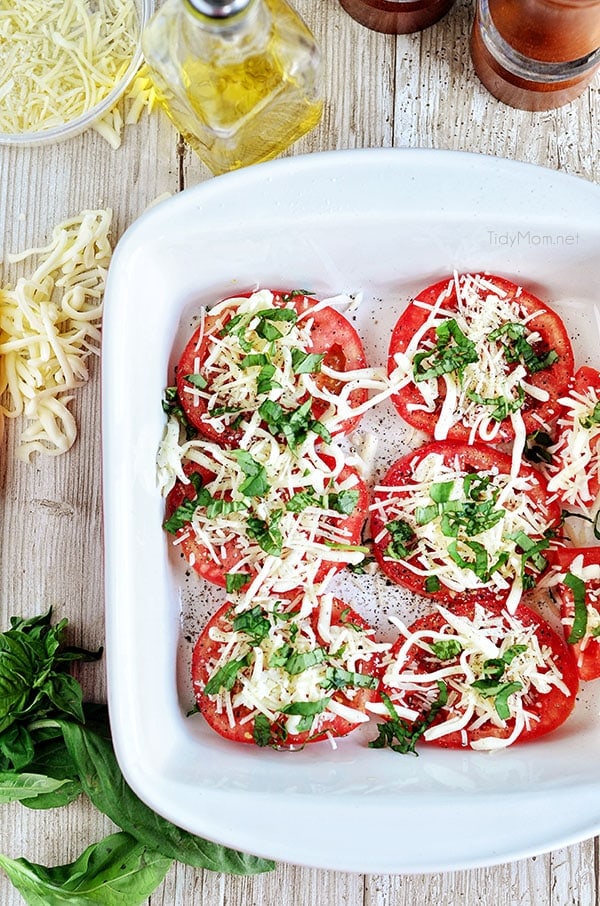 We had my mom over for Mother's Day and we grilled steaks……I had stopped at the Farmers Market the day before and picked up the most delicious looking tomatoes and wondered what they would be like if I sliced  them up, sprinkled them with a little mozzarella, parmesan and fresh basil and popped them in the oven for a bit.
They were even better than I had imagined!!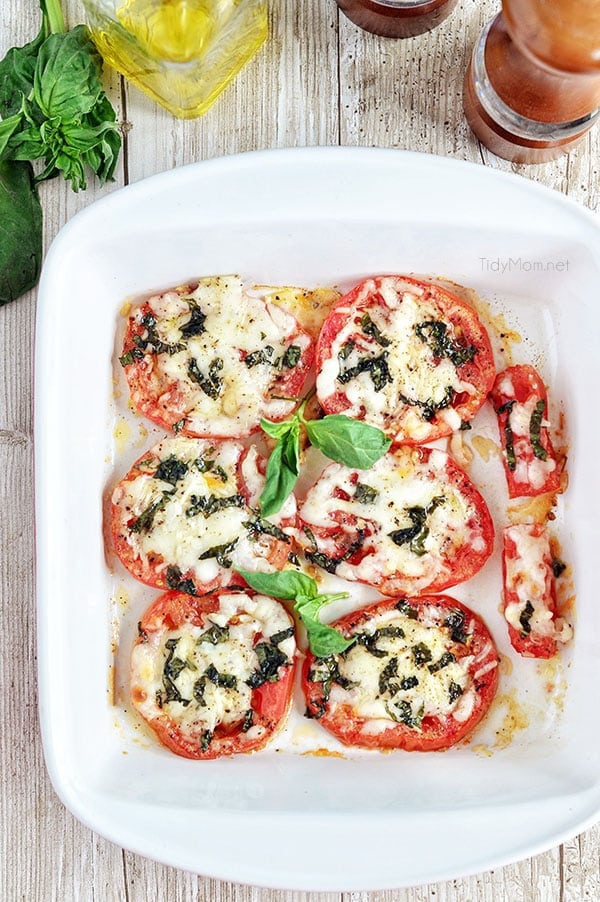 You can certainly change these up by using other cheese, like Queso fresco with the parmesan would be amazing I'm sure!  Fresh rosemary or oregano would be another option in-place of the basil.  You really can't go wrong here.
These little gems were such a big hit at dinner, I had to make them again a few days later for myself for lunch! These Cheesy Baked Tomatoes stood up perfectly for a light summertime main course.  Can you imagine these on your next burger?!  I'm planning to try that next!
CHEESY BAKED TOMATOES
A delicious and flavorful side dish can be on the table in 15 minutes and will go with just about anything.
Ingredients:
2 tomatoes
1/4 cup fresh grated parmesan cheese
1/4 cup mozzarella, grated
fresh basil, chopped
Extra Virgin Olive Oil
Kosher salt
fresh ground pepper
Directions:
Preheat the oven to 450 F
Cut the tomatoes into slices, approximately 1/3 to 1/2 -inch thick.
Place tomato slices in baking dish.
Season with kosher salt, then top with parmesan, mozzarella, basil and pepper. Drizzle with olive oil.
Bake in center of oven for 10-15 minutes, or until tomatoes are tender and the cheese is melted.
feel free to modify, cheese and spices to your liking
Making this recipe? Share it with us on Instagram using the hashtag #TidyMom so we can see what you're creating in the kitchen!
Want more great recipes like this? Follow my TidyMom Easy Recipes Pinterest Board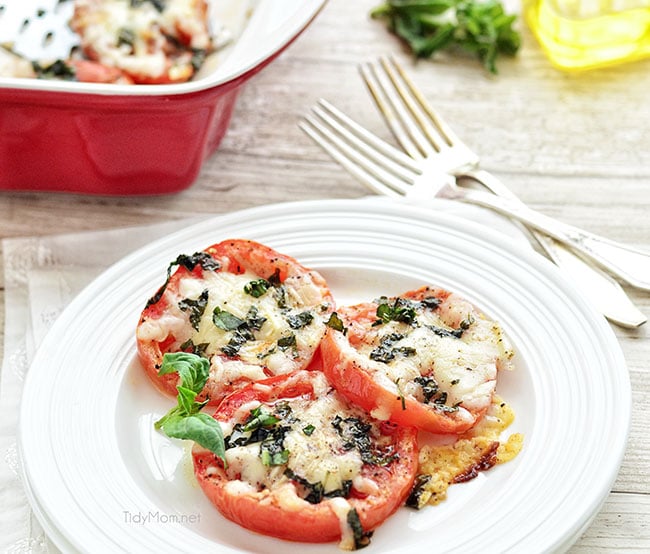 More Summer Tomato Recipes you might enjoy:
Tomato, Peach, & Burrata Salad
Burrata and Heirloom Tomato Caprese Salad
Garlic and Basil Cherry Tomatoes
Heirloom Tomato Tart with Pesto and Goat Cheese
Sweet and Spicy Honey Tomato Jam