Red Velvet & Cinnamon Layer Rose Birthday Cake
So,  I remembered I never shared the incredible birthday cake I made for my Aunt's surprise 70th party way back in December.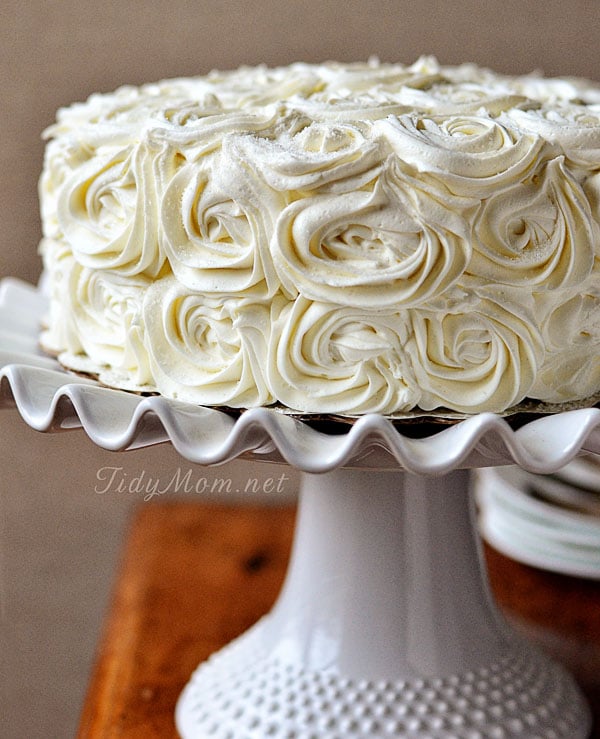 I'm still kind of in awe myself! like, did I make that?!
Unless you live under a rock, you may have see the Rose Cake all over the web.  In the past two years, this cake has been replicated more times than I can count.  You want to know why?  Because it's SO EASY to make!  not kidding!  It looks intricate, beautiful and amazing…….but difficult it is not.  Don't believe me? Check out this rose cake video tutorial…… then go make one yourself and wow your friends and family like I did!
If the outside of this rose cake isn't pretty enough………I need to tell you about the inside.  Red Velvet & Cinnamon Layer Cake topped with traditional Cream Cheese Frosting.  and yes……it's was every bit as ridiculously decadent as it sounds!
My aunt loves Red Velvet cake, and if you've read my blog much, you know I have no qualms about using Duncan Hines Cake mixes for most of my recipes.  But this time, I wanted to try it from scratch.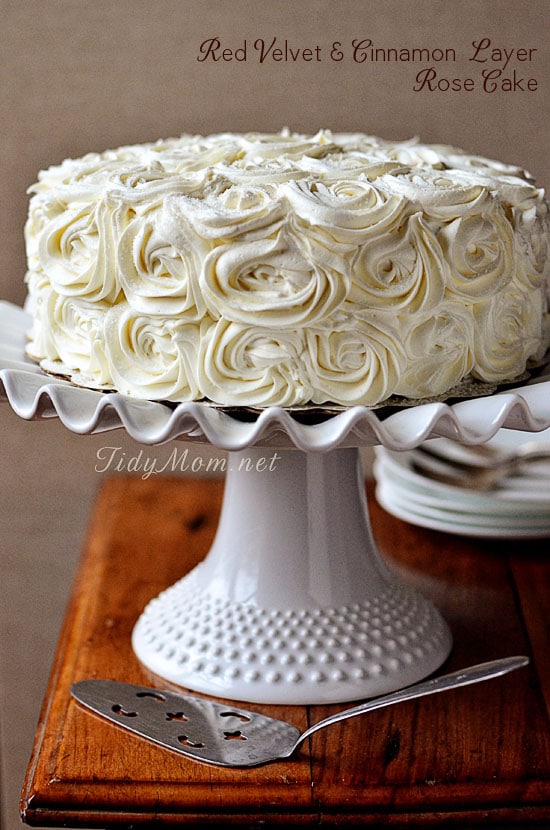 I wish I had a picture of the cake cut for you………I didn't go to the party, but they saved me a piece and it was every bit as delicious as I had imagined!  Apparently it got just as many oohs and ahhhs, cut………even the waiter was drooling -they gave him a piece to take home 😉
When I think of Red Velvet Cake I think of deep dark red cake with a hint chocolate, the tang of buttermilk, the sweet tartness of cream cheese frosting……but what if we add a touch of cinnamon buttercream between the layers?  A little non-traditional, but oh so delicious!
I did a little searching, and found great reviews on the Red Velvet Cake recipe at Baking911.com.  The only modification I made was; I did not have buttermilk, so I used powdered buttermilk . (see full recipe below). This recipe did not fail….it was wonderful, moist and full of flavor.
Since this cake was for a surprise birthday party, my friend, Amy Locurto made some adorable birthday printables that matched the party invitations, hot pink and black.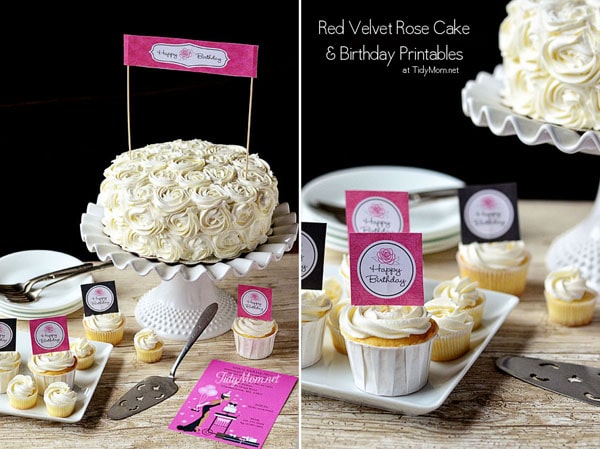 You can click over to LivingLocurto.com for the free Happy Birthday Rose Cake Topper, or Amy's shop if you'd like the full Rose Party Collection.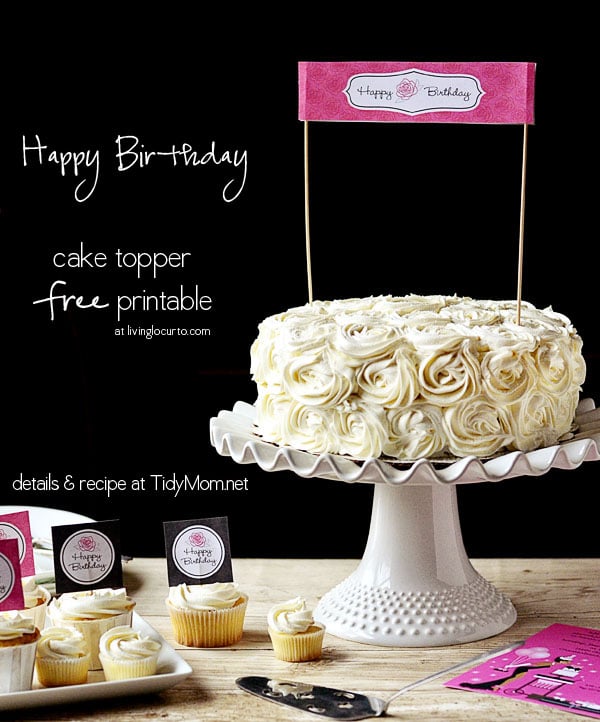 Rose Party Printable Collection:
A 5×7 invitation with editable text fields to add your own party details.
2″ Tags – 3 Designs to use for cupcakes, gifts and other decor
2″ Thank You Tags
Food Label Signs (editable text fields)
5×7 Table Decor Signs – 2 Designs
Cake Toppers – 3 Designs
Party Flags – For use on straws, glass stems or food
Small Triangle Banner
This recipe is super long – but really not that complicated.  You could even make the cake one day, and frosting and decorate another day.  Don't let this keep you from trying this recipe.  I promise you wont regret it!
Red Velvet & Cinnamon Layer Cake with Cream Cheese Frosting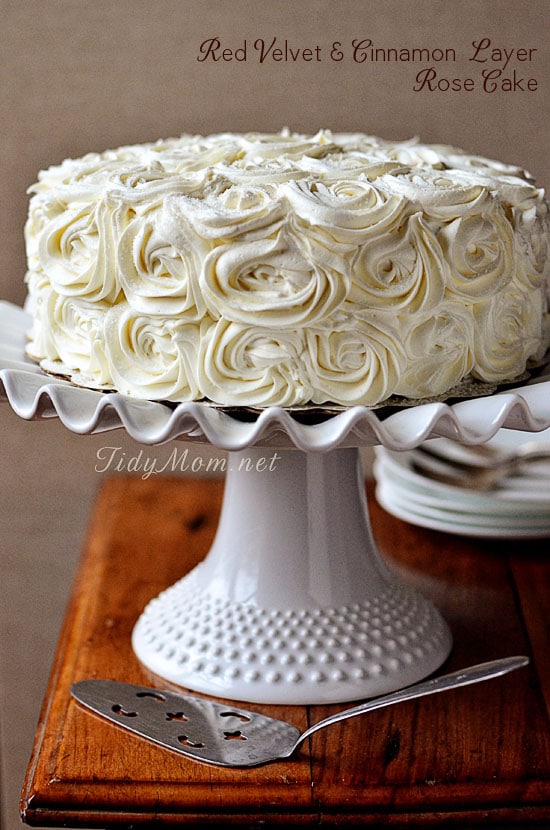 Incredible red velvet cake very slightly adapted from Baking911 please click over for step by step photos and tips on how to make this cake! and iambaker.com for how to decorate a rose cake
Ingredients
Red Velvet Cake

2 cups all purpose unbleached flour
1/2 cup natural cocoa powder
2 teaspoons baking powder
1/2 teaspoon baking soda
4 Tablespoons powdered ButterMilk
1 teaspoon salt
1 cup water
1 tablespoon vanilla extract
4 tablespoons (2 ounces) liquid red food coloring*; use liquid food coloring from the grocery store
1 cup unsalted butter; can be cold from the refrigerator
1-1/2 cups sugar
4 large eggs

Cinnamon Butter Cream

1 cup butter (softened)
1 cup vegetable shortening
1 pinch of salt
1/4 tsp vanilla extract
4 cups powdered sugar
1-2 tsp cinnamon
1/3 cup heavy whipping cream

Vanilla Cream Cheese Frosting

1 cup butter, at room temperature
16 oz. cream cheese, at room temperature
2 teaspoon vanilla extract (clear vanilla will help keep frosting white)
8 cups powdered sugar
3-6 Tablespoons heavy whipping cream
White gel food coloring (optional, but makes your frosting nice and white)
Instructions
for Red Velvet Cake

Preheat to 350 degrees
Generously grease two, 9- x 2-inch pans with non-stick spray or shortening.
In a medium size bowl, after measuring, sift together the flour, cocoa powder, baking powder, baking soda, powdered buttermilk and salt. Stir together with a spoon. Set aside.
Mix the water with the food coloring and vanilla extract. Set aside.
Using a stand mixer with a paddle attachment, beat the butter on low speed until soft. (If the butter is cold, it will warm quickly from the beaters - taking about 60 seconds).
Slowly add sugar in a steady stream at the side of the bowl. Increase speed to medium and beat for 2 minutes until light yellow and fluffy. Stop the mixer and scrape the side and bottom of the bowl with a large rubber spatula.
With the mixer on low, add the eggs one at a time and beat for 20 seconds after each addition.
Increase the mixer speed to medium and beat the mixture for 2 minutes. be sure to use a kitchen timer to help you keep track of the time. The mixture will become fluffy and aerated.
Add the flour mixture in 3 equal portions, alternating with the water in 2 equal portions, beginning and ending with the flour. (If the milk is cold, the batter will curdle slightly. It's ok. It will come together when you add the flour.) Mix on low and work quickly so you don't over mix.
After completing the last addition of flour, stop the mixer, and scrape the side and bottom of the bowl with a large rubber spatula.
Then, let the mixer run for 30 seconds on LOW. The batter will be thick and fluffy. STOP the mixer. Do NOT overmix.
With a large rubber spatula, give the batter ONE or TWO quick folds to incorporate any stray flour or liquid left at the sides and bottom of the bowl. do not continue mixing!
Divide the batter equally into the prepared pans and lightly smooth their tops. The pans should be about 1/2-full.(I use my kitchen scale to be sure both pans are equal)
Bake the cake layers for 20 to 30 minutes or until the top feels firm and gives slightly when touched. (inserted a toothpick in the middle should have a few moist crumbs attached, but not batter.)
Loosen the sides with a small metal spatula or sharp knife. Invert onto cake rack and place upright to cool completely.

For Cinnamon Buttercream

In a mixing bowl, blend butter and shortening until smooth. Add a pinch of salt, vanilla and cinnamon. Continue mixing until well blended. Gradually add powdered sugar 1 cup at a time, beating well after each addition. Eventually you will have a very thick gooey mixture. On the highest speed of your mixer, stream in the heavy whipping cream- pour nice and slow.
Continue beating on high speed until frosting is fluffy

For Vanilla Cream Cheese Frosting

Place butter in a large mixing bowl and blend slightly. Add cream cheese and blend until combined, about 30 seconds.
Add vanilla and sugar and blend on low until combined. Increase to medium speed and beat until it begins to get fluffy.
Slowly add the cream a little at a time until desired consistency is met. (you want it thick enough to hold it's shape if you are going to pipe on roses)
I added some bright white gel coloring at this point to make my frosting nice and white.
Beat until fluffy, about 1 minute.

To Assemble Rose Cake

Using a long serrated knife, slice both cooled cake layers in half horizontally, yielding 4 cake layers (you can leave your cake as 2 thicker layers with one layer of filling if you'd prefer).
Top each cake layers with about 1 cup of cinnamon buttercream.
Frost outside of cake with Vanilla Cream Cheese Frosting.
You can go to iambaker.net to follow her rose cake tutorial
Enjoy!
Notes
STORAGE Unfrosted cake layers should not be refrigerated because it dries the cake and can be stored at room temperature for about 2 days, well wrapped. Unfrosted cake layers can be frozen for more than one month, well wrapped. Thaw at room temperature. DECORATED CAKE STORAGE: Cream Cheese Frosting needs refrigeration, so this cake MUST be refrigerated, where the cake will keep for a few days.
https://tidymom.net/2013/red-velvet-rose-birthday-cake/
Copyright© 2009-2013 TidyMom.Net
More Red Velvet Recipes you might enjoy:
Red Velvet Gooey Butter Cookies
Want more great recipes like this? Follow my TidyMom Easy Recipes Pinterest Board
Follow Cheryl Sousan | Tidymom.net's board TidyMom.net easy recipes on Pinterest.