Ultimate Peppermint Cookie n' Oreo Fudge Brownies
A peppermint sugar cookie bar is topped with a fudgy mint brownie and stuffed with a Holiday Oreo cookie for, without a doubt, one insanely decadent layer bar.

What do you get when a peppermint cookie, an Oreo and  a brownie walk in to a holiday party together…….in the same pan!? Obviously, something incredibly delicious.  More specifically, Ultimate Peppermint Cookie n' Oreo Fudge Brownies
This is a  holiday version of Amanda's original idea of the layering cookie dough, with Oreos and covering them with brownie batter for the ULTIMATE Brownie!  Grab a fork and napkin and go check out her Ultimate Chocolate Chip Cookie n' Oreo Fudge Brownie Bars…….I'll wait (but save room for mine!) .
Genius isn't she?!  Amanda knows her ridiculously , indulgent, treats.  You'll surely gain a few pounds if you follow her on Instagram……don't say I didn't warn you.  When Amanda travels, she loves to tour all the sweet spots in the area, I had the lucky opportunity to join in on one of her sweet adventures in New York City a while back, where she introduced me to THE BEST GELATO I've ever had, as well as French Macarons that I still dream about.
ok……so enough…….you get that this recipe comes with a pretty good pedigree right?  Let's see what you need to make the Ultimate Peppermint Cookie n' Oreo Fudge Brownies.  I actually took her easy recipe and found a way to make it even easier, by using a roll of Pillsbury refrigerated cookie dough.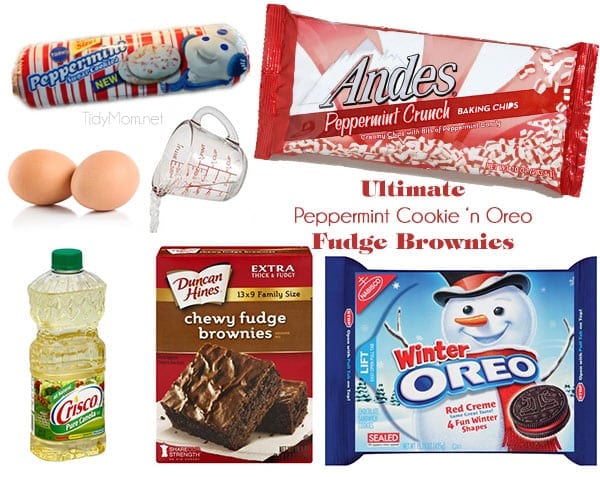 I did have a little trouble finding this cookie dough.  I saw it one day and didn't buy it, then when I thought about making these brownies to take to a party last weekend, I had a little trouble finding the peppermint cookie dough, so if you see it – grab it, because it's also seasonal, so it wont be around long.  If you can't find it, you could always make Peppermint Sugar Cookies from scratch.
If you want to make a 9×13 pan of brownies, like I did, you want to make sure you make a family size brownie recipe, I used Duncan Hines Family Size Chewy Fudge Brownie mix.  The brownie mix called for oil, water and eggs.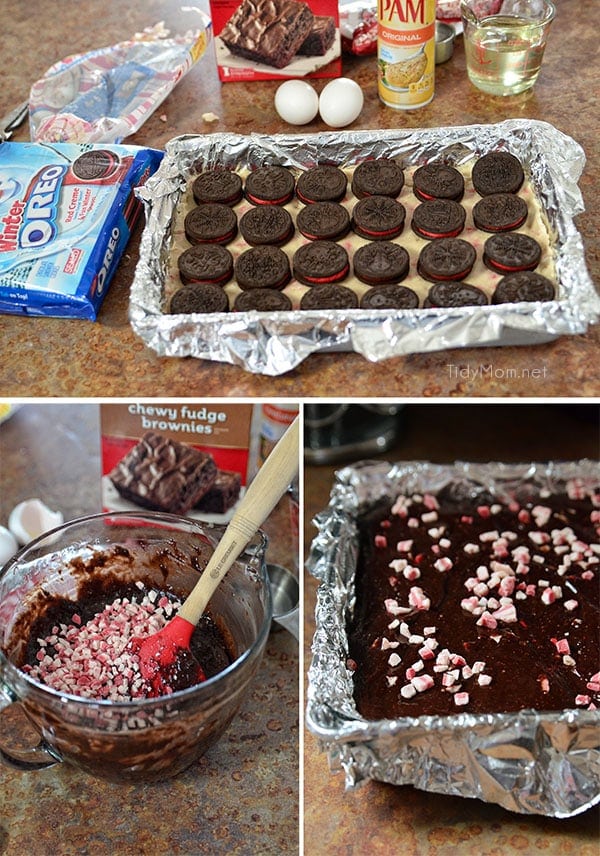 Line a 9×13 pan with foil, and spray with cooking spray.
Press cookie dough into the bottom of the pan.
Top with a layer of Oreos of your choice, I didn't want to over do the peppermint, so I just got the Winter Oreos.  They are just like regular Oreos, but the filling is red.
Next, follow the directions on the box for the brownies, then stir in about 1 cup of Andes Peppermint Crunch Baking Chips.  Then pour brownie batter over the cookie dough and Oreos, and sprinkle with more Andes baking chips, if you'd like.
Bake for about 45 minutes.  Amanda suggests baking the first 30 minutes with the pan covered in foil – I'm going to try that next time I make them.
You don't want to over bake brownies, I took mine out when the edges looked set and were pulling away from the pan some.  The center may look a little gooey, but it will set once they've cooled.
Cut into single servings once they've cooled completely, and enjoy!
 You can just call them OMG Brownies for short!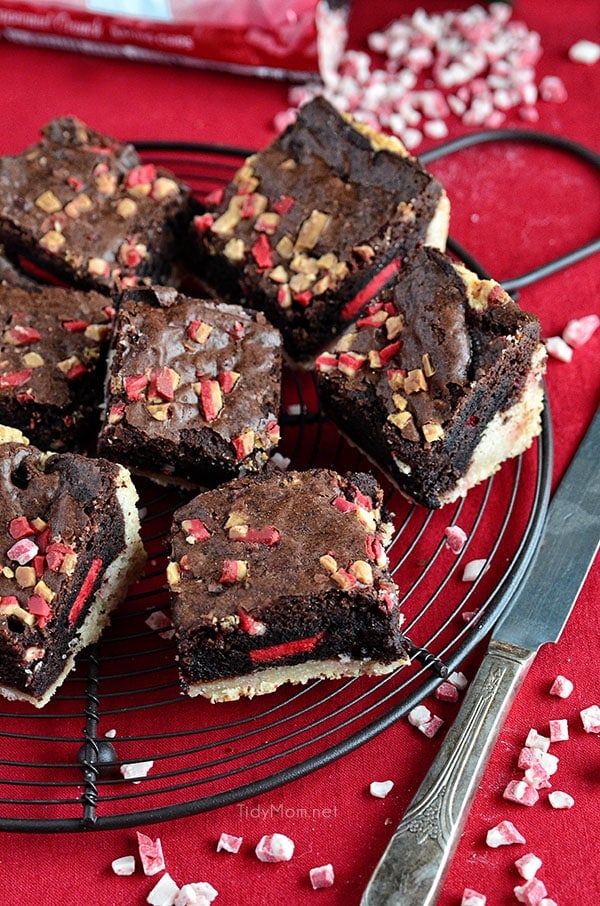 You will never have to decided between a peppermint cookie, and Oreo or a brownie again!  Now if that isn't having your cake brownie and eating it too…….I don't know what is!
Ultimate Peppermint Cookie n' Oreo Fudge Brownies
A peppermint sugar cookie bar is topped with a fudgy brownie and stuffed with an Oreo cookie for, without a doubt, one insanely decadent layer bar.
Ingredients
Pillsbury Peppermint Sugar Cookie Roll (room temperature)
1 package of Winter Oreos (about 32 cookies)
1 Family size Duncan Hines Brownie Mix (make sure it makes a 9x13 pan)
2 Eggs
3/4 cup Oil
1/4 cup water
1+ cup Andes Peppermint Crunch Baking Chips (extra for optional garnish)
Instructions
Preheat oven to 350 degrees
Line 9x13 pan with foil, and coat with cooking spray.
Press cookie dough evenly into foil lined pan (room temperature dough is easier to handle than chilled dough).
Top with a layer of Oreos over cookie dough.
Using a large bowl, combine brownie mix with eggs, oil and water and mix with a spatula until well combined. Then mix in about 1 cup of the Andes peppermint baking chips. Pour brownie batter over cookies. Use a spatula if you need to make sure the cookies are completely covered in brownie batter. Sprinkle with additional baking chips (optional)
Cover pan with aluminum foil and bake for 30 minutes, then remove foil and continue baking for another 15-20 minutes.
Remove from oven when edges look set and start to pull back from the sides of the pan. Center may still be a little gooey, but will set up when brownies cool.
Let cool completely before removing from pan an cutting into squares.
Notes
* if you use another brownie mix, use the ingredients and direction on the box you use for mixing the brownies.
*if you would like to make a smaller pan, use 1/2 roll of the cookie dough, and a regular size brownie mix. Cooking time will be about the same, just keep an eye on them towards the end.
https://tidymom.net/2013/peppermint-cookie-oreo-brownies/
Copyright© 2009-2013 TidyMom.Net
NEW FEATURE: Save recipes to your personal recipe box with the

Once you have your favorite recipes in your Recipe Box create a Meal Plan with them and the ingredients will automatically be added to a Grocery List!