Marbled Cheesecake Brownies
A swirl of cheesecake turns a plain brownie mix into something special.  Marbled Brownies are holiday ready with M&Ms® Brand Chocolate Candies on top.
Rumor has it, the unofficial baking season is here! Confirmed by looking at my kitchen.  By mid November I like to start baking up goodies that we can pass out to friends, neighbors, the groomer, my husbands customers, take to parties……you name it.  If you see me, I wont be empty handed.
Every year I like to try a new recipe or two, but I have to have a few old favorites that have stood the test of time.  Brownies are always a given, but the other day I made a batch with M&Ms® Brand Chocolate Candies and cheesecake that brought them to a whole new level of fabulous.  They would be perfect for any dessert table or holiday cookie tray.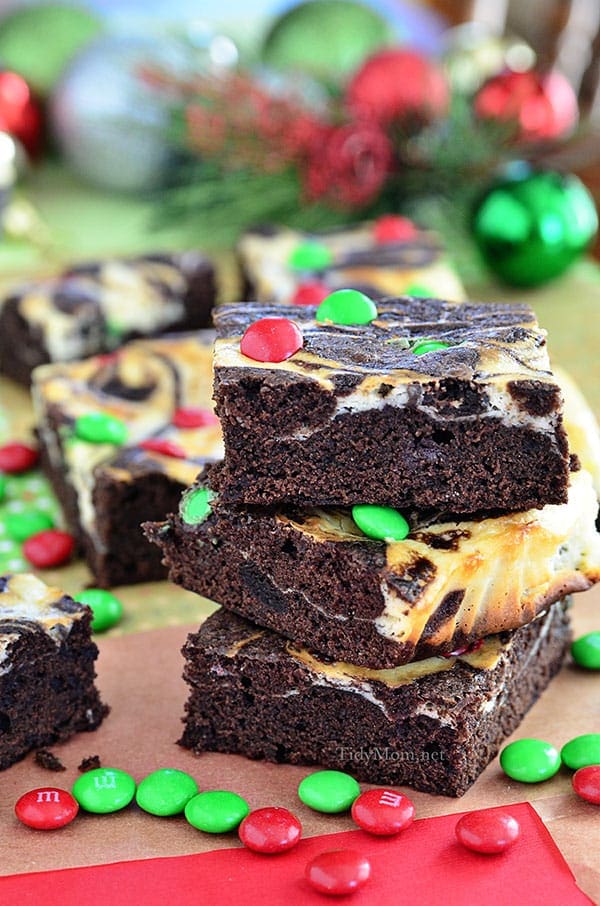 I found this recipe for Marbled Brownies on BrightIdeas.com, which is full of fun recipes to bake this holiday season. What's great about these brownies, is you can change them up to fit any season, holiday or celebration by the color of M&M'S® Brand Chocolate Candies you put on top.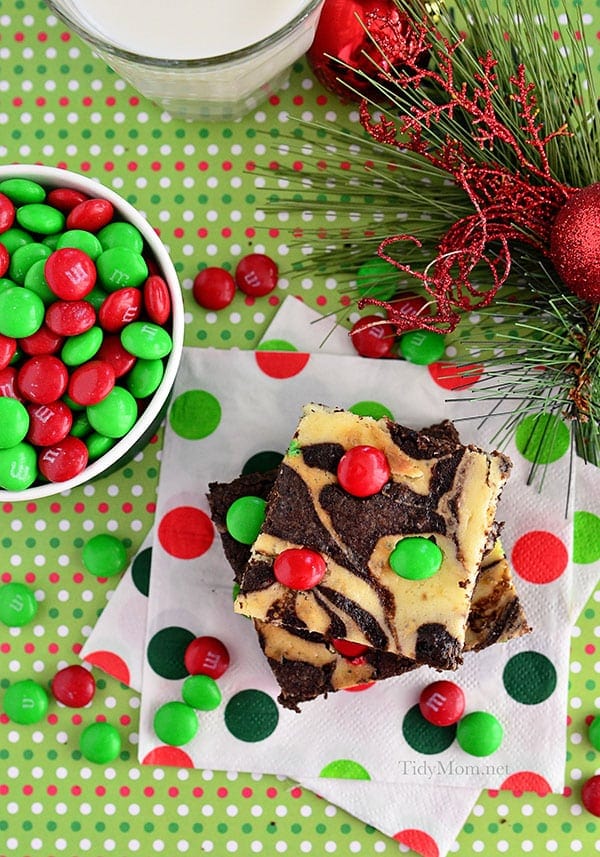 Holiday's are better with M.  Go to Brightideas.com for recipes using M&M'S® Brand Chocolate Candies Holiday Blend.  Click. Create. Celebrate.  Some of my favorites are Reindeer Antlers, Deck The Halls Biscotti, and Tasty Table Lights just to name a few.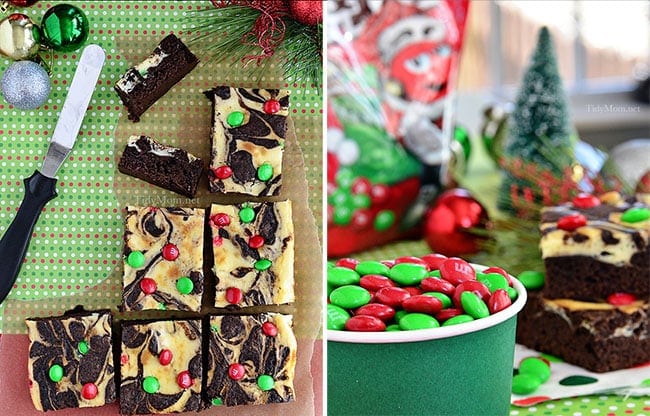 Peanut Butter Butterfinger Brownies
Chocolate Chip Cookie Brownies
Loaded Fudgy Candybar Brownies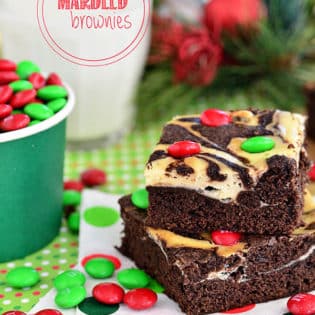 Marbled Brownies with Cheesecake
Ingredients:
1 box (8 oz.) reduced fat cream cheese
1/3 cup sugar
1 egg
2 Tablespoons milk
½ teaspoon vanilla extract
1 package brownie mix + ingredients listed on box (choose directions for the cake-style brownies)
1 cup M&M'S® Brand Chocolate Candies
Directions:
Preheat oven to 350°
In a mixing bowl, beat the cream cheese with the sugar. Add the egg, milk and vanilla extract. Set aside.
Prepare the brownie mix according to the package directions. Spoon 2/3 of the brownie batter into a parchment-lined 9 x 13-inch baking pan. Spoon the reserved cream cheese mixture over the brownie batter. Now scrape the remaining brownie batter over the cream cheese mixture. Swirl the tip of a knife through the batter to make a marbled effect. Press M&M'S® Brand Chocolate Candies into the batter.
Bake for 45-50 minutes in a preheated, 350-degree oven until slightly moist in the center. Cool completely before cutting 8×4 into 1½-inch squares.
Making this recipe? Share it with us on Instagram using the hashtag #TidyMom so we can see what you're creating in the kitchen!
Want more great recipes like this? Follow my TidyMom Easy Recipes Pinterest Board

Disclaimer:  This is a sponsored conversation written by me on behalf of MARS®.  As always, the opinions, views and love of M&Ms® are all mine.