Tiramisu Brownies Recipe
All the delicious flavors of tiramisu come together with a brownie for a delicious decadent Tiramisu Brownie dessert.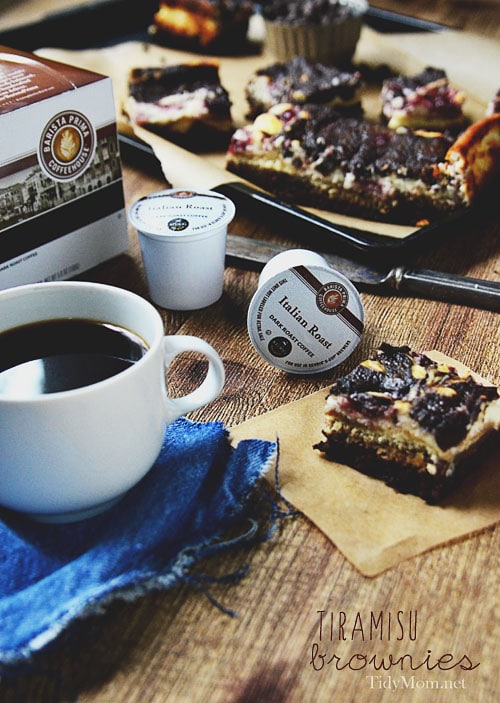 Click here to PIN this recipe!
You aren't wearing skinny jeans for these Tiramisu Brownies are you?…….you may want to go slip into those yoga pants.
Go ahead, I'll wait.  Willpower is over rated, your hips aren't going to like this one, but your taste buds are going to thank me!
This recipe was inspired by this months delivery as part of my Green Mountain Coffee ambassadorship.  Along with a box of dark roast K-cup pods was a recipe for Tiramisu Brownies, with ingredients to use to make them my own.
Tiramisu + Brownie = the best of both dessert worlds 🙂
From the bottom up, you find a soft brownie layer, that has been topped, in true Tiramisu fashion, with ladyfingers soaked in Italian Roast Barista Prima coffee and spiced rum.  To add some soft creaminess is a layer of light and fluffy mascarpone filling.  Finishing things off with a little more brownie swirled with raspberry preserves.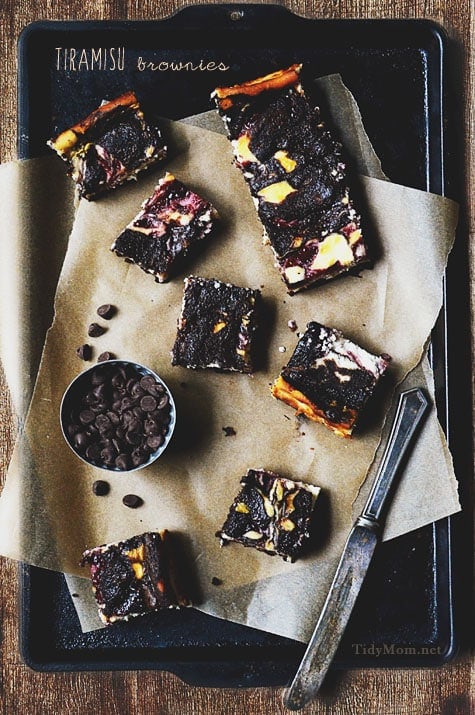 Resulting in a soft delicious, not overly rich Tirasmisu Brownie.  What a fantastic combination of desserts! Is there any way you can go wrong with that?!  I don't think so!!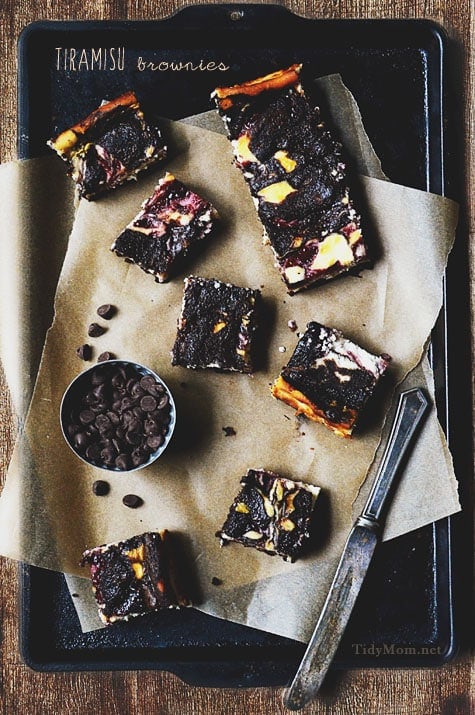 All the delicious flavors of tiramisu come together with a brownie for a delicious decadent Tiramisu Brownie dessert
Ingredients
1 batch prepared Brownie Batter (family size box if using a mix- I used Betty Crocker Fudge Brownie )
1 package soft ladyfingers
1 cup brewed dark roast coffee
2 tablespoons Spiced Rum
8 ounces Mascarpone Cheese, room temperature
8 ounces cream cheese, room temperature
1/4 cup sugar
4 egg whites
2 teaspoons vanilla extract
1/3-1/2 cup raspberry preserves
Instructions
Heat oven to 350° and grease 9x13 pan with non-stick cooking spray.
In a large bowl prepare brownie mix according to box directions.
Set aside one cup of brownie batter, then pour reaming batter to prepared baking pan and spread evenly.
Lay the lady fingers upside down on top of batter, and push down slightly. Brew coffee and combine with rum. Using a pastry brush, carefully brush the coffee and rum mixture over the ladyfingers until they are saturated (I poured and brushed).
In a large mixing bowl, combine the mascarpone cheese, cream cheese, sugar, egg whites and vanilla. Mix on medium until well combined and smooth (about 2-3 minutes).
Spread cheese topping over ladyfingers.
Place spoonfulls of reserved 1 cup of brownie batter over creamy filing, then do the same with the raspberry preserves, and swirl lightly with a knife.
Bake for 45-50 minutes or until center is almost set and brownies begin to pull away from sides of pan.
Cool completely in the pan before slicing.
Notes
OPTIONS: add 1 tsp coffee extract or wet coffee grounds to brownie batter
https://tidymom.net/2013/tiramisu-brownies-recipe/
Copyright© 2009-2013 TidyMom.Net

Disclaimer:  I am thrilled to be a paid brand ambassador for Green Mountain Coffee.  All thoughts, opinions and love of coffee and my Keurig are all my own.