Buffalo Cheese Fries
These Buffalo Cheese Fries have all the flavor of buffalo chicken wings with the crispy texture of french fries topped with sharp cheddar and blue cheese.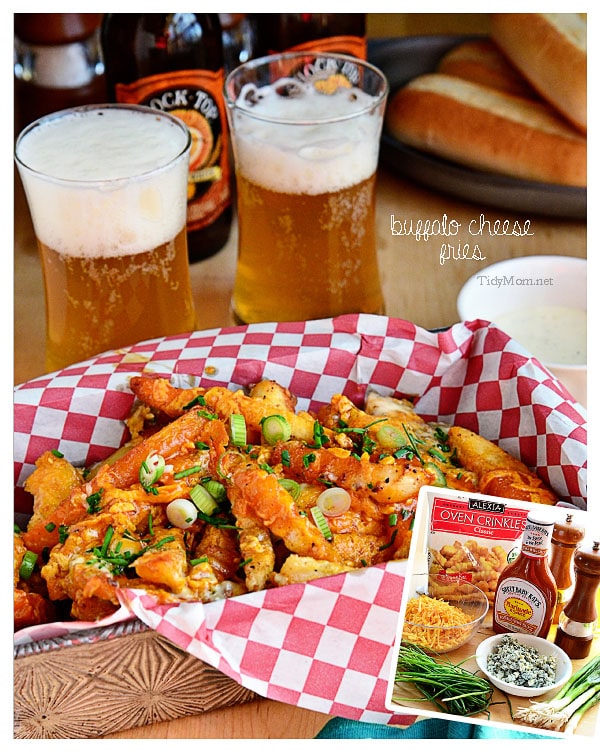 My husband and I have a lot in common, but there is one thing we don't see eye to eye on that tends to stir up quite the argument on occasion.  You see, my husband doesn't like change.  I become frustrated with the monotony of our lives sometimes.  The same furniture, chores, piles of laundry and food staring us in the face day in and day out. We become lost to it.
There are times I try to fight it, and times I just let it go.  Change can be scary, I get that…….but change can also bring us newfound passions and joy! …….Now you know why it took me SO long to get a new couch.  Between my terrible decision making, and my husband's lack of enthusiasm for change, things can happen s l o w l y around our house. 😉
In the kitchen, I have to play on things I know he likes and see if I can come up with something new, that will still grant him that feeling of familiarity.  Potatoes……..those are always a win!!
Potatoes are served at almost every meal,  I get tired of the same 'ol baked or mashed potatoes but I want something that doesn't take much effort on my part.  I like to get in and out of the kitchen as quickly as I can in the evening.
Frozen vegetables are a huge timesaver, and maybe even more healthful than some of the fresh produce sold in supermarkets because they are usually processed at their peak ripeness when they are most nutrient-packed.
I've recently partnered with ConAgra Foods to talk about the importance of cooking with frozen foods and how they can help save you time in the kitchen.  They had sent me a box full of frozen goodness, that happened to include a bag of Alexia Classic Oven Crinkles French Fries -made from ingredients that I recognize. These fries are certified organic and contain 3 grams of fiber per serving.  Perfect for our steak sandwich dinner.
I know Steve loves buffalo hot wings, so I was pretty sure he'd like Buffalo Cheese Fries, and starting with frozen french fries, meant I didn't have to any potato slicing!!  All I needed, in addition to the fries, was buffalo hot wing sauce, butter, olive oil, some seasoning, cheese,  green onions, chives and a few minutes! (full recipe at the end of the post)
Grab your apron! We're going to make Buffalo Cheese Fries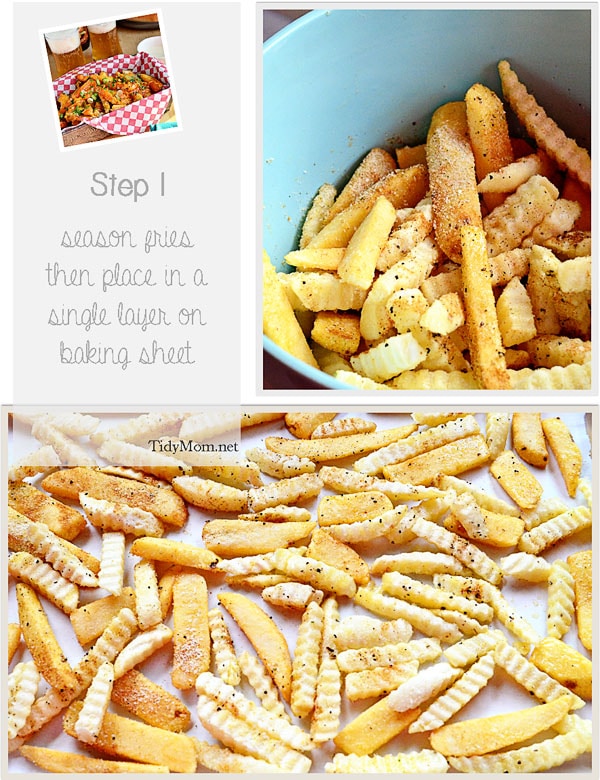 I didn't think the bag of crinkle fries would be enough for my french fry loving family, so I added a few Alexia steak fries to the crinkle cut fries.  Mix them with a little olive oil and seasonings and then spread them out in a single layer on a parchment-lined baking sheet.  Bake for 20-25 minutes at 450° turning halfway thru.
While the fries bake, heat buffalo sauce with butter.
Remove the fries and set the oven on high broil.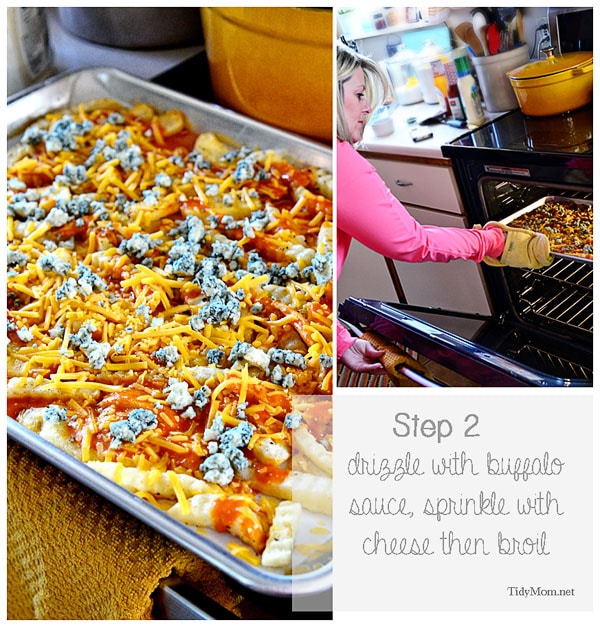 While your oven heats to broil, drizzle the pan of cooked fries with the buffalo sauce and sprinkle with sharp cheddar and blue cheese.  Return to oven to broil, making sure oven rack is in the highest position.  Watch closely until cheese is melted and bubbly – should only take about 2-3 minutes.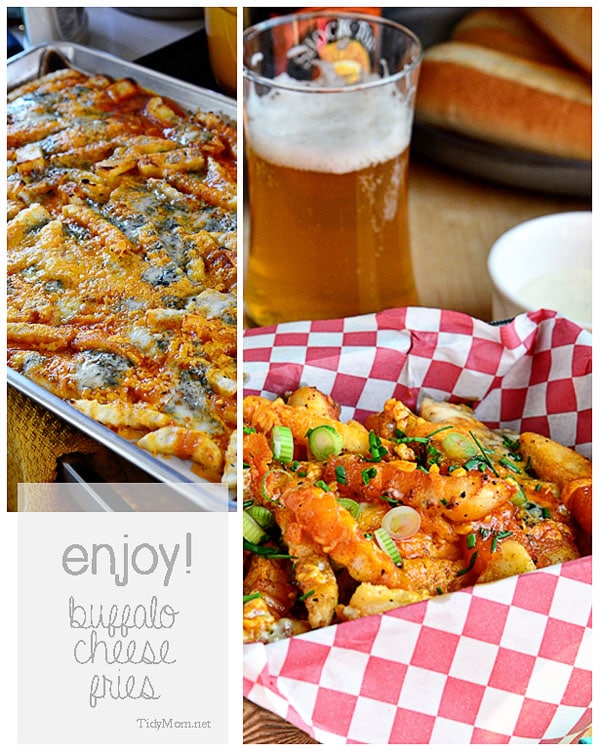 Remove from oven.  Let cool just a few minutes and garnish with green onions and chopped chives.  and ENJOY!!
**You may want to eat these with a fork. and dip or drizzle with ranch.
These buffalo cheese fries were exploding with flavor and got two thumbs up from everyone in the house…including Mr. I Don't Like Change! ;')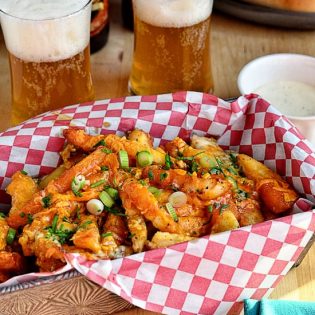 Buffalo Cheese Fries
The flavor of buffalo chicken wings meets the crispy texture of french fries topped with sharp cheddar and blue cheese. Serve with a fork and ranch dressing.
Ingredients:
1½ bags frozen french fries (crinkle cut or steak)
1-2 tablespoons olive oil (or canola oil would work)
1 teaspoon garlic salt
1 teaspoon cayenne powder
ground pepper to taste
1 cup buffalo wing sauce
1-2 tablespoons butter
1½ cups sharp cheddar cheese, grated
1/2 cup blue cheese, crumbled
3 green onions, sliced
1 tablespoon chopped chives
Directions:
Heat oven to 450, line large baking sheet with parchment paper.
Using a large bowl, add frozen french fries and drizzle with oil. Add garlic salt, cayenne powder, and pepper. Use a wooden spoon to stir fries until well coated with oil and seasonings.
Place seasoned fries in a single layer on baking sheet and bake for 20-25 minutes on middle rack, turning fries half way thru.
While fries are baking, use a small saucepan heat buffalo sauce and butter over low heat until warm and butter is melted.
Remove fries when crispy, turn oven to high broil and make sure you have a rack in the highest position. Leaving potatoes on the pan, drizzle with buffalo sauce then sprinkle with cheddar cheese and blue cheese evenly over the top
Place the pan of potatoes under the broiler and watch closely until cheese is melted and bubbly, should only take about 2-3 minutes.
Remove, let cool just 2 minutes, then sprinkle with onions and chives.
Serve with a side of ranch dressing, and enjoy!
Making this recipe? Share it with us on Instagram using the hashtag #TidyMom so we can see what you're creating in the kitchen!
Want more great recipes like this? Follow my TidyMom Easy Recipes Pinterest Board
Serve Buffalo Cheese Fries with:
Flank Steak Sandwiches with Dill Butter
Raspberry Icebox Cake (using frozen raspberries) for dessert
Are you one who welcomes change? or do you fight change?

Disclaimer:  I have a working relationship with ConAgra Foods, though opinions expressed in this post are, as always, purely my own.