Blackberry and Peach Galette
I hope you all had a wonderful Memorial Day weekend!!  Today Angie from Big Bears Wife is sharing her recipe for Blackberry and Peach Galette,  a beautiful, and simple rustic dessert that's perfect for summer time! I'm a big fan of pie, and blackberry and peach sounds amazing!! I'm letting her take the reins here on TidyMom while we're moving to our new house!
Hello! I'm so happy to be here today on Cheryl's beautiful site to share one of my favorite fruit dessert recipe.
As the weather gets warmer, I normally gravitate towards fruit. It happens every year; I just naturally want to drive right into the strawberries, kiwis, pineapples, peaches and blackberries. This galette comes together in a flash and is always a hit around our house.
Blackberry and Peach Galette
a beautiful, and simple rustic dessert that's perfect for summer time.
Ingredients
1 refrigerated pie crust, thawed but cool
4 peaches, peeled, pitted and sliced
½ cup blackberries
¼ cup brown sugar
2 tablespoons honey
½ teaspoon cinnamon
½ teaspoon nutmeg
2 teaspoon vanilla
2 tablespoons flour
Plus:
1 egg beaten with 1 teaspoon water
2 tablespoons sugar
Instructions
Line a baking sheet with parchment paper.
Roll the crust dough out onto the parchment paper on the baking sheet.
In a large bowl, combine the peaches and vanilla. Mix well.
Add in the brown sugar, honey, cinnamon, nutmeg and flour. Mix well to combine.
Fold in blackberries.
Pour fruit into the center of the crust, leavening a 2-3 inch border. Work around the galette, folding edges of the dough over the fruit in a folding/pleating pattern.
Place into the freezer for 15 minutes and pre-heat oven to 350F.
Remove the galette from the freezer.
Brush the dough that is folded over the fruit with the egg wash.
Sprinkle the edges with sugar.
Bake for 1 hour. Crust should be a golden brown. The juice from the fruit will run out onto the baking sheet.
Remove from oven and let cool.
Notes
https://tidymom.net/2013/blackberry-and-peach-galette/
Copyright© 2009-2013 TidyMom.Net
What's your favorite summer time dessert?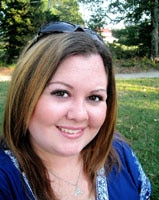 Angela Barrett is a self-proclaimed foodie, who loves to be in the kitchen. She currently writes for her food & craft blog, "Big Bear's Wife", where she shares recipes, restaurant reviews and craft tutorials at BigBearsWife.com.
Find Angie on Facebook | Twitter | Pinterest | Instagram