Rustic Blueberry Pie
This sweet and juicy Rustic Blueberry pie gives a whole new meaning to "simple as pie"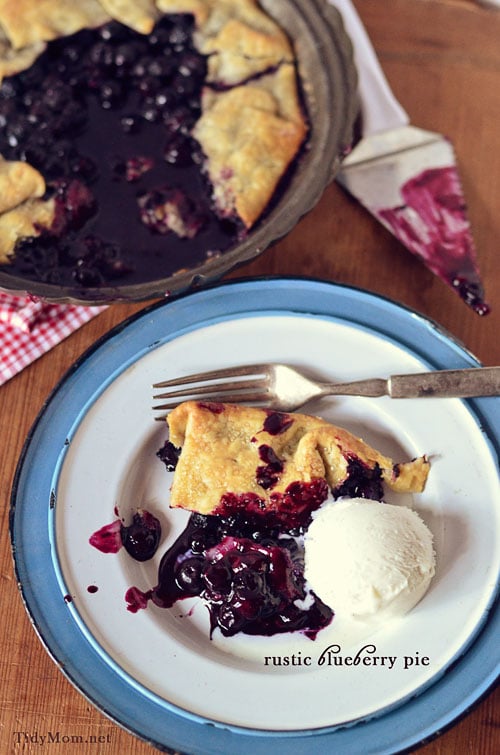 Twenty six years ago today I married my best friend. 
I love waking up next to you every morning. I love that you make me laugh every day. I love sharing everything with you. I love that you put up with me and all my flaws. I love that you are THE best Dad and provider for our family! I love that you NEVER let us down. I love that your family ALWAYS comes first. I love that you tell me I look fabulous when I feel fat. I love that you hug me when I cry. I love that you will go to the store when I don't feel like going. I love that you will pick up pizza when I don't feel like cooking. I love that you know me. I LOVE that you LOVE me. I love that it's painfully obvious that our 2 kids are our 2 kids…… they have good and bad features/traits/habits from each of us. I hope we have managed to set an example for our girls as to what a happy, successful marriage is.  I love you honey!
I'd like to say I made this Blueberry Pie for our anniversary, but truth is, Steve isn't a fan of pie.  But he is a fan of allowing me to do what makes me happy.  That's why I'm able to blog, he knows it makes me happy to be in the kitchen, he knows how excited I get when I pull out my camera and all the stuff I need to get "just the right shot"!  And most of all, he knows how much I love to come here and share it all on TidyMom!
Today, bloggers all around the web are celebrating the first day of summer with Pie Party 2012!  And I think you know how much I LOVE PIE!
Food bloggers, Shauna Ahern, Justin Schwartz, Garrett McCord and Ashley Baron Rodriguez, came up with Pie Party 2012, where bloggers could share their pie posts on an official Facebook page .  I'm submitting this super easy Rustic Blueberry Pie. There will be plethora of wonderful pie recipes you should go check out!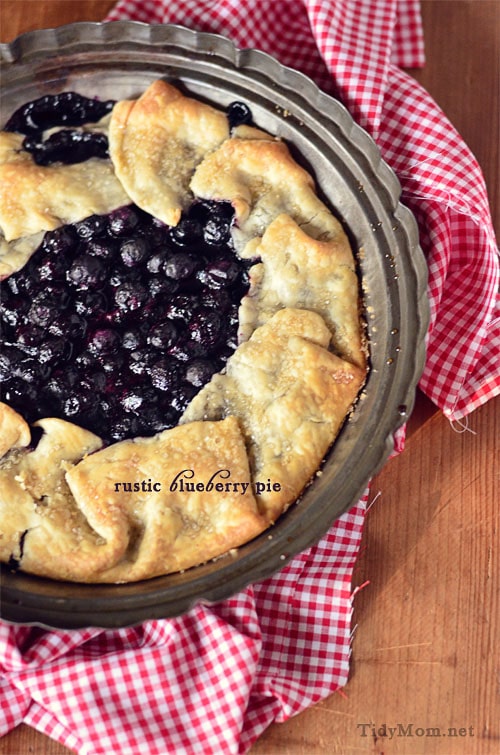 If you are one who thinks pie is hard to make………..then you need to make a rustic pie!  So simple, and no need to worry about how it looks!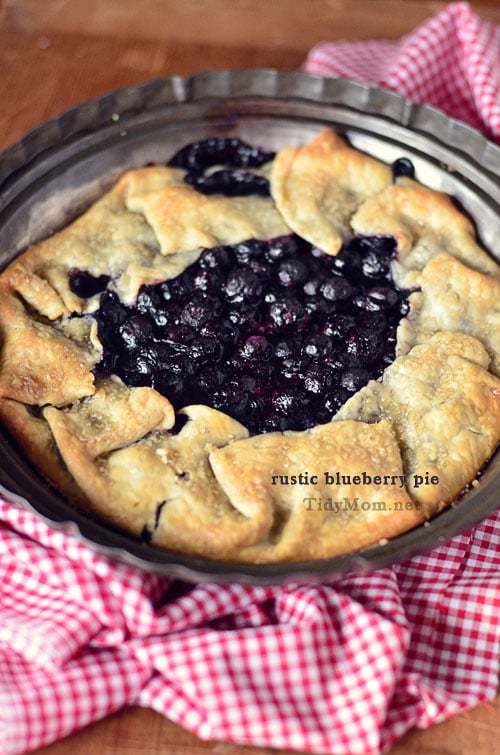 This sweet and juicy Rustic Blueberry pie gives a whole new meaning to "simple as pie"
Ingredients
For the Crust:

1-1/4 cups flour
1/2 teaspoon salt
1 tablespoon sugar
1/2 cup cold butter (1 stick)
1/8-1/4 cup ice water

For Pie Filling:

2 cups blueberries (fresh or frozen)
1/2 cup sugar
1-2 Tablespoons flour (depending how juicy they are)
1 Tablespoon lemon juice
Instructions
For the Crust

In a medium bowl, mix flour, salt and sugar.
Chop or grate cold butter into small pieces and add to flour mixture.
Cut butter into flour using pastry blender (or 2 knives) until mixture looks like sand.
Slowly add water and mix using a fork until mixture holds together.
Pat and form into a ball
Flour work surface and roll out crust two inches larger than pie pan.
Place crust in the pie pan.

For Filling:

Combine berries, sugar, flour and lemon juice in large bowl.

To Make Pie:

Add berries to pie crust.
Fold edges of crust over filling, creasing as needed.
Wet finger with a little water to seal creases in crust (this helps to keep them folded when baking)
Bake at 400° for 30 minutes or until filling is bubbling.
Serve warm with ice cream!
Notes
To make this recipe even quicker, you can use refrigerated pie crust, and roll it out a bit, so it's larger than your pie pan.
Pie can be carefully removed from pan and served on a plate.
https://tidymom.net/2012/rustic-blueberry-pie/
Copyright© 2009-2013 TidyMom.Net
How to Make Pie Crust Tutorial
What's your favorite pie?  Do you like you're pie a-la-mode?