Banana Cream Oreo Protein Shake | I'm Lovin' It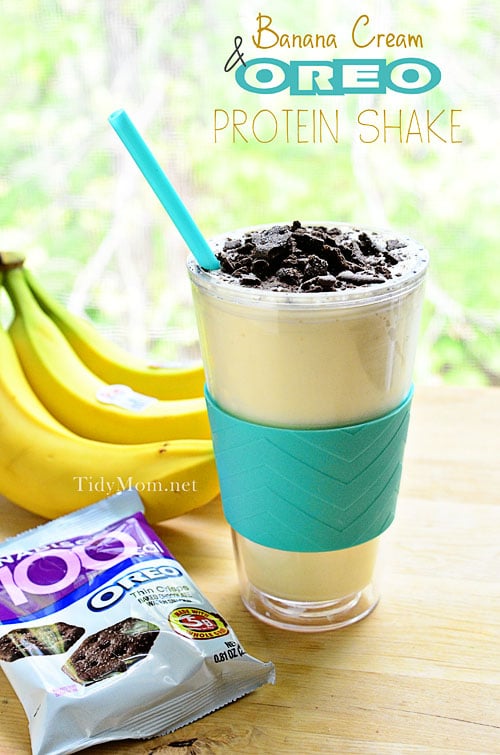 With all the packing we've been doing for our move, I've been super busy and not a lot of time to stop and eat right. 
The other day I ran into GNC to pick up some protein powder so I could make some shakes to enjoy for breakfast or lunch while I'm busy.
The nice girl in the store and I started chatting about how you could make the protein shakes low cal and low fat but taste like a delicious treat.  All while packing a high protein punch to help keep me going and satisfied.
She suggested I use a low cal protein powder, that has only 100 calories per scoop, so I picked up this GNC Total Lean™ Lean Shake™ 25 that offers high quality protein, fiber, vitamins, minerals, and fat.  It comes in these 2 ounce packets for about $2 each.  I can get 2 shakes out of a packet and was able to try them out with out paying $32 for a larger container.
The protein powder comes in several flavors, but she said if I got the french vanilla  I could add a few tablespoons of sugar free pudding mix to my shake for other flavors.  Suddenly the combination possibilities started popping in of my head faster than I could run over to the grocery store and buy the ingredients!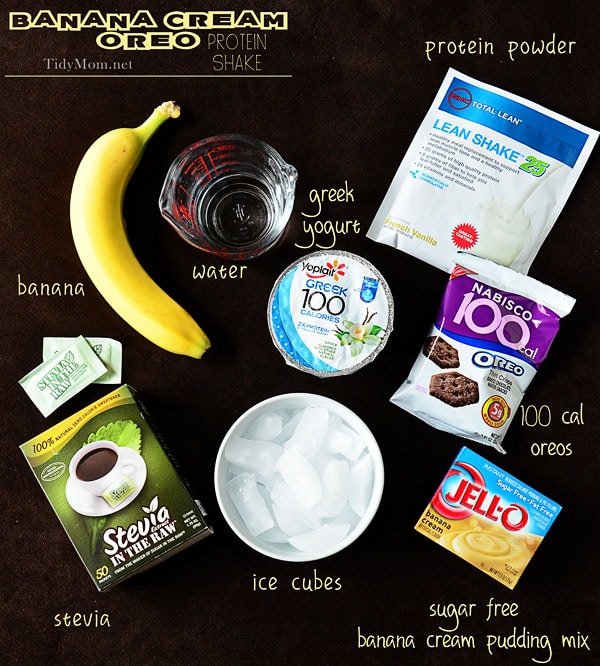 So, for my first shake I used sugar free Banana Cream Pudding Mix, with about 1/3 of a banana, some fat free greek yogurt and a little Stevia to sweeten, tossed in about a cup of ice and a little water and turned on my Vitamix for about 1 minute.  Poured it in a glass and crushed up about 1/2 package of 100 calorie Oreos on top to mix in.
What a TREAT!!! I can't wait to try some other varieties with the pudding mix. 
I ran the ingredients thru a calorie calculator and came to just 350 calories, 2.5 grams fat and a whopping 39 grams of fiber!!
Instead of buying over-priced, sugar-laden smoothies and milkshakes this summer, try making a Banana Cream Oreo Protein Shake. It's not only easier on the pocket book, but it's healthier too!
If any one has some flavor ideas, or other protein powders I should try, please let me know in the comments.
Banana Cream Oreo Protein Shake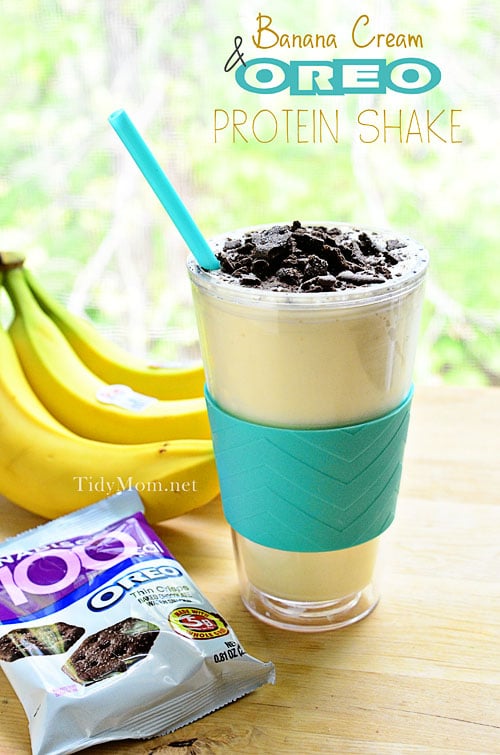 Ingredients
1/2 cup No fat Greek yogurt, vanilla
2 tablespoons Sugar Free/ Fat Free Banana Cream Instant Pudding Mix
1 ounce protein powder (100 calorie)
1/3 banana, sliced
3-4 packets Stevia
1 cup ice cubes
1/2 cup cold water
1/2 package Nabisco 100 Calorie Oreos, crushed
Instructions
Place all the ingredients except Oreos in blender and mix until smooth.
Garnish top of shake with crushed Oreo's
Enjoy
Notes
https://tidymom.net/2013/banana-cream-oreo-protein-shake/
Copyright© 2009-2013 TidyMom.Net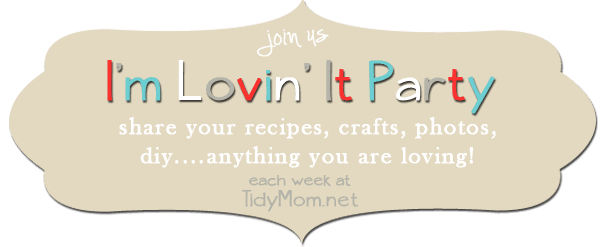 I'm Lovin'…….Banana Cream Oreo Protein Shake

Now it's your turn! Please remember to link back to http://TidyMom.net
Let us know what you're lovin' this week!
*Don't forget to come back over the weekend for the I'm Lovin' It Wrap Up post……where I feature a few of the great links!!
What is I'm Lovin' It Fridays? get all the info, how to's trouble shoot and button here