Baked Maple & Cinnamon Donuts
Forget the doughnut shop -if you have a donut pan, you can have homemade donuts at home any day!  Wow them with Baked Maple & Cinnamon Donuts.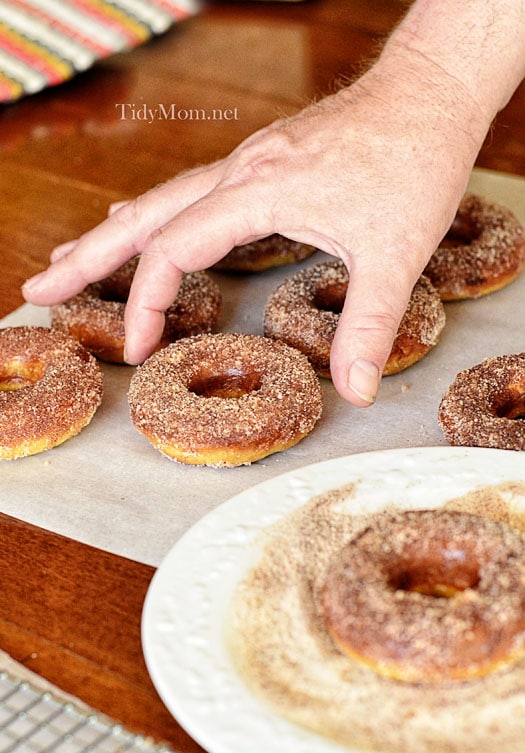 You have Kristen to thank for this donut recipe today.  Last week she posted Biscoff Glaze for homemade baked donuts, then three days later, Baked Chocolate Cake Donuts.  Go check them out……I'll wait, then tell me you don't  have donut on the brain.
I can't tell you how many times I've had a donut pan in my cart, and always put it back thinking "I don't NEED a donut pan"…..but last week pushed me over the edge…..Cheryl NEEDED a donut pan!
It seemed like donuts were popping up on Pinterest, and they were calling my name.  So, Saturday when I was perusing the aisles Target,  two donut pans made their way into my cart and all the way to the register.   Allison was insistent that we waste no time putting them to good use.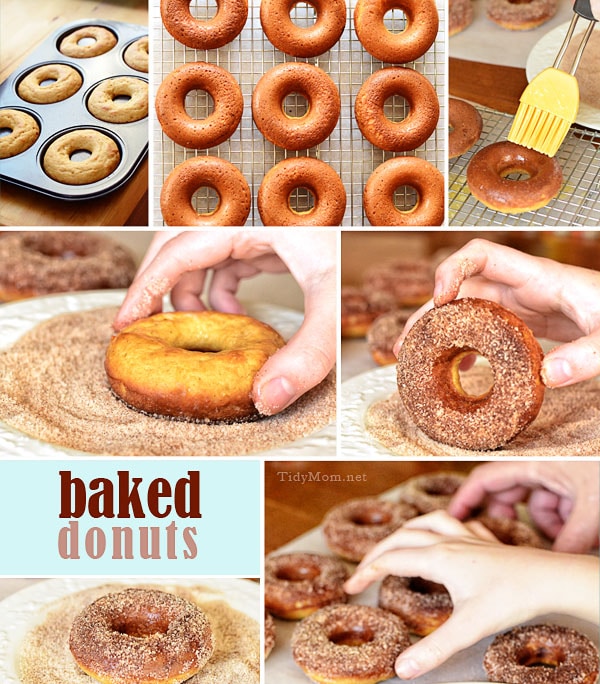 Here's what I like about these donuts:  they are baked, not fried.  Score one for the waistline (every little bit helps right?)  But don't let that fool you, they are every bit as moist and tender, you'd never guess they were baked.
Feel free to top generously with cinnamon and sugar, because there is no sugar in the donut, other than a little maple syrup, so they are not overly sweet!  Next time I'm going to try them with a Maple Glaze.
Baked donuts at home, using a donut pan are super easy…….dangerously easy actually.
Simply mix the batter, divide batter into donut pan wells, bake for about 10 minutes, spread with a little melted butter and roll in cinnamon and sugar.  These donuts can be in your belly in less than 30 minutes from start to finish!
This recipe for Maple & Cinnamon Donuts is slightly adapted from Cooking with My Kid.  I didn't have any yogurt on hand, so I substituted with buttermilk. (I actually made buttermilk, by mixing a teaspoon of vinegar in my milk).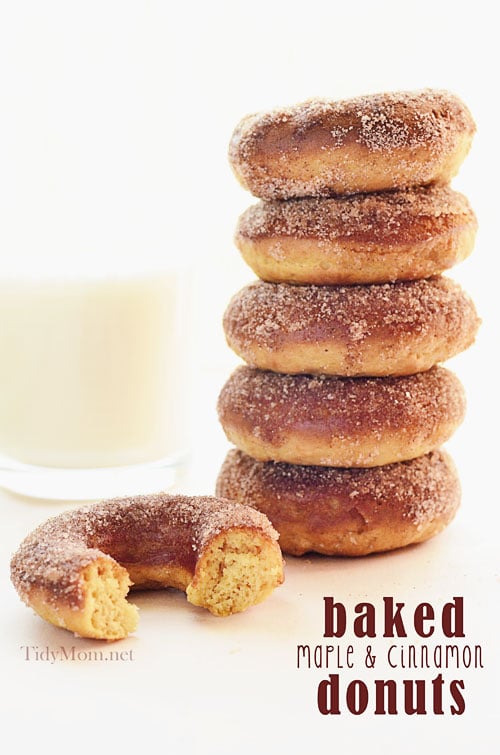 They look good, don't they?
Let's get the Baked Maple & Cinnamon Donuts recipe!
Want more great recipes like this? Follow my TidyMom Easy Recipes Pinterest Board
*If you don't have a mini doughnut pan, check out this tutorial on how to make a DIY donut pan with foil.
You can buy donut pans at many large retailers like Target, Kohls, Bed Bath and Beyond and on Amazon.
Now you see why I was so excited about getting this pan!  I can't wait to try out more baked donut recipes!  Do you have a favorite donut recipe you'd like to share?