Acai Berry Granita with Vitamin Burst K-Cup Packs
Frosty, fruity, and fat-free, this 2-ingredient Italian ice is made using the Brewed over Ice Acai Berry Vitamin Burst K-cup packs and fresh fruit.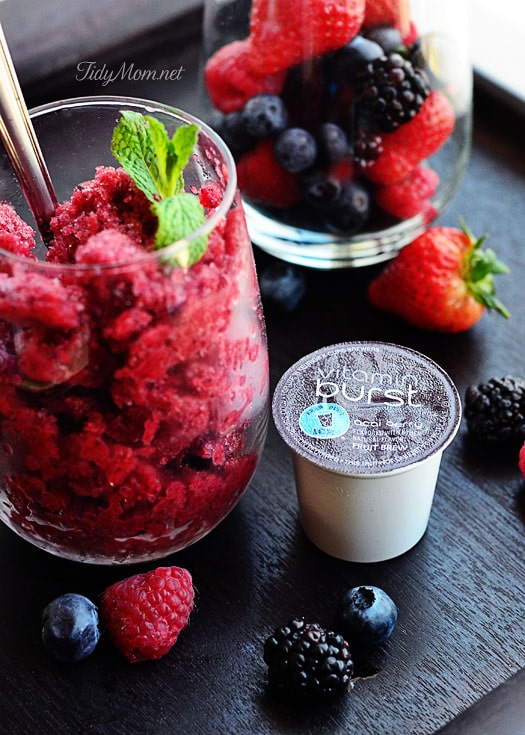 So often in  January and February I get a little down.   The grey cold weather makes me want to just stay home and hibernate until spring returns.  To keep me feeling better, I try to step outside each day, even if it's just with the dogs for a few minutes, drink lots of water, and make sure I'm taking my vitamins and eating right.  I may not do a great job with all those things every day, but I do my best.
When my monthly Green Mountain Coffee ambassador package arrived recently, it was full of the new Wellness Brewed™ K-Cup® packs.   The Wellness brewed K-Cups are the perfect way to balance smart choices with delicious coffee, tea, or fruit blends from your favorite brands:  Green Mountain Coffee®, Celestial Seasonings®, and Vitamin Burst®. (don't miss the coupon code at the end of this post so you can try them out for yourself)
My family has been avid lovers of the Acai Berry Vitamin Burst  for months now.  This K-cup is designed to be brewed over ice – it's naturally sweetened and caffeine-free, each 8-oz. serving is high in antioxidant vitamin C, with no artificial colors or flavors.  The fruit is gently dried to retain its active ingredients, so it's bursting with delicious berry flavor!
This morning when I opened my refrigerator I spied the big bowl of fresh berries we've been snacking on, I thought it might be fun to mix that fruit up with our favorite powerful superfruit K-cup and stick it in the freezer for a little frozen treat!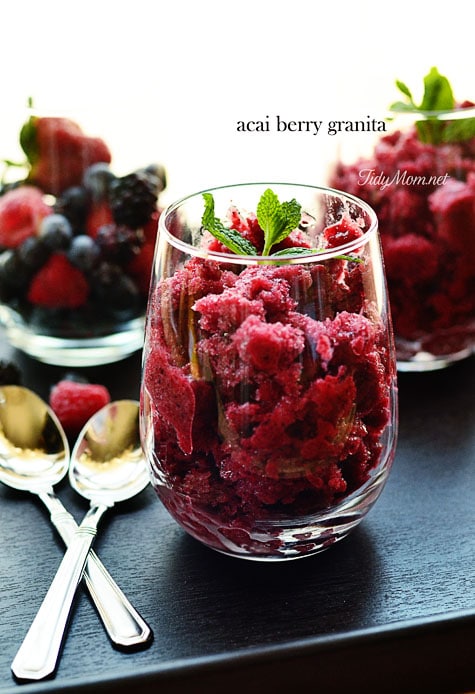 Since the Vitamin Bursts are naturally sweetened, as are my berries, I didn't add any sugar to this sweet treat!  So you can enjoy this dessert sans the guilt and get some extra vitamins into your diet, too.   That is SURE to chase away the blues!
How to make an Acai Berry Granita
I brewed one Acai Berry Vitamin Burst over ice on the 10 ounce setting on my Keurig Brewing system.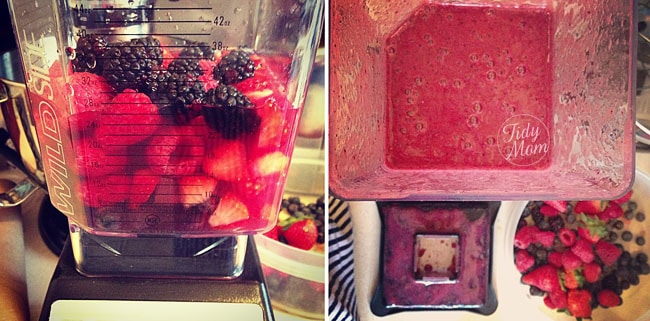 I strained the ice after I brewed the Vitamin Burst and poured it in my blender,  tossed in about 3-1/2 cups of berries and blended until it was all smooth.
I then poured the mixture into a 9″ square dish and placed it in the freezer.  Every 30 minutes or so, I would open the freezer and give it a good stir or scrap with a fork until it was frozen…..this took about 3½-4 hours.  Once it's frozen, you can serve immediately in a wine glass or dessert bowl, or transfer it to an air tight container and keep in the freezer until ready to serve. (this is not much of a recipe, but I'll put it in recipe format below so you can save or print it off )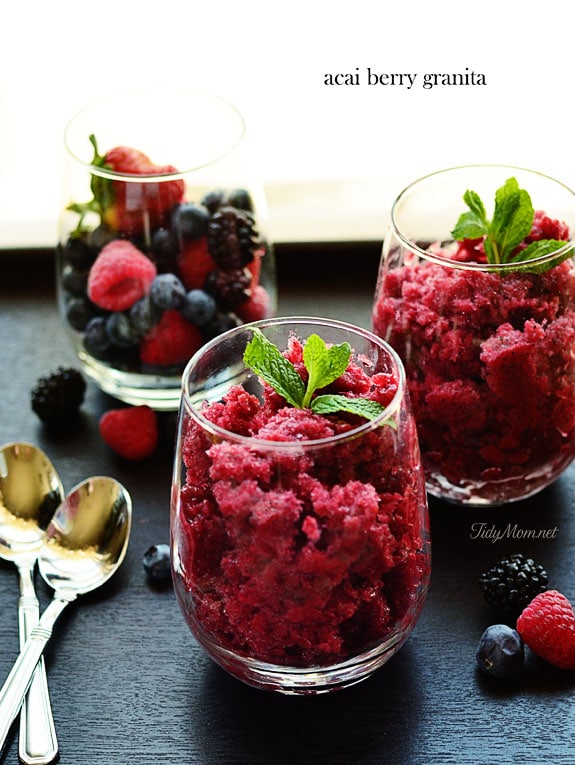 With two coffees, two teas, and two fruit brews to choose from, there is a Wellness Brewed K-cup pack for whatever mood you're in. 
The awesome folks at Green Mountain Coffee are offering TidyMom readers the opportunity to take 15% off Wellness Brewed K-Cup® Packs (while supplies last).  Simply use the code BEWELL8123 to receive 15% off Wellness Brewed K-Cup packs at GreenMountainCoffee.com through February 20th  (cannot be combined with any other keycode discount)
Tell me how you chase away the blues during the winter.
Acai Berry Granita with Vitamin Burst K-Cup Packs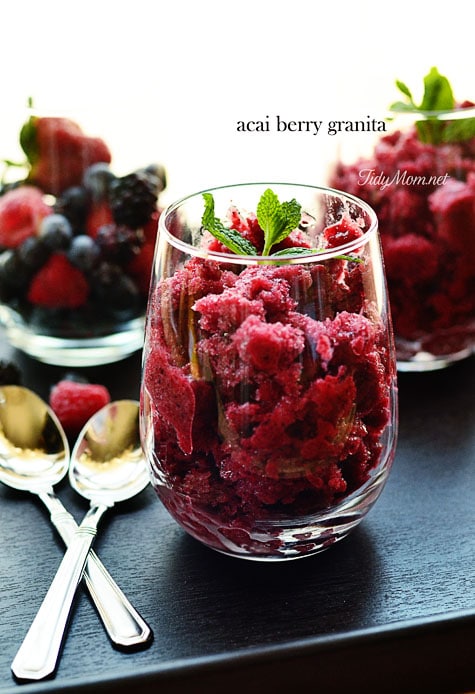 Frosty, fruity, and fat-free, this 2-ingredient Italian ice recipe is made using the Brewed over Ice Acai Berry Vitamin Burst K-cup packs and fresh fruit.
Ingredients
Acai Berry Vitamin Burst brewed over ice (10 ounce setting)
3½ fresh berries (strawberries, blackberries, blueberries, raspberries)
Instructions
Remove ice from brewed Acai Berry Vitamin Burst and pour into blender. Add fresh berries and blend until pureed and smooth.
Pour mixture into 9-inch square pan.
Freeze berry mixture for 30 minutes,there should be ice crystals formed around edges of pan . With spoon or fork, scrape the ice crystals from edges and stir into the mixture. freeze mixture 3 to 3-1/2 hours more, stirring every 30 minutes, until all of the liquid is frozen.
For a fluffy consistency, stir granita mixture with tines of fork just before serving.
Scrape into wine goblets or dessert bowls to serve, garnish with mint of fresh berries.
Store in air tight container.
https://tidymom.net/2013/acai-berry-granita-recipe/
Copyright© 2009-2013 TidyMom.Net

Disclaimer:  I am thrilled to be a paid brand ambassador for Green Mountain Coffee.  All thoughts, opinions and love of coffee and my Keurig are all my own.