Fabric Covered Switch-plate Tutorial
You may remember last week I showed you how I made some easy fabric covered wall artfor my bathroom.
After I hung them, I decided to make a fabric covered switch-plate match!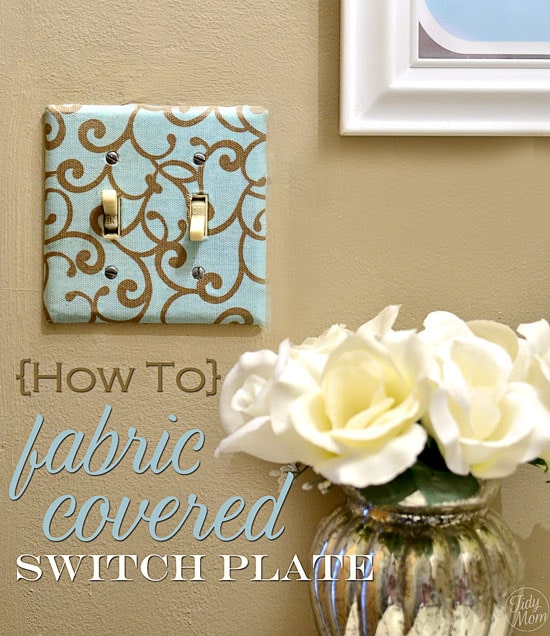 How to make a fabric covered switch plate
It's super easy, but I took a few pictures along the way to show you!
Fabric Covered Switch plate
Supplies:
Switch plate cover
Small piece of fabric
Plastic or something to cover your work surface
Sponge brush for Mod Podge
Scissors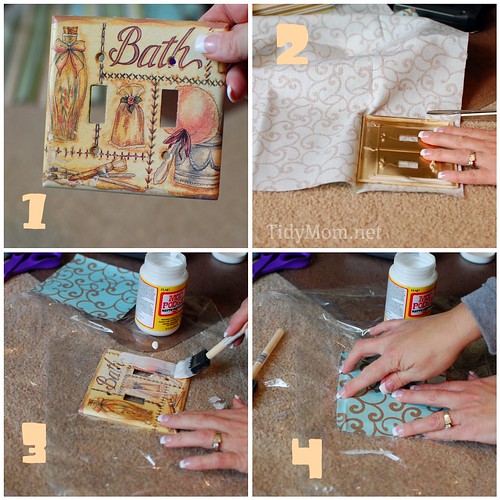 1. Start with your average outdated switch plate cover.
2. Cut fabric just a little bigger than your switch plate.
3. Cover the switch plate with Mod Podge.
4. Lay your piece of fabric on top of the Mod Podge, and press down all surfaces. Be sure to smooth out any creases or bubbles.
5. After the fabric and Mod Podge sit and dry a bit, trim the excess fabric around the edge of the switchplate.
6. Use an X-acto knife to cut out the slots where your switch thingies will go(I left one side attached- see next step)! – you can also use the X-acto knife to punch a whole where the screw holes are.
7. Flip switchplate over and use a little Mod Podge to glue down the pieces you cut for the opening.
8. Turn the switchplate back over and cover with 2 coats of Mod Podge.
Hang your beautiful new switchplate!
~~~~~~~~~~~~~~~~~~~~~~