Layered Walnut Pumpkin Pie a Family Favorite for Decades
with recipe video
Layered Walnut Pumpkin Pie has been a long tradition in our family for Thanksgiving. Today I'm going to share this favorite Pumpkin Pie recipe that was handed down to me by my grandpa years ago. This is not your ordinary pumpkin pie, it's heaven in the form of a fluffy, soft, scrumptious, cold creamy pumpkin pie!
Be sure to sign up for my email… to get new recipes and ideas in your inbox!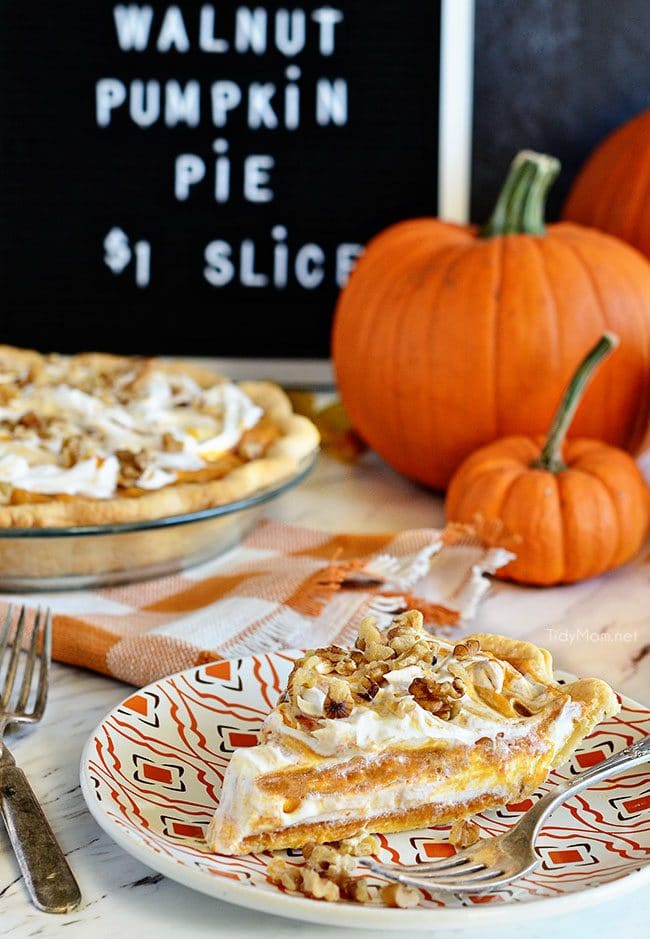 On my mom's side of the family, my Grandpa was the cook! One of the first few years I was married, he shared his secret Pumpkin Pie Recipe, Layered Walnut Pumpkin Pie with me. The two of us worked on the recipe and tweaked it a bit – the original recipe called for solid pumpkin and you made it into pie filling – but we adapted it, so it can be made with the store bought canned pumpkin pie mix/filling.
Unlike traditional pumpkin pie, this pie is it layered with Cool Whip on the inside, instead of on top, so it is light and fluffy and is kept and served cold. Of course, I'm sure you could replace the Cool Whip whipped topping with homemade whip cream, but we love Cool Whip, so that's what we've used for as long as I can remember.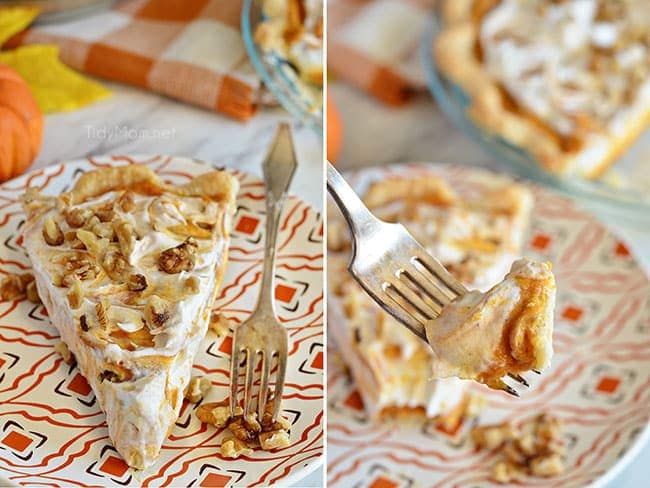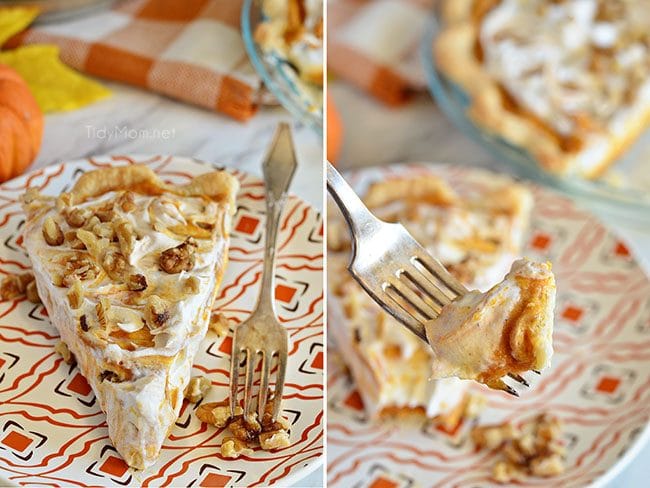 This recipe makes two 8 or 9-inch pies. For many many years, I made Layered Walnut Pumpkin Pie every Thanksgiving to take to my husband's side of the family. There were several years that I had to make 4 pies, everyone likes it THAT much!! I would walk in with my pies and my brother-in-law would always grab one to hide in the extra refrigerator to keep all for himself. Extended family at those gatherings would beg me for the recipe, and I wouldn't give it to them! LOL So don't you feel lucky?! I knew if I gave my recipe out, then they would be making it too, and it would no longer be "the coveted pie at Thanksgiving" 😉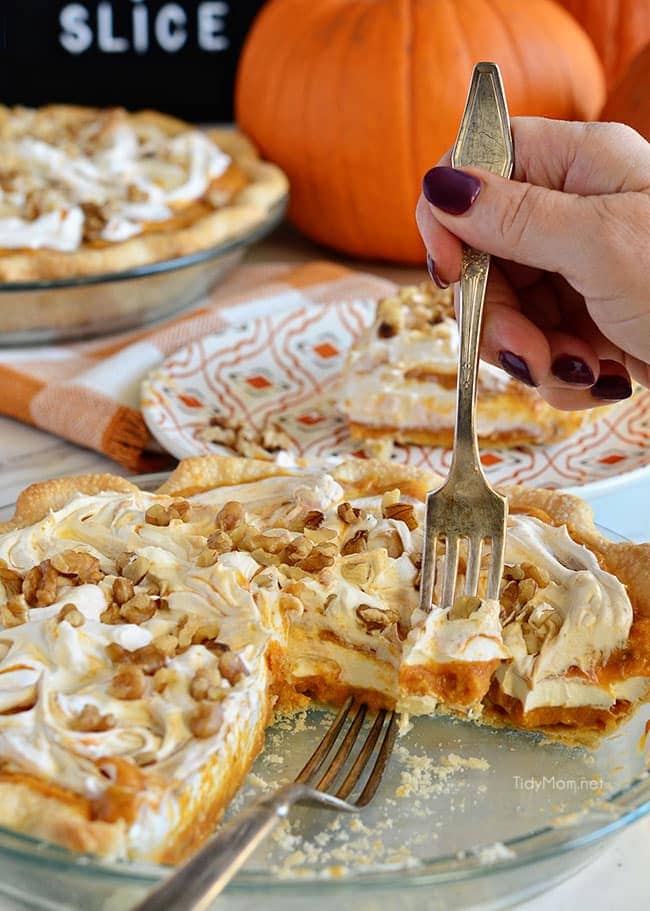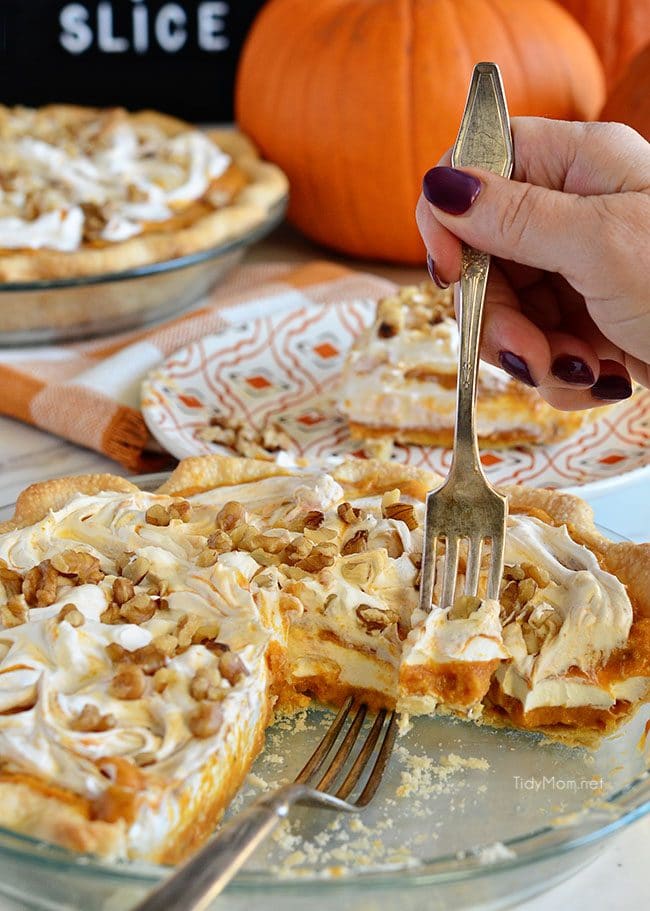 This pie recipe looks like a lot of steps, but it's REALLY simple. I like to use refrigerated pie crust, but feel free to make homemade pie crust if you'd like. You just need two 8 or 9-inch pie shells.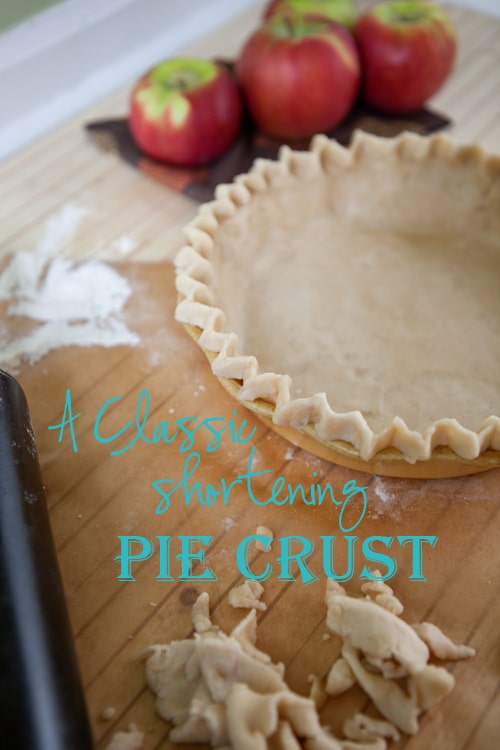 After you cook the pumpkin pie filling on the stove, it will need to cool then chill for several hours in the refrigerator. I usually make the filling the night before, then on Thanksgiving (or the day you want to serve the pie) I bake the pie shells and fill them by layering the pumpkin filling with the Cool Whip and you're all set! Keep the pies in the refrigerator until serving.
watch how to make this Layered Walnut Pumpkin Pie recipe
(printable recipe below).
click to see more of my recipe videos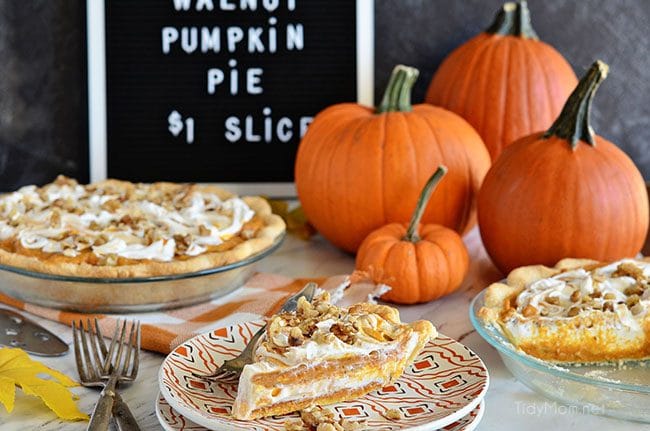 One last little tip, if you will be transporting the pies, they fit real nice in a pizza box 😉 For many years it became a tradition for us to order pizza delivery the night before Thanksgiving, just so we would have boxes for the pies (I would wipe the boxes out) 😉 I'm pretty sure, most pizza places would let you buy a few if you asked.
Anyway………here's Grandpa's Special Pumpkin Pie…….Layered Walnut Pumpkin Pie! Warning…….you may never want regular pumpkin pie again.
LIKE THIS LAYERED WALNUT PUMPKIN PIE RECIPE? PIN IT!


I created a fun little group on facebook and I'd love for you to join in! It's a place where you can share YOUR favorite recipes, home tips, creative ideas and ask questions and see what's new with TidyMom! If you'd like to check it out, you can request to join HERE. Be sure to follow me on Instagram and tag #tidymom so I can see all the wonderful TidyMom recipes YOU make and tips YOU use!
Connect with TidyMom! Facebook | Twitter | Google+ | Pinterest | Instagram
Sign up to receive an email in your inbox for each new recipe: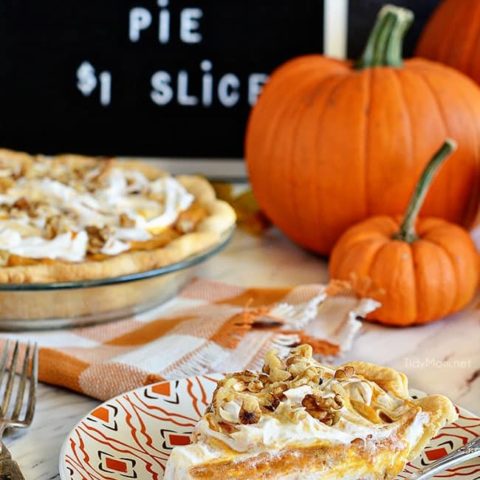 Layered Walnut Pumpkin Pie
Yield:
2 (8 or 9-inch) pies
This EASY recipe not your ordinary pumpkin pie, it's a light and fluffy, scrumptious, cold creamy pumpkin pie! A perfect alternative to regular pumpkin pie for Thanksgiving or Christmas dessert.
Ingredients
1 envelope unflavored gelatin
1/4 cup cold water
1 (30 ounce) can Pumpkin Pie Mix (NOT solid pumpkin)
1 (5 ounce) can evaporated milk
3 large eggs  (you will use 2 yolks, and 3 whites)
1/2 teaspoon  vanilla extract
2 tablespoons sugar
1.5 (8 ounce) tubs thawed COOL WHIP Whipped Topping
1 cup walnuts, chopped
pie crust for 2 pies (I used refrigerated pie crust, but you can certainly make your own pie crust)
Instructions
Place and press pie crusts in 8 or 9-inch glass* pie pan. Generously prick the sides and bottom of the crust with a fork before baking. Bake according to box or recipe.
For Filling:Soften gelatin in water in saucepan.
Add pumpkin pie mix, 2 egg yolks and milk to saucepan. Heat until boiling, stirring constantly with wooden spoon.
Reduce to low heat, continue stirring for another 5 minutes.
Remove from heat, add vanilla, and allow mixture to cool. Once cooled, chill in refrigerator several hours or overnight** until thick.
Beat 3 egg whites to soft peaks adding 2 tablespoons of sugar one at a time until stiff peaks form.
Fold egg whites into chilled pumpkin mixture.
Fold in 3/4 of your walnuts.
Layer Pies:Evenly divide half of the pumpkin mixture into the two baked and cooled pie shells.
Using a rubber spatula, spread half a tub of Cool Whip over pumpkin filling in each pie.
Spread remaining pumpkin mixture, to layer over Cool Whip in each pie with rubber spatula.
Dollop several spoonfuls of remaining Cool Whip on top of each pie, then take a knife and swirl them slightly into the filling.
Garnish with remaining chopped walnuts.
Chill until ready to serve.
Notes
*Use a glass or dull-metal pie pan. Shiny metal or disposable aluminum pans reflect heat and prevent pie crusts from browning. Dark pans may cause crusts to brown too much. ** I often make the filling up to this point the night before, and leave it to chill overnight (and place the egg whites in the refrigerator as well). Then the next day, I bake my pie crusts and finish making the pies.