Holiday
Potted Chocolate Cheesecake #yearofcelebrations
These may look like darling potted herbs, but these pots of chocolate cheesecake sprout to life when they are topped with ground cookie "dirt" and a sprig of fresh mint!
What a great way to celebrate Mother's Day, a wedding, a shower or Spring with these cleverly disguised desserts, Potted Chocolate Cheesecake.  Spoon no-bake chocolate cheesecake into votive candleholders and serve with wooden "plant marker" spoons.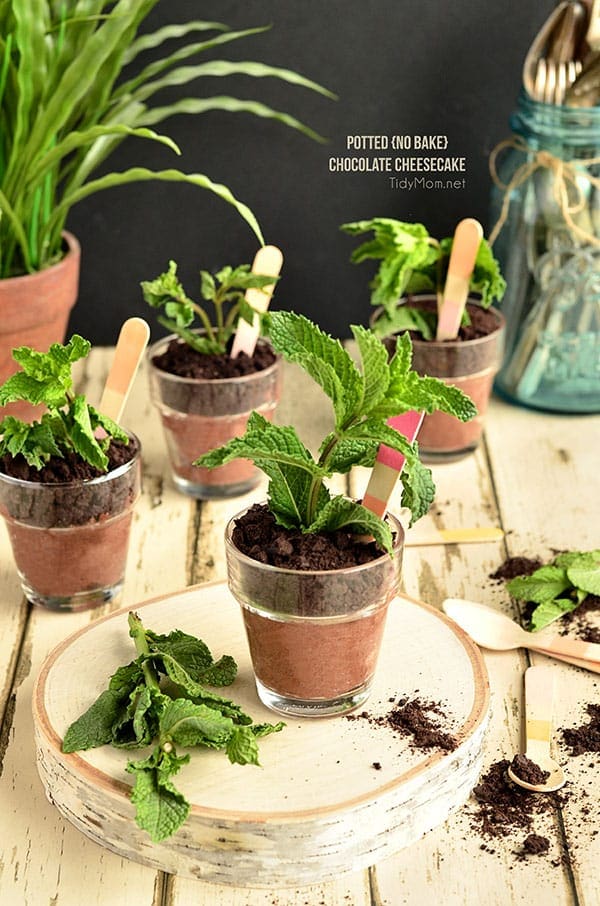 The original Martha Stewart recipe uses a very rich chocolate pudding, but I decided to use no-bake cheesecake for a little more "grown-up" dessert.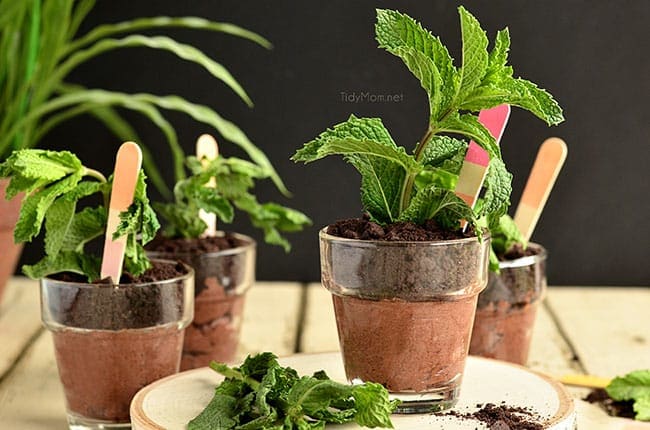 These little desserts may not be ultra-gourmet, but they are super easy, whimsical, and perfectly yummy……….they'll make your guests smile.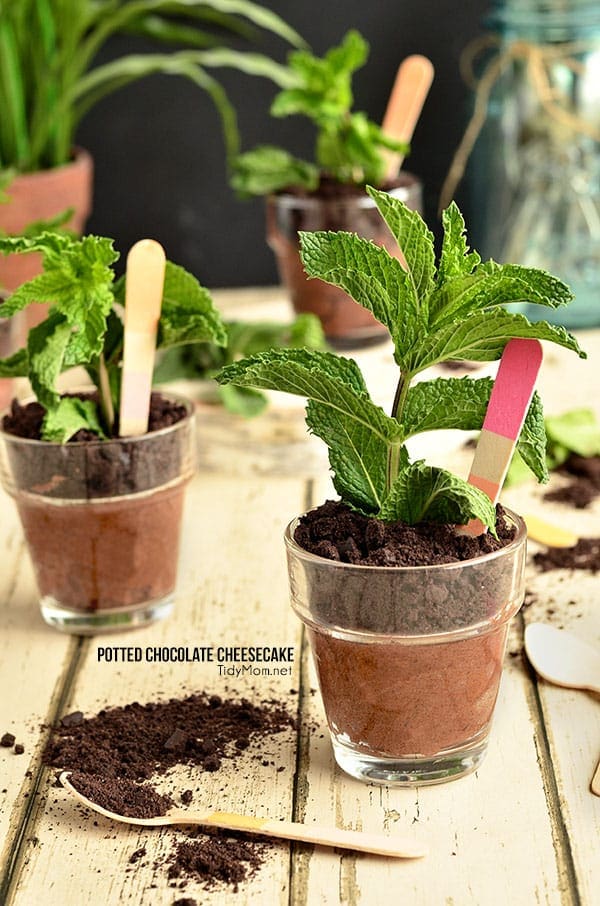 And make Mom happy….. especially because she doesn't have to cook these herself! Some of the best ideas for Mom gifts are Mother's Day recipes. Particularly dessert (what woman doesn't love chocolate?) prepared by the people they love.
Make Mother's Day really special………she'll love it even more if you clean up the kitchen afterwards.

You can always fill these with chocolate mousse or chocolate pudding, if cheesecake is not you thing.
Sources:
wooden spoons were purchased from Sucre Shop
Glass flower pot votives at Michaels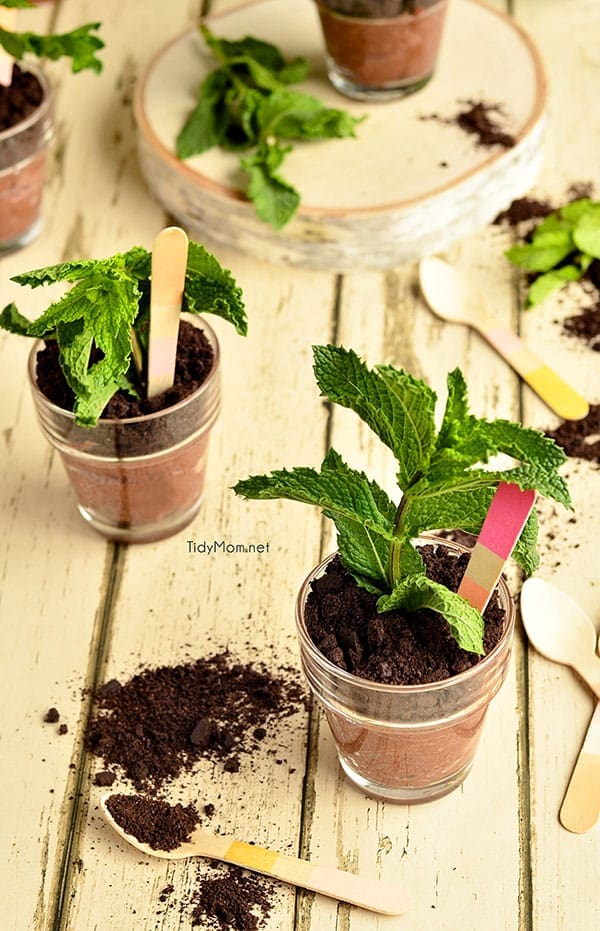 Now that I've shared my fun Mother's Day creation, some of my favorite creative friends and I are pleased to invite YOU to wow us with yours!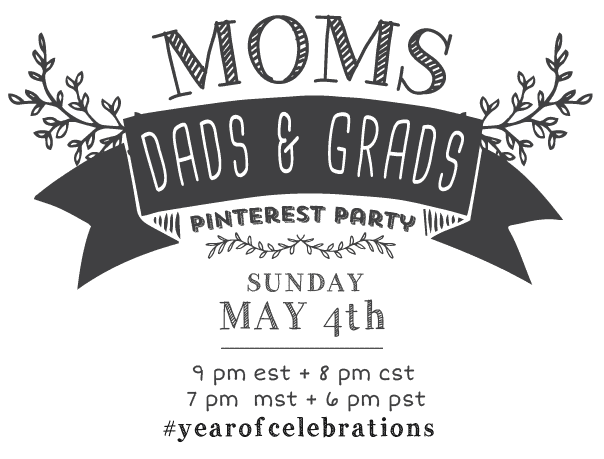 The Mom/Dad/Grad-themed Year of Celebrations Pinterest party will be held this Sunday, May 4, and you all are all cordially invited to join in!
Hosted by…
The monthly Year of Celebrations Pinterest Party is the place to find THE most comprehensive, inspiring Pinterest board on the block. Each and every month, we'll be focusing on a different holiday or celebration, and this month is all about Moms, Dads and Grads! Here are all of the details for how YOU can participate:
What: A Pinterest Party to celebrate all things Mom/Dad/Grad!

When: THIS Sunday, May 4, 2014 at 9 p.m. EST/ 8 p.m. Central/ 7 p.m. MST/ 6 p.m. PST
How you can participate:
Round up YOUR favorite Mom, Dad or Graduation projects and recipes. Anything goes: crafts, decor, sweet treats, and more!
When the party kicks off, tweet YOUR favorite project and/or link using the hashtag #yearofcelebrations. Helpful hint: We highly recommend putting the hashtag at the beginning of your tweet to ensure it doesn't get cut off.
On Sunday, May 4, tune in at 9 p.m. EST and watch as we build a board full of amazing ideas – including yours! 
Be sure to follow along during the party to repin and comment on the board's posts using the hashtag #yearofcelebrations. 
We are so excited to PIN and SHARE all of your amazing projects!
See you there! 

Potted Chocolate Cheesecake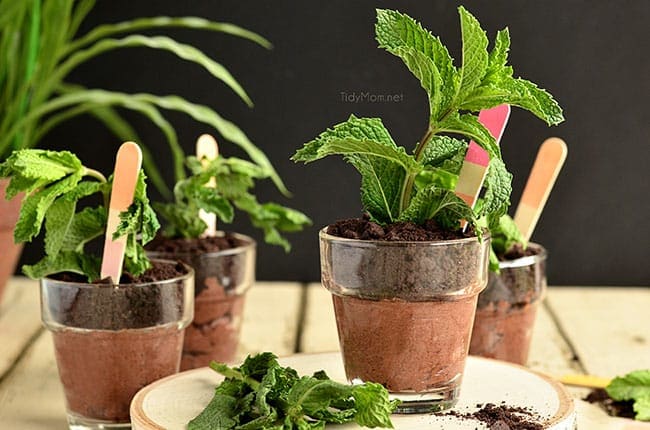 These may look like darling potted herbs, but these pots of chocolate cheesecake sprout to life when they are topped with ground cookie "dirt" and a sprig of fresh mint!
Ingredients
1 1/2 cups semi-sweet chocolate chips
11 ounces cream cheese, softened
1/3 cup sugar
1/4 cup butter, room temperature
1 1/2 teaspoons vanilla extract
1 cup heavy cream
20 chocolate wafer cookies
mint sprigs for garnish
Instructions
Place chocolate chips in small microwave-safe bowl. Microwave on high for 1 minute, then stir. If necessary, microwave at 15 second intervals, stirring after each heating, just until chips are melted when stirred. Set aside to cool.
Beat cream cheese and butter in large bowl on medium speed of mixer until creamy. Add sugar and vanilla and beat well, scraping down the sides. Gradually add melted chocolate, beating on low speed until blended.
In another bowl add the heavy cream and beat until stiff peaks form. Gently fold into the chocolate cream cheese mixture.
Spoon cheesecake mixture into eight 4-ounce glasses or glass flowerpot votive candle holders, leaving about 1/2 inch of space at the top of each. Refrigerate until set, about 1-2 hours.
Just before serving, pulse cookies in a food processor until finely ground (or place cookies in closed plastic bag and crush using a glass or rolling pin). Top each cheesecake with ground-cookie "dirt," and garnish with a planted mint sprig. Serve chilled.
Notes
MAKE IT EASY: you could also use a JELL-O No-Bake cheesecake mix and add the melted chocolate as instructed in the recipe above.
http://tidymom.net/2014/potted-chocolate-cheesecake/
Copyright© 2009-2013 TidyMom.Net
NEW FEATURE: Save recipes to your personal recipe box with the

Once you have your favorite recipes in your Recipe Box create a Meal Plan with them and the ingredients will automatically be added to a Grocery List!
 Craving more? Sign up for the TidyMom newsletter to stay on top of what's new right to your inbox! And stay in touch on Facebook, Twitter, Google+ and Pinterest for all of the latest updates

16 Responses to "Potted Chocolate Cheesecake #yearofcelebrations"