Recipes
Chocolate Chip Banana Layer Cake with Salted Caramel Frosting
A moist dense banana cake with chocolate chips goes over the top when layered with salted caramel buttercream for a cake any banana bread lover will go wild over!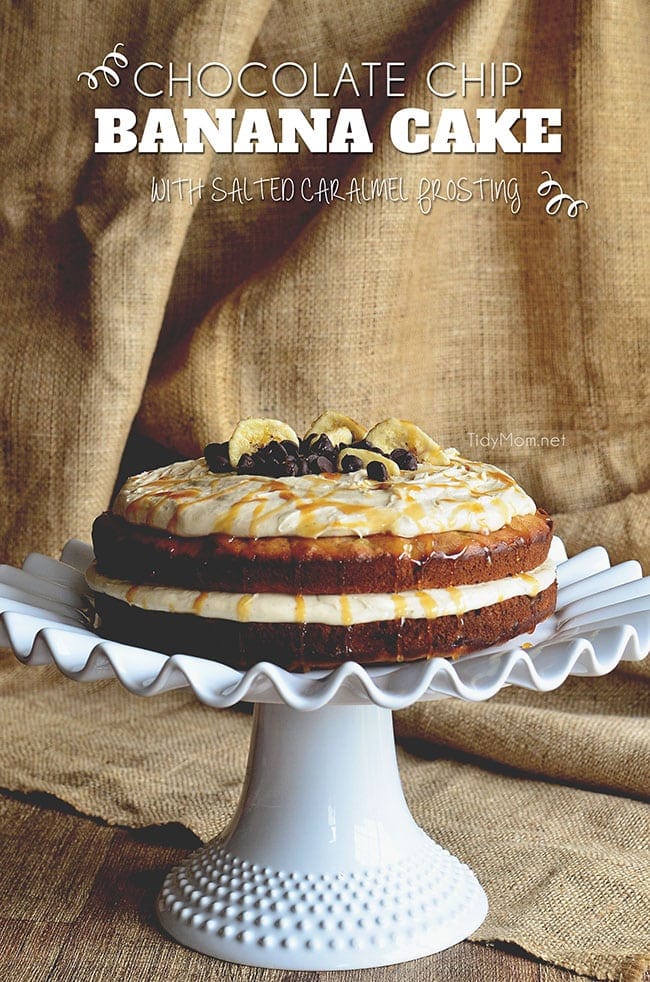 My family loves banana treats just as much as I do, so it was no surprise that Allison asked for a banana cake for her 18th birthday cake!  
There's a lot going on with this Chocolate Chip Banana Cake, but you'll never notice, because you'll be busy polishing off one piece after another!  If banana and chocolate chips weren't enough in this recipe – I went and added a dash of cinnamon.  The cake is a rustic two layer affair with a generous spreading of salted caramel buttercream in between and on top.  Deliciously easy and simple to put together.  No fancy pastry tips or bags, just a simple knife or off set spatula and a little wrist action.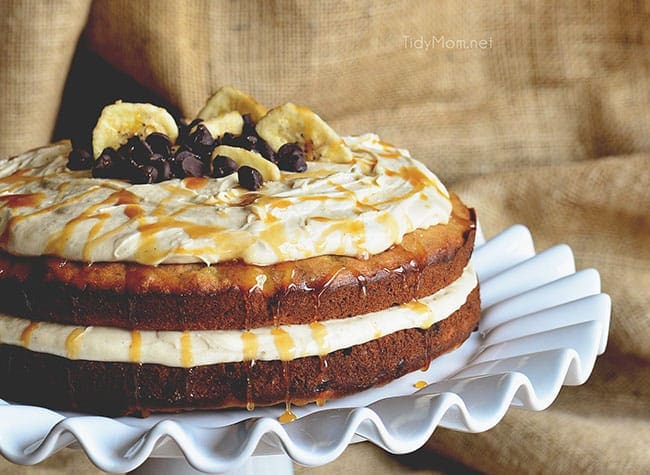 For the very best flavor, you will want to use very ripe bananas. To the point that they are heavy on the black speckles (almost black) and mushy.  If your bananas are ripe but you are not ready to make your cake yet, you can prolong the life of overripe bananas a week or so by putting them in a plastic bag and storing them in the fridge, or you can keep them for months in the freezer.  We always have a bunch in the freezer.
I'm not really sure there is a whole lot of difference in banana bread and banana cake, but either way get your fork ready, because this one is a plate-clearing addiction that is sure to be a repeat offender of the best kind in your home.
Chocolate Chip Banana Layer Cake with Salted Caramel Frosting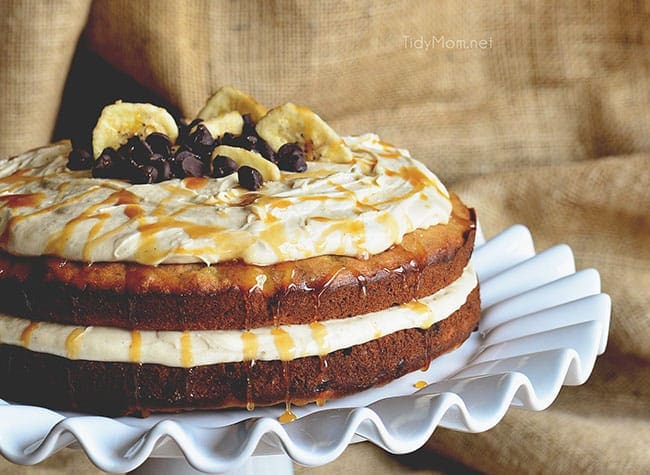 A moist dense banana cake with chocolate chips goes over the top when layered with salted caramel buttercream for a cake any banana bread lover will go wild over!
Ingredients
For the Chocolate Chip Banana Cake

2-1/4 cup flour
1 teaspoon cinnamon
1/2 teaspoon baking soda
1/2 cup butter
3/4 cup sugar
1/2 cup brown sugar
2 eggs
1 cup mashed ripe bananas (2-3 bananas)
1 teaspoon vanilla
1/4 cup sour milk or buttermilk ((you can make sour milk by adding just a little vinegar to milk and let it sit about 10 mins until it curdles)
1 cup chocolate chips (extra for garnish)
1/2 cup banana chips for garnish (optional)

For Salted Caramel Frosting

1/3 cup shortening
1/3 cup butter
2/3 cup caramel ice cream topping (extra for optional garnish)
1/4 teaspoon kosher salt
1 teaspoon vanilla
1 pound (4 cups) powdered sugar
2-3 tablespoons heavy cream (or milk)
Instructions
For the Cake

Preheat oven to 350 degrees. Grease and flour 2 (8-inch) cake pans. Cut 2 circles of parchment paper to fit the bottoms of the pans, then press them in (this will make it easier to remove the cake from the pan)
In a medium bowl, whisk together, flour, baking soda and cinnamon and set aside. In a mixer fitted with a whisk attachment (or using a hand mixer), cream the butter until smooth. Add sugars and eggs and mix until fluffy, then add mashed bananas and vanilla.
Add half the dry ingredients and half the sour milk and mix just until combined. Repeat with remaining dry ingredients and milk.
Fold in chocolate chips. Pour batter evenly into prepared pans and bake for 30-40 minutes. Let cakes cool in the pans 5-10 minutes. Turn out onto wire racks and let cool completely before frosting.

For the Frosting

Cream shortening and butter with electric mixer. Add ice cream topping, salt and vanilla. Gradually add sugar, one cup at a time, beating well on medium speed. Stop to scrape sides and bottom of bowl as needed. When all sugar has been mixed in, icing will appear dry. Add milk 1 tablespoon at a time and beat at medium speed until light and fluffy.

To Assemble

Place one cake round on plate, use off-set spatula to spread half of frosting over cake. Then place other cake round on top, mound remaining frosting on top and spread within an inch of the edge. Garnish with chocolate chips, banana chips and caramel topping.
http://tidymom.net/2014/chocolate-chip-banana-caramel-cake/
Copyright© 2009-2013 TidyMom.Net
NEW FEATURE: Save recipes to your personal recipe box with the

Once you have your favorite recipes in your Recipe Box create a Meal Plan with them and the ingredients will automatically be added to a Grocery List!
Are you a banana bread/cake lover?  Just like when I make banana bread, this cake did not last long.  I don't think we've ever polished off a cake so fast!
More Banana Recipes you might enjoy:
Banana Streusel Coffee Cake with Maple Glaze 
Honey-Roasted Peanut Butter Banana Cream Pie (No Bake!)
sharing at Show Me What Ya Got
 Craving more? Sign up for the TidyMom newsletter to stay on top of what's new right to your inbox! And stay in touch on Facebook, Twitter, Google+ and Pinterest for all of the latest updates

You May Also Like...