Raspberry Icebox Cake | I'm Lovin' It
Raspberry Icebox cake is an easy, no-bake dessert with layer after layer of chocolate wafers and raspberry whipped cream.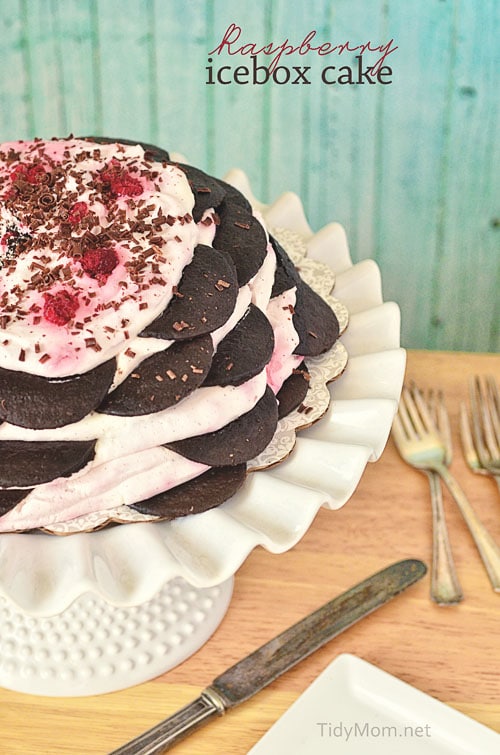 Last week was my birthday.  I have been wanting to make an icebox cake ever since I had a slice at Magnolia's Bakery when I was in Chicago and again in New York last year.  I feel in love with this decadent layered dessert, then Kristen told me how easy they are to make!
You might remember two years ago, I learned how to decorate a birthday cake with buttercream for my own birthday, and I made a layered Thin Mint birthday cake for my mom's that same year.  Last year I made the ever impressive Rose Cake for my Aunt's birthday.  So for my birthday this year I decided to make a birthday cake that is easy, stunning and delicious… a Raspberry Icebox Cake!
There's no need to find Magnolia's or even wait for a birthday to make this cake.  It's so simple, requires virtually no skill and no oven!  With just a few simple ingredients, it's the easiest no-bake cake of all time! The perfect Birthday Cake, in my opinion!
An icebox cake is simply cookies layered with whipped cream or custard. After sitting  in the fridge over night, the cookies absorb the moisture from the filling and transform into a cold, creamy delight.  Allowing you to cut it into the perfect slice of the easiest, most amazing dessert you've ever eaten.
The variations with this cake are endless!  Check out how Maria made Chocolate Icebox Cupcakes for her son's first birthday!  For my cake, I simply added some frozen raspberries (thawed) to this nostalgic recipe from Magnolia Bakery Cookbook. 
Do note, that the Nabisco Chocolate Wafer cookies can be a bit elusive.  So you might need to call around and find out who carries them where you live.  Here in St. Louis, I found them at Schnucks, I didn't check Dierbergs, but I bet they have them too.
Raspberry Chocolate Wafer Icebox Cake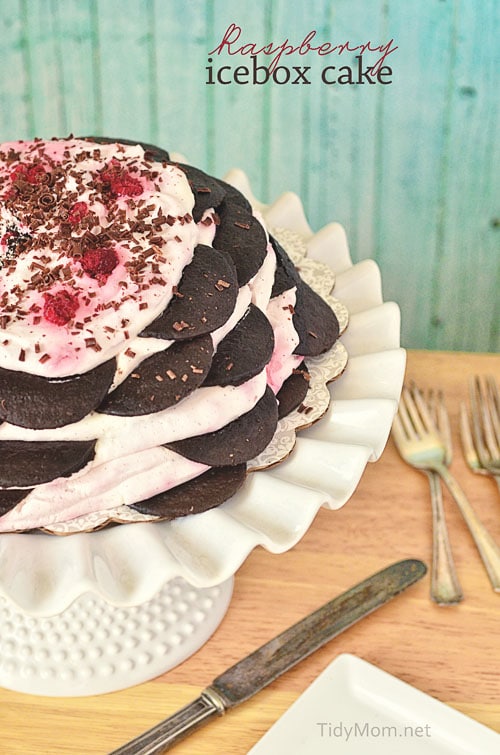 Ingredients
4 cups heavy whipping cream
4 tablespoons sugar
1 tablespoon vanilla extract
1 cup raspberries (I thawed frozen raspberries)
1 1/2 packages Nabisco chocolate wafers
Instructions
In a large bowl, whip the heavy whipping cream with the sugar & vanilla extract on a medium high speed until the cream thickens slightly in the middle. Once the cream begins to thicken, whip on high speed for 30 seconds to 1 minute until soft peaks form. Do not over beat.
Fold in raspberries (be sure to leave a few to garnish top of cake)

Assemble Cake

Using a least a 9" flat plate or cardboard cake round, and an offset spatula, begin by putting a very thin layer of whip cream on the plate, spinning and smoothing the cream out to the inner edge of the plate. This will help keep the first layer of wafers in place.
Arrange seven wafers, side by side in a circle, keeping 1 cookie in the center. Scoop about 1/2-3/4 cup of whipped cream onto wafers and gently spread the cream in a thin layer until you can barely see the edge of the wafers.
Continue to layer the wafers with the cream, making sure to end with the whipped cream layer on the top ( you should end with about 7-10 layers).
Garnish with raspberries and chocolate shavings.
Cover and refrigerate for at least 5 hours or overnight before cutting & serving.
Notes
total prep time is 15 mins + overnight refrigeration
http://tidymom.net/2013/raspberry-icebox-cake/
Copyright© 2009-2013 TidyMom.Net
This cake makes a spectacular centerpiece for any occasion……..like a birthday or  even if you are just celebrating Friday!!
Have you ever had icebox cake?  if so, what flavor?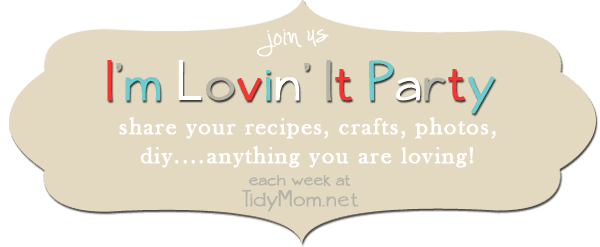 I'm Lovin'…….Magnolia Bakery Icebox Cake Recipe

Now it's your turn! Please remember to link back to http://TidyMom.net
Let us know what you're lovin' this week!
*Don't forget to come back over the weekend for the I'm Lovin' It Wrap Up post……where I feature a few of the great links!!
What is I'm Lovin' It Fridays? get all the info, how to's trouble shoot and button here