Easy Seafood Chowder from At The Picket Fence
A rich and creamy seafood chowder with fresh dill comes together in under an hour for simple and hearty meal.

 Hi there! I'm Vanessa and I'm so thrilled to be visiting here at Cheryl's place today! I'm co-author, along with my sister Heather, of the lifestyle blog At the Picket Fence where we have everything from crafts to DIY projects to yummy recipes like the one I'm going to be sharing with you today.
I don't know about your house, but at ours, fall means it's time to dig back into some of our favorite soup recipes and this one isn't just a favorite…it is THE favorite!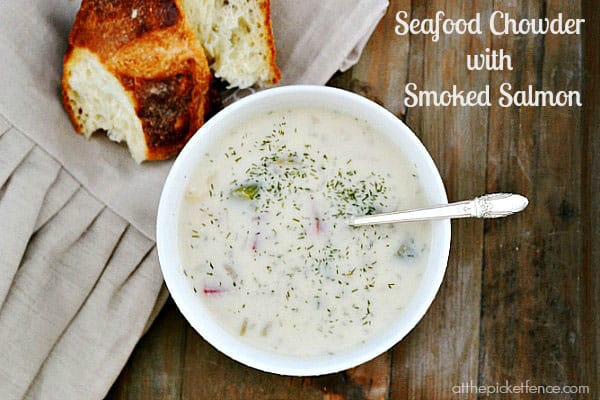 Here's the thing though…this isn't even my recipe. It's my husband's! Yep, that's right, I've got a guy who likes to cook and you don't have to tell me that I struck gold because I already know it! He made this one New Year's Day a few years ago and I think we might have eaten the entire pot of it in one sitting. Picture me hanging my head in shame!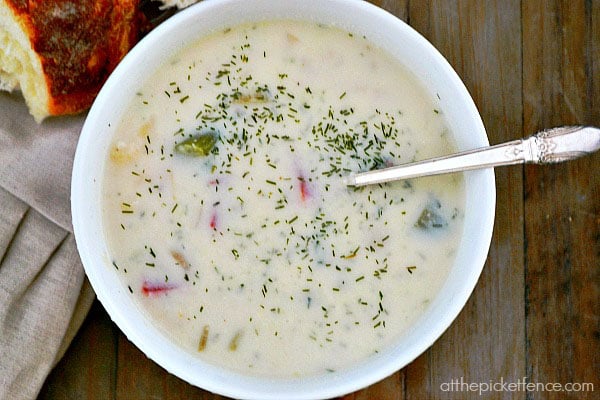 Over the years he's played around with the recipe and once he added the smoked salmon we all declared it perfect. I mean, really, can you go wrong with chunks of smoked salmon, shrimp, potatoes and dill? I think not!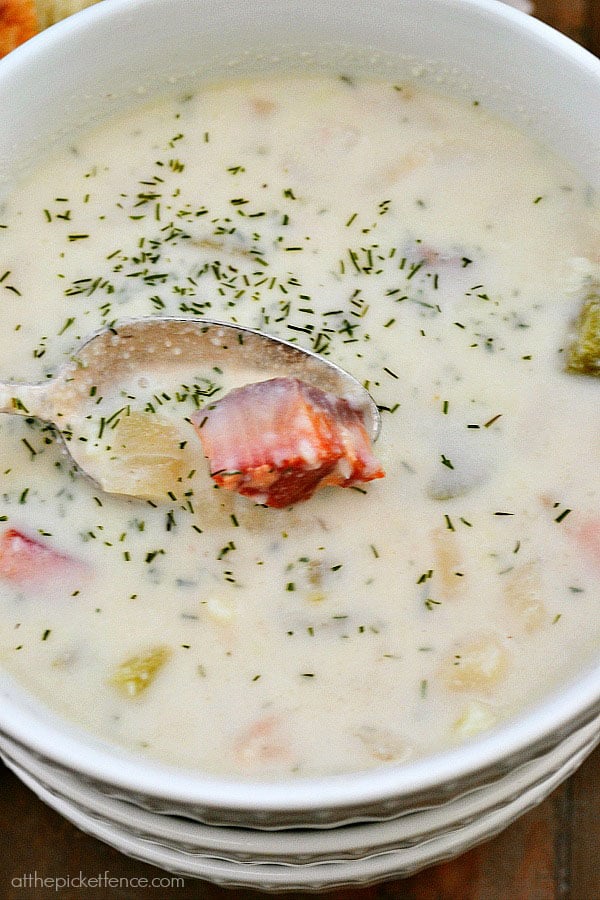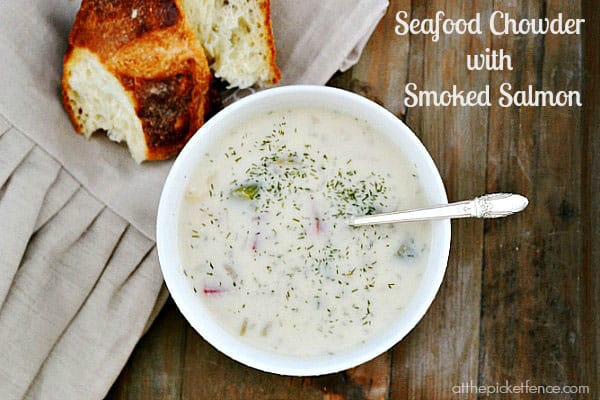 A rich and creamy seafood chowder with fresh dill comes together in under an hour for simple and hearty meal. Recipe from At The Picket Fence
Ingredients
5 bacon slices, cut into 1 inch pieces
1 medium onion, cut into 1/2 inch cubes
3 celery ribs, cut into 1/2 inch cubes
1 lb. boiling potatoes, peeled and cut into 1 inch cubes
1 tsp. salt
1/4 tsp. black pepper
1 cup water
2 cups whole milk
1 lb. smoked salmon cut into 1 inch pieces (or fresh salmon trimmed of dark flesh)
1 lb. bay shrimp
2 tbsp. chopped fresh dill or 1 tbsp. dried dill
1 tbsp. unsalted butter
Instructions
Cook bacon in a heavy pot over medium heat until crisp. Transfer to paper towels to drain. In the same pot add onion, celery, potatoes, salt and pepper and cook, stirring occasionally until onion is softened (appx. 5-7 minutes). Stir in water and bring to a boil, then reduce heat and simmer, covered, until potatoes are almost tender.
Add milk and simmer, uncovered, until potatoes are tender. Stir in salmon, shrimp, dill and butter and simmer until shrimp (and salmon if
uncooked) is cooked through (appx. 3-4 minutes). Serve sprinkled with bacon.
http://tidymom.net/2013/easy-seafood-chowder/
Copyright© 2009-2013 TidyMom.Net
NEW FEATURE: Save recipes to your personal recipe box with the

Once you have your favorite recipes in your Recipe Box create a Meal Plan with them and the ingredients will automatically be added to a Grocery List!
I guarantee that if you have seafood lovers in your house they will be asking for this chowder over and over again. And if you don't have seafood lovers, well, this might just convert them! Thank you so much for letting me hang out with you here today and I hope you will come by and visit us sometime At the Picket Fence!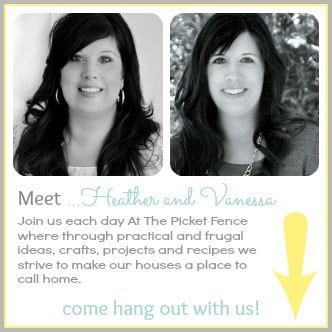 At the Picket Fence Blog, Facebook, Twitter, Pinterest