Chocolate Zucchini Bread
Moist, flavorful zucchini bread with a chocolate twist:  cocoa in the batter, and studded with chocolate chips.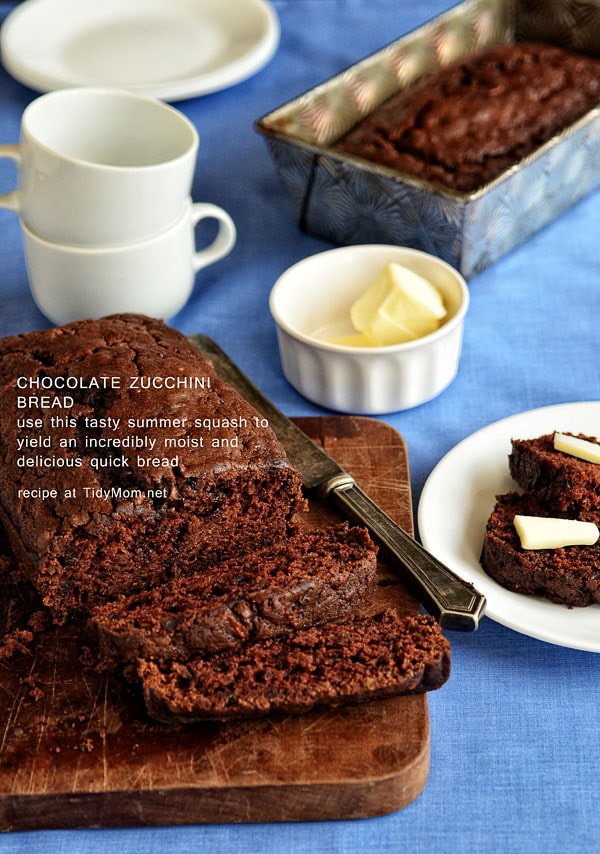 Here we are,  headed into late summer and gardens seem to be overflowing with an abundance of zucchini just begging to be used up.  If you don't have a garden of your own, hopefully you have some generous neighbors or friends (or customers) willing to share their summer bounty with you, like we do!  If not, you can't miss the mounds of beautiful squash at the grocery store or farmer's market.
We have a favorite banana bread recipe that I make all the time, so I thought zucchini bread would be a nice change of pace, and let's make it chocolate.  Everything is better with a little chocolate right?
I love quick breads because there are so easy and well, quick. Usually there is no need for a mixer and can have your bread in the oven in no time. Zucchini is 95% water, requiring you to drain it.  So be sure to grate your zucchini first so you can let it drain while you get the rest of the recipe together.  Once it's drained,  you just stir everything together in a bowl, pour it into your loaf pans, and into the oven they go!  See, so easy!!
What makes a good zucchini bread?
Flavor:  Zucchini, it's self doesn't bring the flavor to this party, so a good zucchini bread recipe needs to be full of added flavors!  This recipe brings on the flavor with the addition of cinnamon, almond extract, cocoa powder and chocolate chips.
Moist:  This is where the zucchini can shine, since this summer squash is 95 percent water.  This recipe is unbelievably moist, with out any oil!
Texture:  Zucchini bread should be light and airy, not too dense or gummy.  Both the flavor and the texture of the shredded zucchini should melt into the bread, creating a subtle sweetness and a soft texture.  This recipe does all of that!
To make sure you don't end up with soggy loaves from all the moisture in the zucchini, be sure to drain the zucchini well, or use this trick from Cook's Illustrated. Simply squeeze the shredded zucchini in a clean dish cloth before mixing it with the rest of the ingredients. Your loaves will end up light and airy, not weighed down.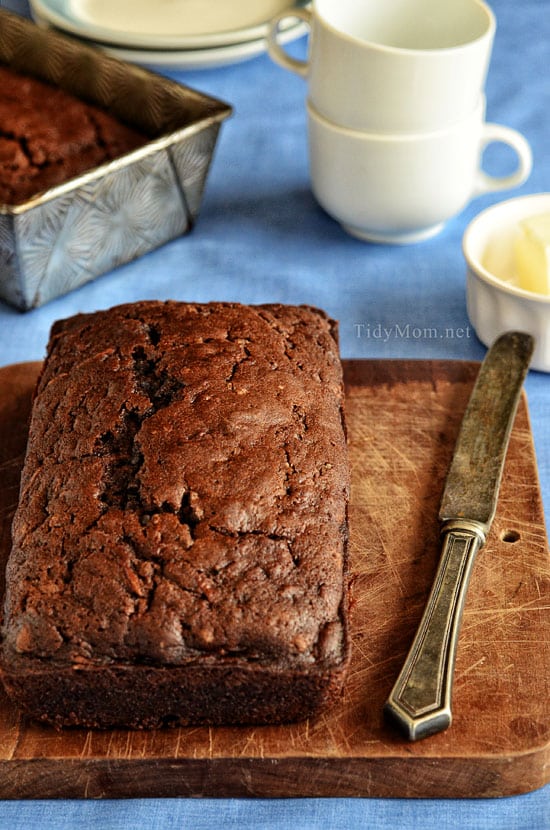 How to Choose a  Zucchini: you want a squash that is firm and heavy for their size; the skin should be brightly colored and blemish-free. Because they are harvested earlier, smaller squash are more tender than larger ones and have thinner skins; choose squash that are less than eight inches long.
How to Store Zucchini: Refrigerate in a plastic bag for up to four days; do not wash until ready to use.
NEW FEATURE: Save recipes to your personal recipe box with the

Once you have your favorite recipes in your Recipe Box create a Meal Plan with them and the ingredients will automatically be added to a Grocery List!
What's your favorite Zucchini Recipe?
10 Zucchini Recipes you might enjoy
Meat, Tomato, and Mozzarella Stuffed Zucchini Cups
Meat, Tomato, and Mozzarella Stuffed Zucchini Cups
Meat, Tomato, and Mozzarella Stuffed Zucchini Cups
Zucchini, Squash, & Ricotta Galette
Lemony Zucchini and Bean Pasta Salad
Cheese Stuffed Zucchini Flowers
Parmesan Encrusted Zucchini
Meat, Tomato, and Mozzarella Stuffed Zucchini Cups
Meat, Tomato, and Mozzarella Stuffed Zucchini Cups
Meat, Tomato, and Mozzarella Stuffed Zucchini Cups